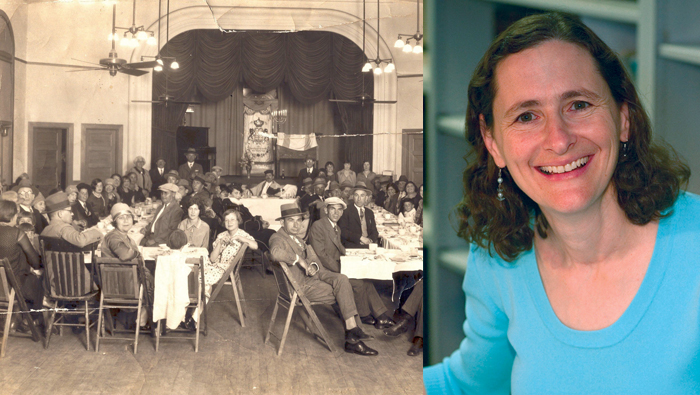 ---
Interfaith seder explores freedom, environment and more
The Arizona Jewish Historical Society will host the second Arizona Interfaith Passover Seder, in partnership with Congregation Kehillah, on April 14.
AZJHS Executive Director Larry Bell describes the seder as an educational opportunity for people of all faiths to learn about Judaism. It also provides an opportunity to explore the universal messages of freedom, social action and world peace through the story of the Exodus from Egypt.
"Passover is a wonderful holiday and the seder is a wonderful ritual to teach about Judaism, because there are so many themes that translate across religions," Bell says. Rabbi Bonnie Sharfman of Congregation Kehillah will lead the seder, which is an original service that she compiled as an offshoot from an interfaith Haggadah. "It's a remarkable service. It touches on the universal themes of the seder – human rights, liberation from slavery, belief in God, a celebration of freedom, the environment and caring about the world," Bell notes.
The Cutler Plotkin Jewish Heritage Center, which houses AZJHS, where the seder will be held, has its own interfaith history. The building was constructed in 1921 for Congregation Beth Israel, the first permanent synagogue in Phoenix, and later held the first Chinese-speaking Christian church in the Valley. In 1981, it was deeded to a Spanish-speaking Baptist church until AZJHS purchased it in 2001. The Center was named for Rabbi Albert Plotkin, a pioneer of interfaith dialog in the Phoenix area. "Back in the 1950s and '60s, when that was a novel idea, he really did more than any other single person to promote an effort to reach out, communicate with each other, share each other's experiences," says Bell.
AZJHS held its first interfaith seder last year, which brought in about 100 people from a wide variety of religious and cultural backgrounds. Bell attributes this in part to the organization's connection with Arizona Interfaith Movement, which often holds events at the center. AZJHS hopes to build on the success and popularity of last year's seder to bring in an even wider audience to share the holiday of freedom.
The Arizona Interfaith Passover Seder begins at 6:30 pm and tickets are $36. Sponsors include Arizona Jewish Life magazine  and Nestor and Susan Guzman. Additional sponsorship opportunities are available. For information and tickets, contact Bell at lbell@azjhs.org, 602-241-7870 or visit azjhs.org.
Sculpture Garden is picturesque setting for second seder
Passover traditions will come alive under the clear sky of Tucson on a beautiful April evening in the Tucson Jewish Community Center Sculpture Garden. The Tucson J and Congregation Chaverim present a second night seder in the Sculpture Garden at 6:30-8:30 pm on April 23.
This festive celebration includes the tastes, sights and sounds of Passover with special gourmet Passover desserts. Rabbi Stephanie Aaron from Congregation Chaverim will lead this inclusive Passover in the Tucson J Sculpture Garden.
For the first two years, this community seder was held at the Tucson Botanical Gardens, where it quickly filled to capacity. Moving the event to the Tucson J allows more people to enjoy this Passover experience.
A musical Havdalah ceremony begins the event. A music ensemble combines with Passover traditions to create an evening of traditional simplicity and warmth.
In upholding the tradition of this participatory holiday, guests will read together from the Haggadah. The complete Reform Promise Haggadah will be read in a one-hour service, and tasting of traditional seder foods will be served. Each child will a receive a gift from the rabbi upon finding the afikomen.
Upon completion of the seder, guests will enjoy a gourmet spread including dozens of kosher for Passover desserts.
The Tucson J is located at 3800 E River Road, Tucson. Admission to the event is $18/adults and $12/children (under 13.)  The seder includes tastings and dessert, but not a full dinner.  Advanced reservations can be made by calling the Tucson J at 520-299-3000 or online at tucsonjcc.org.
Women's seder times two
The annual women's seder will once again offer Valley women insight and inspiration when it returns to the Valley of the Sun Jewish Community Center on April 13 and debuts at the East Valley Jewish Community Center on April 11.
The pre-Passover seders allow women to celebrate together as they begin the intensive preparations for Passover. The seder has been held at the VOSJCC for some seven years. Last year's event drew about 150 women.
"Women and men often get so caught up in the depths of the physical preparations that we don't do the kind of spiritual preparation for Passover that we'd like to," says Rabbi Elana Kanter, who will be leading both seders. "Having the women's seder means that a woman carves out an hour and a half to reflect on the themes of Passover, to do some stock-taking and see where each of us is on the path to our own liberation and to the greater liberation of our world."
The seders also are an opportunity for women to sample foods they might want to serve at their own seder or during the holiday. Celebrating together can renew enthusiasm for beginning this intensive cleaning and cooking season.
The seder enables exploration of the central themes of Passover. Rabbi Kanter says that she follows the same basic framework each year, but then adds reflections on events of this year and new pieces of learning.
"This year we'll be looking at the different kinds of slavery that still exist in our world, including material from a website called freetheslaves.net. We also emphasize the role of some modern Jewish women who have worked to expand our freedoms and repair our world," says the rabbi. "People have reported afterward that they have used material from our Haggadah and our presentations in their own seders, which was one of our goals – to help people make their own seders as meaningful as possible."
The VOSJCC women's seder will be from 11 am to 1 pm, April 13. Individual reservations are $40. Hosted tables for eight to 10 women are available, but all reservations must be submitted together by April 8. For individual or table reservations, contact Harriet Colan at 480-483-7121, ext. 1213 or harrietc@vosjcc.org.
The East Valley JCC women's seder starts at 6:30 pm. For reservations and details, call 480-897-0588 or  visit evjcc.org.

---
---