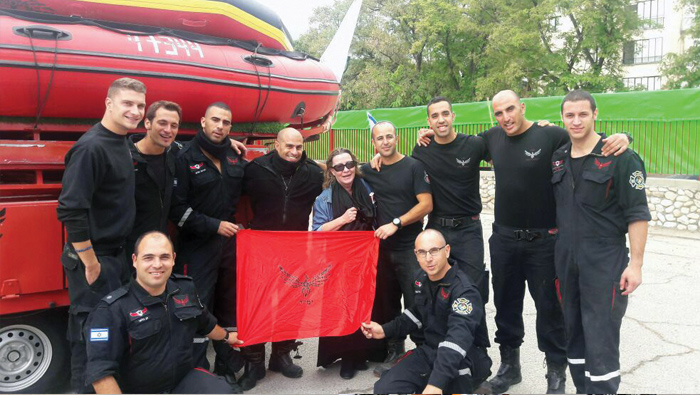 ---
Patty Vallance admits she is not one to "write a check" when it comes to community needs. Instead she jumps in with both feet to create "sustainable programs and things that are truly meaningful."
Even the business she currently runs, Family Friends Estate Sales, has a charitable giving component built into the business model. "Ten percent of our commission on every sale, every time, goes to a local nonprofit that we support," explains Patty. "It's just a different way of doing business – it gives us the opportunity to give back directly to a charity we support." They also provide estate sale services free of charge to first responder families.
Patty has been running estate sales for 31 years and believes she got into the business because she lost both of her parents before the age of 21. "It forced me, at a very early age, to come up with a legacy plan," she says.
Since arriving in Tucson in 2000, Patty has immersed herself in volunteer work. She would volunteer at Tucson Hebrew Academy, where her children attended school and then she became involved with the Federation and the Jewish Community Relations Council. "Stu [Stuart Mellan] has allowed us to think outside of the box and be creative about responding to the needs of the community," shares Patty. "I can go to him with just an idea, and he says, 'Make it happen!'"
She wanted to do a project that brought her Jewish community together and worked toward a significant goal. So she partnered with the Pima Council on Aging and the Tucson Police Department to identify seniors living on their own that needed home repairs – to keep their homes habitable and safe.
"We brought the Jewish community together to make major home repairs. We brought together 500 volunteers," states Patty. "We raised money to do the projects and did not pull money from any existing resources."
Here next project came about as a reaction to the 2008 recession. She was watching the market shift and trying to figure out a source for sustainable funding to be able to continue doing service projects. She created the 1st-Rate 2nd-Hand Thrift Store to fill that need.
"A person would come in and volunteer at the thrift store and then the equivalent of their hours were gifted to the charities of their choice," explains Patty. "We brought Jewish values into creating the organization."
The thrift store had developed relationships throughout the community including police, fire and rescue and Child Protective Services. One day, Patty was having a conversation with the chief of operations for the fire department. He was expressing frustration at a lack of specific resources for first responders. "I suggested they set up a foundation," remembers Patty. "He asked 'What's a foundation?'" That was all that Patty needed to jump into action.
Patty assisted them in getting everything in place, and the Greater Tucson Fire Foundation (tucsonfirefoundation.com) was born. "The expenses related to getting it up and running came from the Jewish community through an anonymous gift," says Patty. The endowment fund for the foundation was placed in the hands of the Jewish Community Foundation.
The three main focuses of the Greater Tucson Fire Foundation are cardiac, mental health and cancer.
The foundation provides advanced cardiac screenings that the firefighters' insurance would not typically cover. "Can't tell you how many lives and careers are intact because of that!" exclaims Patty.
"We also pay for mental health copays," explains Patty. "We don't want financial concerns to be the barrier to get the help they need." They also have an arrangement with clinicians in Tucson so that if someone is having a mental health crisis, they will be seen within 24 hours.
Since melanoma percentages in firefighters are much higher than the general population, the foundation purchased a machine that allows the doctor to perform a whole body scan and then the information can be downloaded to make it easier to track potential changes in moles or other skin issues. There are only 10 machines like this in the country and out of 29 scans, 23 people were sent for further evaluation.
"Those are the killers in the firefighter community, and we try to put resources in place that can catch those issues before they get critical.," says Patty. The foundation is an all-volunteer organization, and 96 cents of every dollar goes back into programming.
Patty has been involved in numerous other projects benefitting the community, and she shares her sage advice. "Look for the niches that need to be filled and figure out a way to fix it," she emphasizes. "It's not about a band-aid it's about healing. Whether it's the homes we've repaired or a thrift store that can generate money for the community, it doesn't matter what it is, find a way of ensuring that funding is always available and that the fixes you are doing are permanent."

---
---