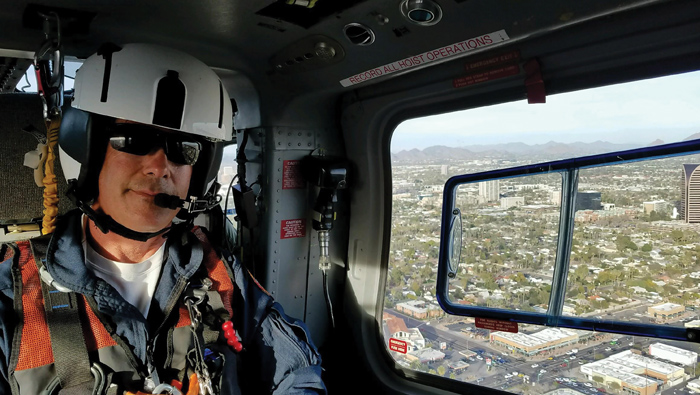 ---
A few decades ago, firefighters did just that: fought fires. Today's firefighters wear more than just the proverbial fire hat. They serve the community in a highly trained, highly technical capacity that includes medical and other non-fire emergencies, disaster response, hazardous-material calls and yes – firefighting.
Phoenix Fire Captain Bobby Dubnow is the face of today's modern firefighter. Now in his 26th year of service, Bobby is a special operations safety officer who covers the entire Valley from Station 8 in the Roosevelt Row Arts District of downtown Phoenix. He became a paramedic early in his career then moved up to engineer, with the tasks of driver and pump operator. He reached the rank of captain in 2005 after "a super competitive process. We already think we're the best of the best to be firefighters, let alone company officers. I took every opportunity that appealed to me throughout my career."
The 70s TV show "Emergency!" about paramedics in L.A. had a big influence on Bobby, who says, "I religiously watched that show as a little boy." He credits the show with jumpstarting the cross-training of firefighters as EMTs (emergency medical technicians) and paramedics, helping to dispel the myth that they just fight fires.
Bobby's family moved to Phoenix in 1968 from Fort McClellan in Anniston, Alabama, where his dad served in the army. (Bobby has an older brother in Baltimore and an older sister in the Philadelphia area.) He spent his summers in high school and college doing lots of outdoor activities, including ropes courses. College summer jobs as a white-water river guide at the Grand Canyon, in Colorado and Montana ­– including an EMT certification to boost his guide credentials – set him on his current path. He graduated from the University of Michigan in 1990 with a degree in political science.
MANY DIFFERENT MISSIONS
"I loved an EMT class I took," says Bobby. "I had connections with the Phoenix Fire Department, so I looked into it." The "combination of the physical with the cerebral" appealed to him. "I wasn't wired to sit behind a desk or for more formal education. I was ready to get out and start working."
Working in the sixth-largest city in the U.S., Bobby and his fellow firefighters are members of one of the busiest fire departments in the nation, with 58 fire stations serving a population of more than 1.5 million.
Bobby's firetruck is housed at Station 8, but "my area is regional because of how I respond as the safety officer." His job includes mountain/air operations in a helicopter. As crew chief, he operates the hoist during an air rescue, a role requiring intense training and certification. "There's a lot of input working around a helicopter, lots to manage," says Bobby. "I'm responsible for human life at the end of the cable."
The crews strive for 99.99% efficiency and limit the number of people who work around the helicopter. "We hand-pick the best of our technical rescue team," says Bobby. "Only six of us function as crew chiefs around the Valley." He says that anything with a high element of risk necessitates keeping the numbers low to maintain "a very high level of skill." And then in typical firefighter fashion, he adds, "It's one of the more rewarding and fun things I get to do."
A SECOND FAMILY
Bobby's career has also given him the opportunity to be part of Arizona Task Force 1, one of 28 teams across the U.S. forming the FEMA Urban Search and Rescue task force that responds to national disasters. Arizona Task Force 1 responded to the 1993 Northridge Earthquake in California, the 1995 Oklahoma City bombing and the 9/11 terrorist attacks in New York City. Bobby personally deployed with the task force to the 2002 Salt Lake City Olympic Games. "The FEMA teams are staged at a distance in case something happens at a high-profile event," says Bobby. He was also on hand for Hurricanes Ike and Gustav in 2008.
The Phoenix Fire Department has some traits that set it apart from others around the country, including a regional response team for technical rescues and hazardous materials. Specialty units all over the Valley have trained together. An Automatic Aid dispatch system serves 20 to 30 different areas around the Valley, making service delivery seamless. "We don't recognize jurisdictional boundaries," says Bobby. "The closest truck comes to your aid."
Even with those unique traits, "firefighters anywhere are all wired the same way," says Bobby. "You have to be to do this job. What appeals to us is pretty universal: wanting to serve the community and feeling brotherhood and fellowship in fire service with coworkers. You spend at least one-third of your life with this group. You sleep, cook and eat together. It's our second family."
Firefighters can go from relaxing and joking at the firehouse to responding to calls ranging from an intense firefight or drowning to jumping out of a helicopter at a mountain rescue or pulling someone out of a car. Bobby recounts calls where "you know you've tried everything you could do but sometimes you just can't do enough. Some calls stick with you forever – where you just couldn't make the difference." He adds that calls involving children, who have a special level of trust in and admiration for firefighters, are often "elevated with tension and importance. Something is going to hit home hard. Most of us have kids or younger firefighters are planning families of their own. Kids are near and dear to us."
PHILOSOPHY OF CUSTOMER SERVICE
The firefighters at the station are not Bobby's only family. He and his wife Lisa – a physical therapist and Valley native – live in Scottsdale and have three kids: Shoshana, 19, is a freshman studying journalism at the University of Missouri; Justin, 17, is a junior at Chaparral High School; and Jenna, 13, is a seventh-grader at Cocopah Middle School who just celebrated her bat mitzvah on April 1.
Bobby attests to the challenges of being the spouse or child of a firefighter: "You're either missing a lot or doing a lot" at home. He still helps with carpooling and cooking when he's home on weekdays. He works a lot of weekends and holidays but says that "holidays at the firehouse are fun and make good memories."
Women firefighters are more common today than when Bobby became a firefighter. They must deal with the same challenges. Bobby has known Phoenix's Fire Chief Kara Kalkbrenner – one of only six women fire chiefs in the U.S. – for many years. "It's a good thing," he says. "We're a diverse organization, better to serve a diverse community."
One individual in particular made a lasting impression on Bobby as a firefighter. He calls Phoenix Fire Chief Alan Brunacini, who retired in 2006 after 48 years of service, a "visionary" whose command strategies and theories helped develop "a first-of-its-kind philosophy of customer service that has become a universal doctrine for most fire departments: We're here to serve you."

---
---