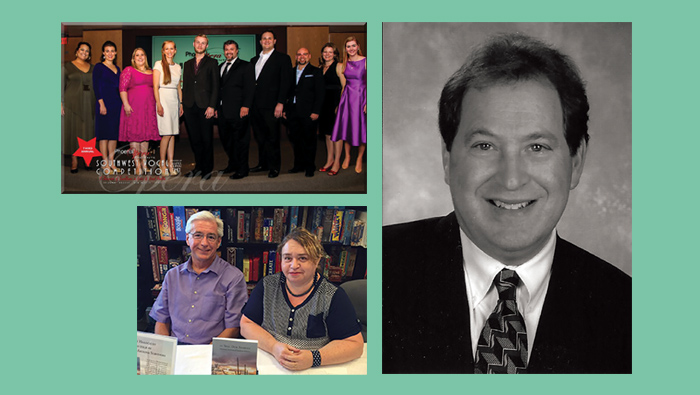 ---
SOUTHWEST VOCAL COMPETITION FINALS CONCERT
In keeping with their mission to discover, nurture and promote vocal talent, Phoenix Opera is proud to partner with Mayo Clinic Voice Program in Arizona and present the Third Annual Southwest Vocal Competition. Mayo's mission to bring the art and science of medicine to the performing arts community and their passion to care for professional vocalists has truly helped transform this competition into a "Showcase of Excellence in Voice and Vocal Health."
The competition started in January with 40 contestants competing. Contestants received special instruction in healthy vocal techniques by health professionals from the Mayo Clinic Voice Program during this round of the competition. 20 contestants reached the second round and now 10 are left to compete in the finals.
Each finalist will compete for cash prizes and perform with the Phoenix Opera Orchestra under the baton of Maestro John Massaro at the Orpheum Theatre, 203 W. Adams, Phoenix on Sunday, March 5 at 2 pm. Tickets to the Finals Concert are $20.Winners will be announced immediately following the concert from the stage.
For more information, or to purchase tickets contact 866-OPERA4U (673-7248) or visit phoenixopera.org/tickets.
AHARON RAZEL TO PERFORM AT BETH TEFILLAH GALA
One of Israel's most celebrated and accomplished musicians, composers, singers and songwriters, Aharon Razel, will perform at the Sixth Annual Congregation Beth Tefillah Gala.
The gala will be held on March 5 at the Hotel Valley Ho, 6850 E. Main St., Scottsdale.
Joining souls through music is Aharon Razel's inspiration. From a very young age, he was recognized nationally for his rare musical talents. At just 15 years old, Razel was received at the prestigious Jerusalem Rubin Music & Dance Academy at the harpsichord and composition departments, where he obtained a Bachelor of Music Degree. He completed his master's degree in composition at Bar-Ilan University under the guidance of world-acclaimed ethnomusicologist Andre Hadju.
Razel went on to compose various chamber music works with were incorporated into the plays of some of Israel's most distinguished theaters, including the Jerusalem Theatre and the Tel Aviv Museum. In 1992, the Israel Chamber Orchestra performed one of his most recognized pieces to date, "Shalom Rav Shooveh."
Razel completed his IDF army service as an "outstanding musician." To date, he has produced seven best selling albums, and his songs are aired frequently on Israeli radio.
For more information on attending the gala please contact Congregation Beth Tefillah at 480-223-9343 or gala@cbtaz.org.
JFCS AT TUCSON FESTIVAL OF BOOKS
The JFCS of Southern Arizona will have a booth at the Tucson Festival of Books, March 11-12 from 9:30 am-5:30 pm on the University of Arizona campus.
The JFCS will again highlight the JFCS-produced book To Tell Our Stories: Holocaust Survivors of Southern Arizona.
Nazi atrocities that took place in the former Soviet Union are not as well known as what happened in European countries such as Germany, Holland, and Poland. Russian immigrant and JFCS Holocaust Survivors Program Manager Raisa Moroz decided to change that.
In 2009, she began asking Russian-speaking Holocaust Survivors to pen stories about their lives during the Holocaust. She created a list of questions and her clients began writing, in Russian, of course. As luck would have it, Russian linguist and poet Richard Fenwick partnered with Raisa in 2010, curating the current collection of stories, and translating many of them to English.
This book includes stories from both Russian-speaking Holocaust Survivors and those from other European countries. Some were translated from Russian, some were written in English by Survivors, and others were transcribed by Richard after listening to recorded interviews.
For more information on the festival and the book, visit jfcstucson.org/to-tell-our-stories.
EAST VALLEY PURIM CARNIVAL
Temple Emanuel, Temple Beth Sholom and the East Valley Jewish Community Center are hosting a Purim Carnival at Temple Emanuel of Tempe, 5801 S. Rural Road, Tempe on March 12 from 10:30 am-1:30 pm.
There will be pony rides, a petting zoo, inflatables, face painting, carnival games, Klezmer band, costume contest and more.
Admission is free. Tickets for games: $1 per ticket, $25 for 30 tickets or $10 for unlimited game wristband. Ticket process go up after March 6. Purchase tickets online at emanueloftempe.org.
BRANDEIS NATIONAL COMMITTEE ANNUAL BOOK & AUTHOR EVENT
Expand your world through books at the Brandeis National Committee Phoenix Chapter's annual book and author event on March 13 at JW Marriott Desert Ridge Resort and Spa, 5350 E. Marriott Dr., Phoenix.
Author book signings begin at 9:30 am; program begins at 11 am. The event features New York Times bestselling authors: Linwood Barclay (mystery), Maureen Dawd (politics), Christina Baker Kline (fiction/art history), Caroline Leavitt (fiction) and Dava Sobel (science/history). Mark Curtis, anchor with 12 News, serves as program moderator.
There is also a cocktail reception for Bookmark Donors on March 12 from 5-7 pm at a private residence.
Luncheon admission is $125 and attendees will receive a $5 coupon towards book purchase. Proceeds benefit research and scholarship in neurodegenerative diseases at Brandeis University.
For more information, or to purchase tickets contact 480-442-9623, bncphxba@gmail.com or visit brandeisphoenix.com.
THE "Q" IS BACK
The Phoenix Community Kollel will again be hosting the "Q", a fast-paced multimedia trivia competition where teams compete to win big prizes by answering trivia questions projected on large screens.
During the event on March 15, held at Pardes Jewish Day School, 12753 N Scottsdale Road, Scottsdale, the Kollel will also be honoring Dr. Daniel Lucas.
In 2002, Dan had his first encounter with the Kollel at a High Holiday event. Over the course of the following years, Dan increased his involvement, attending programs and learning on a regular basis with a Kollel rabbi. In 2005, Dr. Lucas joined the Kollel's board of governors and has been an active board member ever since. The journey that began in 2002 continues today as Dan is a frequent attendee at Kollel events and classes.
A reception will start at 6 pm and the program will follow at 7:30 pm. To register, visit aztorah.com.
JEWISH FREE LOAN OFFERS FINANCIAL LITERACY PROGRAMS
Jewish Free Loan is pleased to announce their Spring Financial Literacy Programs for members of the Phoenix Jewish community. After great interest and success running these programs over the past few years, JFL recognized the need to increase our educational programming and is dedicated to expanding the Financial Literacy Program even further in the coming year.
Millennial Money Matters, for young professionals between the ages of 22 and 45, will take place at 7 pm on March 22 at a private home. Attendees will learn about financial planning and giving and the importance of both in Jewish tradition. This informative and interactive workshop will help individuals and couples gain the knowledge and confidence to set themselves up for financial success.
Family Friendly Financials, for young families with children through age 6, will take place at 10:30 am on April 9 at a location to be announced shortly. This program will be held in partnership with PJ Library and families will participate in an interactive program where they will learn about the importance of tzedakah and how to give as a family. During story time led by PJ Library, parents will have the opportunity to speak with a financial professional about how to save, spend and give in a way that will set their family up for financial success.
Dollars & Sen$e: Financial Literacy for Women will take place on April 23 from 2-4 pm. at The New Shul in Scottsdale. This program will be held in partnership with the Women's Jewish Learning Center and National Council for Jewish Women and is open to women of all ages. This program is designed to empower women to take control of their financial well-being at any age. The interactive workshop will help women master their money and have it serve them in the best way possible.
All of these programs are free and reservations can be made by contacting 602-230-7983 or info@jewishfreeloan.org. For more information and event details, follow the Jewish Free Loan Facebook Page (facebook.com/jewishfreeloanAZ).
GET SCREENED AZ
You need to know if you are a carrier of a genetic disease. The Jewish Genetic Diseases Center of Greater Phoenix offers an opportunity to learn about your genetic risks and options through an educational seminar given by one of Phoenix's outstanding Geneticists from Phoenix Children's Hospital. Afterwards, receive personal genetic counseling and get screened for the most current panel of genetic diseases, all at a highly subsidized rate. If you use your insurance, your screening is free!
The Education & Screening Event will be held April 2 from 10 am-3 pm at the Ina Levine Jewish Community Center, 12701 N Scottsdale Road, Scottsdale. In addition to genetic counseling and education there will be raffle prizes and networking with fellow Jewish community member. For more information or to register, contact 480-668-3347 or visit jewishgeneticsphx.org.
JEWISH TREASURES ROADSHOW TO BENEFIT BJE
Arizona Jewish Life magazine and the Bureau of Jewish Education invite you to a unique event.
Jewish Treasures Roadshow will be held at J. Levine Auction and Appraisal, 10345 N. Scottsdale Road, Scottsdale on March 23 from 5-8 pm. Bring a piece of Judaica from your home for appraisal. Each paid admission includes an appraisal of one object. Also included in admission are educational presentations by J. Levine appraisers and BJE educators on the Jewish value of ritual objects.
Proceeds benefit the Bureau of Jewish Education. Minimum donation for admission: $25/person; includes appraisal of one item. Wine and appetizers will be served. Dietary laws observed. To register, contact 480-634-8050 or visit bjephoenix.org.

---
---