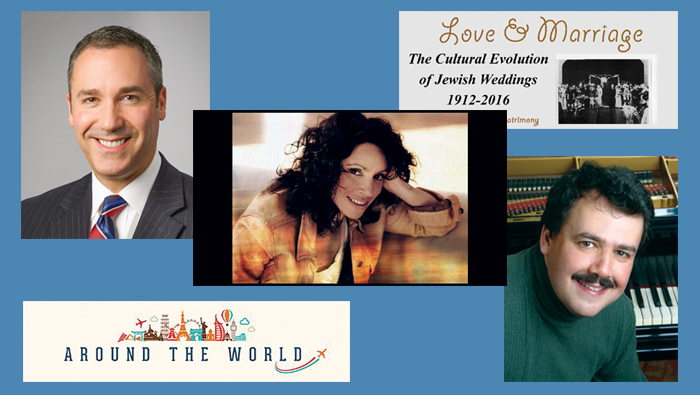 ---
NEW EXHIBIT AT THE CUTLER PLOTKIN JEWISH HERITAGE CENTER
"Love & Marriage – The Cultural Evolution of Jewish Weddings 1912-2016" will be on display throughout the summer at the Cutler Plotkin Jewish Heritage Center at 122 E. Culver St. in Phoenix. This presentation, a collaboration between the Jewish Heritage Center and the Sylvia Plotkin Judaica Museum, features 13 wedding gowns, dresses and suits from wedding ceremonies in Phoenix and various other locations. Also features Jewish customs from Ashkenazi, Sephardic, Orthodox, Conservative, Reform and Secular weddings. The objects and artifacts on display demonstrate Jewish ritual, custom, tradition and law which are on view with explanations, observation, and commentary. Pieces range from a 1928 ketubah to a modern chuppah. See film clips from some of the most noteworthy Hollywood Jewish wedding scenes which are available for viewing on tablets in the gallery. Also on display, an entire Chinese wedding party's costumes and customs, a nod to the center's previous occupant – a Chinese Baptist church.
Gallery hours are Tuesday and Thursday from noon to 3 pm and by appointment. Suggested donation for admission is $5. For more information, contact Jeffrey Schesnol at jschesnol@azjhs.org or visit azjhs.org/exhibits
SCHMOOZE AND CRAFT
Schmooze is a Jewish social organization that brings together singles, couples and families in their 30s and 40s in the Valley through hosting regular events. In June, one of their family events features a fun and crafty afternoon on June 11 from noon to 2 pm at Temple Chai at 4645 E Marilyn Road in Phoenix, participants can make and decorate stained wooden picture frames –perfect for Father's Day gifts. The cost is $10 (per picture frame) and includes all the supplies. You can pay with cash at the event. Light refreshments will be served. Please RSVP by contacting lisahvos@gmail.com or visit Facebook.com/azsschmooze.
ADULT SUMMER CAMP AT THE TUCSON
JKids aren't the only ones who can enjoy camp this summer – adults can, too! Daily, from June 12 through 16, 9 to 11:30 am, adults can explore the world at the Tucson Jewish Community Center at 3800 E. River Road in Tucson. Channel your inner adventurer and introduce yourself to the languages, cultures, and cuisines of China, France, Italy, Mexico and Israel. Each day of the Around the World: Adult Summer Camp will focus on a different country's culture and will include a language class, art making activity and cooking class. The countries scheduled are: Mexico on Monday, June 12; China on Tuesday, June 13; Italy on Wednesday, June 14; France on Thursday, June 15 and Israel on Friday, June 16.
The cost for this new program is $60 for members per day, $50 for non-members, or $225 for the entire week-long experience for members and $275 for non-members.
For more information, please contact Barbara Fenig, director of arts & culture, at bfenig@tucsonjcc.org or 520-299-3000 x236, or register at tucsonjcc.org.
FEDERATION CARDOZO SOCIETY EVENT 
The Jewish Federation of Greater Phoenix Cardozo Society will host an ethics continuing legal education event on Thursday, June 22 from 7:30 to 11:30 am at Phoenix Plaza, 2901 N. Central Ave. in Phoenix. The event entitled "Vocal Traits & Hidden Bias" is sponsored by Lane & Nach, Perkins Coie and R.O.I. Properties.
Jordan Kroop, partner at Perkins Coie, will present an engaging and humorous exploration of emerging vocal characteristics among young, often female, colleagues that may trigger unconscious biases associated with age, gender and socio-economic background.
Participants also will compete in a fun, fast-paced quiz on world religions using the latest mobile technology.
"This is a great way for legal professionals to get all their ethics CLE for the year and have fun at the same time," says Raphael Avraham, chair of the Cardozo Society.
The Cardozo Society is one of three division of Federation's Business & Professionals Groups, which also include Chai Tech and Real Estate & Finance.
"The Business & Professionals Groups seek to bring people together for networking and personal development," says Adam Goodman, chairman of the Business & Professionals Groups. "This fascinating CLE is one more great opportunity to build relationships that strengthen our community."
The cost to attend is $90 and includes breakfast. Dietary laws observed. For information and to register, contact 480-481-1754 or visit jewishphoenix.org/cardozoethics.
LUCY KAPLANSKY AT THE MIM
Lucy Kaplansky is performing at the Musical Instrument Museum at 4725 E. Mayo Blvd. in Phoenix on Friday, July 7 at 7:30 pm. Ticket prices range from $28.50 to $38.50.
Blending country, folk and pop styles, Lucy has the unique ability to make every song sound fresh, whether singing her own sweet originals, covering country classics by June Carter Cash and Gram Parsons, or singing pop favorites by the Beatles and Nick Lowe. Lucy's iconic voice has been featured in film and on television, including in commercials for Chevrolet's iconic "Heartbeat of America" jingle. A Billboard-charting singer and one of the top-selling artists on Red House Records, she has topped the folk and Americana radio charts and has been featured on shows throughout the world. One of the most in-demand harmony singers, Lucy has sung on countless records, performing with Suzanne Vega, Bryan Ferry, Nanci Griffith and Shawn Colvin. For more information, contact 480-478-6000 or visit mim.org.
RED ROCKS MUSIC FESTIVAL RETURNS 
The Red Rocks Music Festival educates, engages and challenges audiences through a unique collaboration of musicians from leading Arizona performing arts organizations and world-acclaimed artists.
The festival will present eight concerts in Phoenix and Sedona from Sept. 3 through 17. The concerts in Phoenix will be held at the Cutler Plotkin Jewish Heritage Center at 122 E. Culver St. and those performed in Sedona will be at the Sedona Creative Life Center, 333 Schnebly Hill Road.
The performances scheduled are as follows:
Dueling Piano Divas, Andria Fennig and Ashley Snavley performing "Americana Treasured Masterpieces."
Sept. 3 at 3 pm in Phoenix; Sept. 8 at 7:30 pm in Sedona.
"World Music," performing classical, Klezmer, jazz and Balkan selections.
Sept. 6 at 7:30 pm in Phoenix; Sept. 9 at 7:30 pm in Sedona.
"Classical Jewels," Mozart clarinet quintet and Schubert piano quintet.
Sept. 7 at 7:30 pm in Phoenix; Sept. 10 at 2 pm in Sedona.
"Tempest to the Silver Age," world-acclaimed pianist, Mikhail Yanovitsky.
Sept. 16 at 7:30 pm in Sedona; Sept. 17 at 3 pm in Phoenix.
Tickets prices are $25 per person/per concert. If you purchase one ticket, you can get a second at half price. Or, if you buy tickets to all four concerts, you only pay for three. For more information, contact 602-402-4551 or visit redrocksmusicfestival.com.
SUMMER MAH JONGG
Play mah jongg this summer at the Jewish Federation Northwest Division at 190 W. Magee Road #162 in Tucson. These weekly mah jongg circles will be held every Wednesday afternoon from 12:30 to 3:30 pm from June 7 through Aug. 30.
Participants should bring: their own National Mah Jongg League Card (the office does not sell cards), $1 tzedakah donation to Jewish Federation Northwest, $4 for the afternoon play (change is better than dollars), a snack to share with the group (the facility is dairy kosher) and a smile! Call first to make sure that they have the requisite number of mah jongg sets available. There are usually multiple tables going. For more information, call 520-505-4161 or email northwestjewish@jfsa.org.
RIDE FOR THE LIVING
The Tucson Jewish Community Center in partnership with Israel Ride, Ride for the Living and the JCC Association of North America's Cycle for Good program will present a fundraising cycling event, Ride for the Living on Friday, June 23. This virtual 'ride' will be held at the Tucson J's Indoor Cycling Studio and will raise money for the JCC in Krakow, Poland. Participation helps support programs that are building renewed Jewish life in Poland.
The event will take place from 8 to 10 am and is open to the entire community. There is a suggested donation to participate in the ride. You can register at tucsonjcc.org.
Spencer Roberts, a personal trainer, triathlon coach and exercise physiologist who works at The J will lead the ride. He adds, "We are honored to ride for the rebirth and rebuilding of Jewish life in Poland. This virtual ride reminds us that reaching out strengthens our worldwide community and together we are leading the movement."
Ride For The Living was inspired by JCC Krakow member Robert Desmond who rode his bicycle 1,350 miles from London to Auschwitz visiting WWII sites of liberation along his journey. After joining the JCC and becoming an active member, he realized his ride should not have ended in a place of loss, but rather at a place of hope, JCC Krakow, joined by the Jewish community and friends from around the world. For more information about the Ride for The Living, visit friendsofjcckrakow.org/ride-for-the-living.

---
---