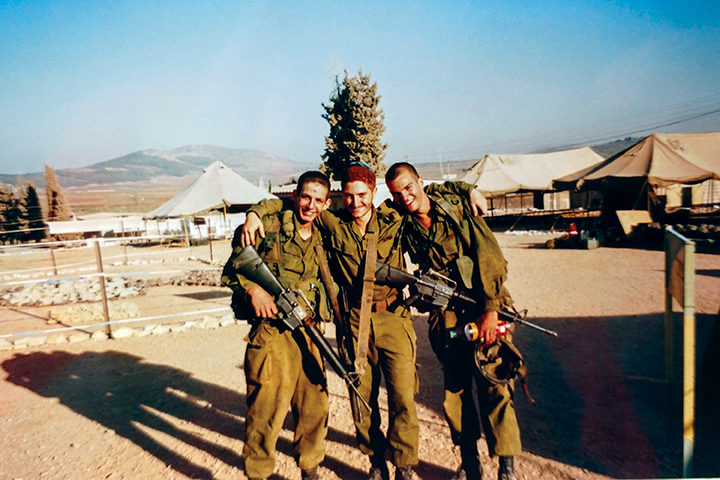 ---
More than a year ago, the Friends of Israel committee at the Sun Lakes Jewish Congregation launched a project to help lone soldiers. "Lone soldiers" are volunteers from all over the world with no immediate family in Israel, who serve in the Israel Defense Forces.
The Lone Soldier Project came about while the committee was exploring various Israeli organizations. They invited Hadar Hamu who had served in operation Protective Edge as a lone soldier, to come and speak to the group. "We all fell in love with her, and we were all enthralled by her, so we decided to take on the project," says Dr. Michael Cohen, chairman of the project.
Their initial effort was to generate donations to send personal care packages and winter hats for lone soldiers. They connected with an Israeli partner, Chayal el Chayal (Hebrew for "soldier to soldier"), a lone soldier center in Jerusalem, to deliver the packages.
"Our ultimate goal is to raise community awareness about the role of the lone soldier and how vital it is to the defense of Israel and how much they are appreciated by the people of Israel," explains Michael.
Most of the lone soldiers come from very comfortable homes in the United States, and across the world, and put that all aside for two or three years of their young life to defend Israel. It takes a lot of courage, dedication and commitment.
Earlier this year, Michael went to Israel and volunteered at Chayal el Chayal. He helped prepare Shabbat dinner and talked to many of the lone soldiers. He asked some of them if serving in the IDF was what they expected it to be, and they all said, "No." They all had a romanticized view of what service would be like. "It's very dirty and very, very, very hard work," says Michael. "You are pushed beyond what you think your capacity is, but your camaraderie with the people that you have just begun to know and your sense of mission is so intense that you just find yourself."
The lone soldier center becomes a haven to these soldier because they are exhausted at the end of the week, everyone they know has gone home for the weekend, and they don't have anywhere to go. "Lone soldier centers call themselves 'home away from home,' but they are really more than that," Michael explains. "Home implies that you have a physical place to sleep, they are really 'family away from family.'" Aside from social events and care packages, the center provides lodging, laundry facilities and guidance.
During his visit, the soldiers told Michael that they loved to receive letters, from anybody about anything. So, this summer, he went to the East Valley Jewish Community Center's Camp Rimon and spoke to a group of campers in grades 3-8 about the lone soldiers.
"I'm a pediatrician, and I was amazed at the kids' attentiveness and interest," says Michael. "I had them all write letters or draw pictures to send. They wrote things like, 'Please don't die,' 'Thank you for what you do to help us' and 'I wish I was just like you.' It was amazing."
Jake Bennett, who lives in Phoenix and works as a financial advisor at Edward Jones, joined the IDF as a lone soldier at the age of 24. He has many fond memories of the care packages he received. "When I was in basic training, I got a hand-knitted hat. It was the kind of hat that you can pull down over your face, and it has holes for your eyes. My friends told me it was an 'Arafat hat,' but it turned out that it was knitted by the mom of one of my officers who knew that I was a lone soldier in the unit, and wanted to be supportive. I hadn't even met her yet. I thought, 'Wow!' That's powerful."
He also received a Purim package with little snacks and gifts in it, but he didn't recognize the name on the return address. "I asked if anyone knew the name on the package, and they said, 'That's our drill sergeant's family,' explains Jake. "So the drill sergeant's family sent me a Purim care package because they knew I was a lone soldier and didn't have family around. That was so meaningful."
Jake emphasizes the importance of a support system for the lone soldier. "One of the hardest thing for lone soldiers – and this happens a lot – is that they end up having issues, problems with their family back home," Jake explains. "Their family doesn't understand why they are doing what they are doing. Sometimes the family feels abandoned. Communication is hard, and the young man or woman feels like they are disconnected from their family, and they have trouble bridging that communication gap. I've heard this story repeatedly, and I experienced it myself."
The key is that the young person needs to know about the lone soldier center before they are in the IDF. "Once you are in a combat unit, when you have time off you are exhausted," remembers Jake. "You don't have time to go explore, to meet new people. You want to go back to somewhere you feel comfortable."
Michael recounts the story of the founder of Chayal el Chayal, Mordechai (Mordy) Botnick, who began helping lone soldiers while he was still on active duty. "He is the son of a Chabad rabbi from Ottawa, Canada, and his family was very against him joining the IDF as a lone soldier. It took him several years in his own mind to say 'I'm going.'
When he got enough money to get a flight to Israel, he gets to Ben Gurion airport and gets in a cab and tells the driver to take him to Jerusalem. The cab driver says, 'That's a good start, where in Jerusalem?' Mordy says, 'I don't know, I want to go into the army.' So the cab driver took him to the shuk (public market), and he slept on his suitcase that first night. He saw someone in a military uniform the next day, and he told them that he wanted to be in the military. That night he had a place to sleep and eventually connected with the right people to go through the process to enter the IDF. When he was out of the military, he grew this organization that supplies an enormous amount of services to the lone soldiers."
To learn more about the Lone Soldier Project, contact 480-895-4660 or email lonesoldiersljc@gmail.com.

---
---