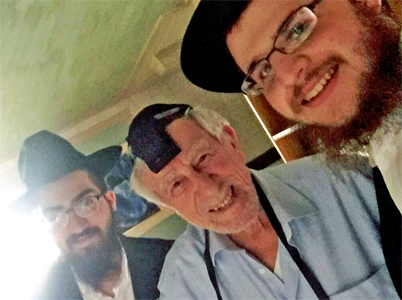 ---
Pictured above: Rabbi Shuchat, far left, with 94-year-old Burt Dubin and Rabbi Blum in Kingman.
As part of a seven-decade old program dubbed 'The Roving Rabbis,' two Rabbinical students will be visiting more than 40 cities around Arizona as part of their community outreach training. The young Rabbis-in-training will be spending their summer on the road, sharing their love for Jewish life and bringing the beauty of Judaism wherever they go.
Rabbis Yisroel Shuchat & Tzvi Blum  will conduct their visits during the period of July 29 through August 17. Cities they will be visiting include: Kingman, Payson, Yuma, as well as smaller cities and towns.
"The goal is to make Judaism accessible and relevant to every Jew, wherever they may be, not feeling alone and isolated from the Jewish communities," says Rabbi Zalman Levertov, regional director of Chabad of Arizona, who oversees the program.
For more information or to request a visit please email ChabadAZ@cox.net.

---
---