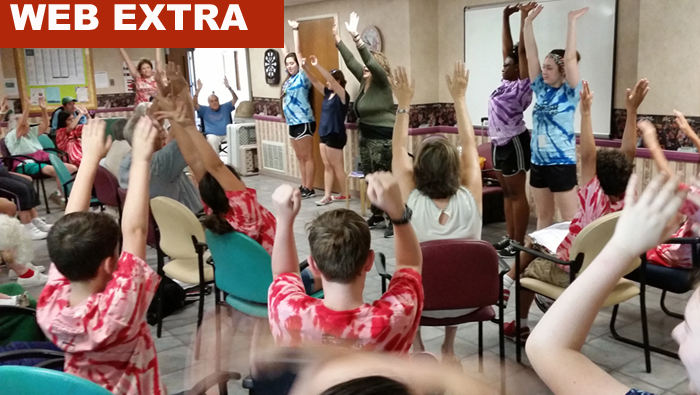 ---
Campers from the Valley of the Sun JCC Camp Shemesh visited the JFCS Senior Center on June 16 to share their enthusiasm and love of music.
Campers and seniors divided into teams and competed in a music trivia competition. When songs were playing, seniors and campers danced and grooved to the tunes.
Music from the oldies, current pop hits and Broadway tunes were played for all to enjoy.
The JFCS Center for Senior Enrichment, located in Brookdale Christown in central Phoenix, is open to all seniors, with a variety of programming from 10 am to 2 pm, Tuesdays through Fridays. Classes range from exercise, yoga and Zumba to arts and crafts, cooking and computers. Kosher lunches can be provided upon request. Shabbat and all Jewish holidays are observed.
"Our JFCS Senior Center is open to all and we are anxious to get the word out that everyone is welcome here," says Sandy Reischfeld, director of the center. Contact her at sandy.reischfeld@jfcsaz.org or 602-943-2198.
Camp Shemesh is host to hundreds of children ranging from preschool to grade eight, offering weekly camp sessions through the end of July. VOSJCC is located at 12701 N Scottsdale Road in Scottsdale. Each week includes a range of age-appropriate fun activities and swimming, as well as field trips such as this one. Find out more about the camp at vosjcc.org.

---
---