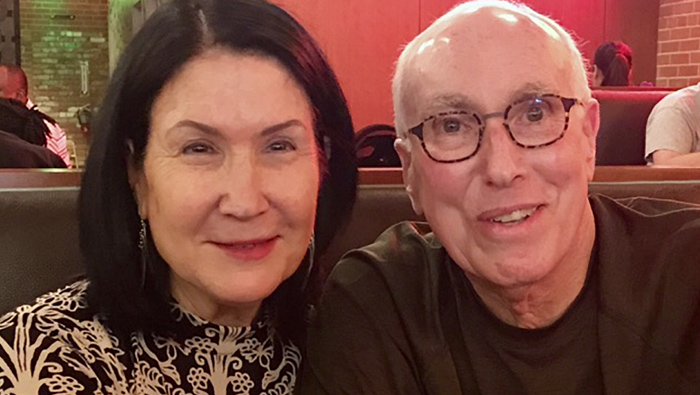 ---
Amelia Earhart once said, "A single act of kindness throws roots out in all directions – and the roots spring up and make new trees." Scottsdale residents and Temple Solel members Sharon Levine and her husband Stewart, are living examples of this inspiring sentiment. By providing free athletic shoes to needy children, they are making an indelible mark on the philanthropic landscape of Arizona. The couple changes lives, by bringing hope, dignity and joy to thousands of needy children – one shoe at a time.
Sharon and Stewart spearheaded the local Shoes That Fit chapter (called the FATE Group in memory of the couple's fathers, Frank and Nate). The recipient of the 12 Who Care Award from KPNX Channel 12 in Phoenix, the chapter's motto is "sturdy and stylish, not expensive and trendy." "The children we serve often wear flip-flops or ill-fitting, worn or torn shoes to school which can make it difficult for them to participate in recreational activities," explains Sharon. "Most of these kids never had a brand new pair of shoes, let alone any shoes at all. We want them to be thrilled with their gift of new shoes. It makes such a difference to them on a daily basis."
Since its inception in 2006, FATE has been quite a philanthropic tour-de-force. The couple has provided more than 9,000 pairs of new athletic shoes, and hundreds of pairs of socks to children enrolled in schools in the Paradise Valley, Creighton, Mesa, Tempe, Pendergast, Sun City West, Madison, Glendale, Balsz, Kyrene and Scottsdale Unified School Districts.
A grassroots organization, FATE strives to be streamlined, and free of overhead and bureaucracy. "We pride ourselves on zero administrative costs and want all the shoes going on the kids as soon as possible," says Sharon. "We pay for any administrative costs ourselves; we want everything going back to the kids."
The concept for the much-needed organization was conceived from a sobering observation the couple made while living in Highland Park, IL. When they gazed outside their community gate, they would frequently observe children walking to school in snowy weather, in gym shoes that were torn. That was when they decided to be part of the solution. "We were so moved," says Sharon, "we decided to donate clothes and shoes. Soon afterward, we found out about the original California chapter of Shoes That Fit. We loved the concept, and thought it sounded like a great way to boost kid's self-esteem and have them perform better in school." The couple was so deeply inspired by the concept; they decided to open a branch in Chicago, giving away hundreds of coats, gym shoes and boots. Upon moving to Scottsdale in 2016, the couple brought their sense of social responsibility with them, opening up a local STF chapter.
A compelling story Sharon loves to tell involves a woman who was determined to "pay it forward" despite her financial situation. "Noticing our two carts with about 100 pairs of shoes in Walmart, one day, a mother approached us, asking what they were for. When we told her, (the Creighton School District), she excitedly told us her kids got shoes last year from FATE. She was proud of the fact she had a better year after that, and was able to buy the kids' shoes herself. She reached into her pocket, gave us 70 cents. and insisted we take it to 'pay it forward.' She modeled the most wonderful thing in front of her kids. That is the best donation we ever got."
Frequently social workers are the front line in schools and can make important decisions. "We got a phone call from a school social worker, one day," explains Sharon, who told us about a child who came in with just socks. There were four children in the family, but only three shoes; so one day each kid wears socks. We took care of him, but this story illuminates the fact of what goes on inside the schools."
To find out how you can help, or to make a donation, contact Sharon and Stewart Levine at 480-907-7960 or visit shoesthatfit.org.

---
---