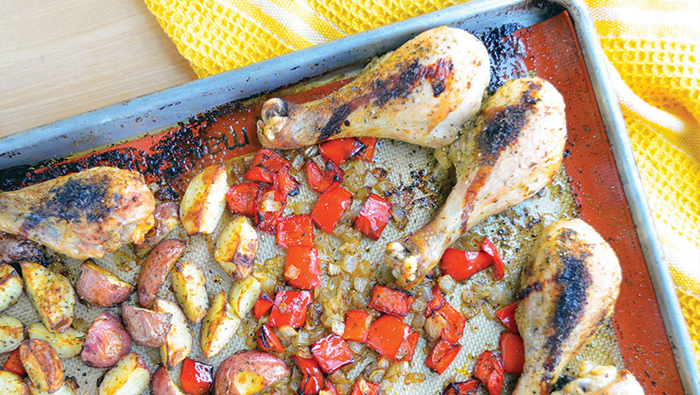 ---
I love one-pot wonders…and sheet pan wonders! Protein, vegetables and a side starch all cook together in the oven. Depending on the season, feel free to swap out almost any vegetable for the peppers, like carrots, broccoli, Brussels sprouts or anything else you have on hand. Simple cooking method, easy clean up, big-time flavor. What more could you ask for?
Prep Time: 20 minutes
Cook Time: 40 minutes
Yield: 4 servings, 1 1/2 legs each (with 2/3 cup vegetables)
INGREDIENTS
2 pounds chicken legs (about 5-6)
1 1/4 pound red potatoes (about 16 small potatoes), quartered
1 medium red bell pepper, diced
1 cup diced onion
2 tablespoons extra-virgin olive oil 
2 teaspoons all-purpose salt-free seasoning
1/2 teaspoon salt
black pepper
1 tablespoon balsamic vinegar
INSTRUCTIONS
Preheat oven to 400°F convection. For easier clean up, line a large sheet pan with a non-stick baking pat or parchment paper.
Place the chicken in a single layer on one side of a sheet pan and the potatoes on the other side of the pan. Place the peppers and onions in the middle of the pan. Drizzle the oil all over. Sprinkle the seasoning, salt and pepper all over. Bake until the chicken is browned and cooked through, about 20-30 minutes. Remove from oven and drizzle the vinegar on the chicken, peppers and onions. Transfer chicken to a plate and stir the vegetables. Continue to roast the vegetables for 15-20 minutes, until the potatoes are browned and fork tender.
COOK'S NOTES:
The best places to buy industrial-style sheet pans include big box retailers and restaurant supply stores. Gourmet kitchen stores sell them as well, but at a higher price.
PER SERVING: Calories 443; Fat 20g (Saturated 4g); Cholesterol 101mg; Sodium 414mg; Carbohydrate 32g; Fiber 4g; Protein 34g; Vitamin A 21% DV; Calcium 5% DV; Vitamin C 87% DV; Iron 18% DV
Recipes adapted with permission from Clean Eating Cooking School: Monthly Meal Plans Made Simple.
By Michelle Dudash, RDN, Cordon Bleu-certified chef and creator of Clean Eating Cooking School: Monthly Meal Plans Made Simple

---
---