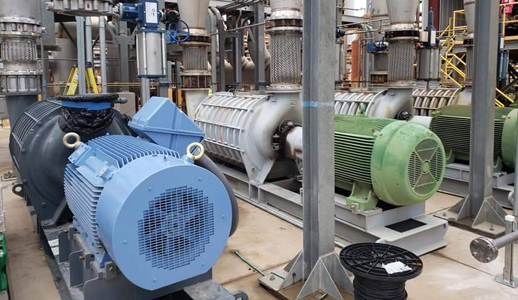 ---
Pictured above: WachsField Technologies helps to optimize performance of machinery such as this inlet blower at a landfill gas scrubbing plant in Texas.
Although Stuart Wachs left Jewish communal work in 2017, he takes many of the skills he honed over the past three decades into his work in the private sector.
He formed WachsField Technologies with partner Robert "Max" Maxfield in the summer of 2018. The two met while working at another company where Stuart was the COO and Max was the vice president of technology.
"For the first 30 years of my professional life, the successes in the organizations I worked at benefitted the community," says Stuart. "Now because of what we are doing, it can provide safety for communities – it brings a unique lens."
WachsField Technologies is an industrial technology integration firm. Their clients consist of large manufacturers and municipalities, the federal government, state or private entities that run power plants, water treatment and wastewater facilities, oil and gas, mining operations, etc.
"Anywhere there is a large volume of devices that are mechanized with sensors, or the ability to add sensors – running and generating things; producing or adding chemicals; sensing speed, temperature or flow pressure … we work from the sensors forward," says Stuart.
WachsField retrieves captured data from those processes and then customizes programming to automate the operation — to optimize and improve the performance of that operation.
The company also provides safety-related programming. They can install programs that can send alerts and alarms to a control center so problems can be addressed promptly to keep everyone inside the plant safe and prevent equipment damage or plant downtime.
As his business grows, Stuart also recognizes the importance of forming partnerships, something he has been doing all of his professional life. "We are entering this traditional industrial space and approach it from a very customer-centric mindset," he says. "We are building around our core competencies and aligning with the right partners to bring the best end result to our clients."
Stuart recently partnered with Israel-based company No Traffic that creates turnkey traffic management platforms to optimize signalized intersections, provide preemption and provides a platform to communicate with connected and autonomous vehicles. No Traffic installs self-contained equipment that can be installed without digging up the intersection or requiring other infrastructure needs.
"The software learns the traffic patterns, peak times, current travel times and then it will, in an automated fashion, adjust the timing of traffic lights to maximize flow," says Stuart. These systems also offer a "plug and play" option for the ability to communicate with autonomous vehicles  without the need for additional sensors in the vehicles or at traffic signals.
"We just launched in Redlands, CA, and we also have an agreement with Maricopa County to do a pilot site," he says. "We have a number of both Arizona and California cities we are in conversation with to do about eight pilots before we go to market."
This system also can help prevent accidents involving autonomous vehicles. There was a recent accident involving a Waymo self-driving car and a person-driven vehicle. The Waymo vehicle was approaching a blind intersection when the person ran a red light and caused an accident.
No Traffic replicated the scenario In Israel, using their equipment. The sensor on the traffic light alerted the self-driving vehicle that the other car was not decelerating. Instead of proceeding through the intersection on a green light, the connected vehicle stopped to prevent the accident.
"As a former Jewish communal professional – and a guy passionate about Israel – partnering with an Israeli company was high on my list," says Stuart.
In building this new venture, Stuart reflects that it's relationships that matter.
"Whether you're fundraising, running the JCC or a tech company … there's a lot of people out there doing what you are doing," he says. "It's really about how you lead an organization with values and that you're doing the right thing and that you're building relationships. That's how we've formed at a very early stage – partnerships that eventually could be critical and crucial to our success – and that's a skill set and experience I learned from the nonprofit space."
For more information on WachsField Technologies, visit wachsfield.com.

---
---