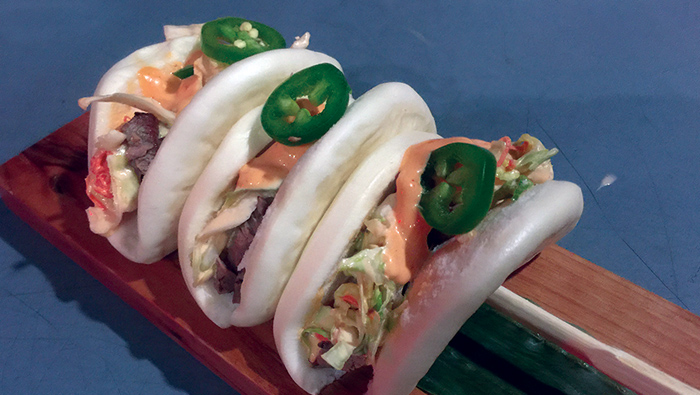 ---
THIS MONTH'S RESTAURANT
Chestnut Fine Foods & Provisions $$
4350 E Camelback Road Bldg. I-100, Phoenix
602-708-7679
chestnutaz.com
Sometimes the best way to describe something is to say what it's not. Chestnut Fine Foods & Provisions is not a corporate designed, focus grouped, themed concept restaurant or copy of any place I've ever seen. It is so mom and pop (actually daughter and mom) it oozes family-run friendliness and a rare devil-may-care attitude for whatever they want to try. For instance, have you ever heard of a restaurant that is only open for breakfast and lunch, but now opens three nights a week for Asian fusion?
Here's more proof of their refreshingly unscripted style. I asked a staff member why the restaurant is called Chestnut and he replied, "When the owner bought this place, it was called Chestnut Lane and she liked the sound of Chestnut so she kept it." And now for my favorite… I followed up by asking why they chose a bicycle as a logo and he said, "The owner likes bicycles."  This sole ownership attitude of "we do what we want to do because that's what we want to do" charmed me to no end. It used to be a bank on the corner of 44th Street and Camelback, but now the vault serves as a walk in freezer. A better use, if you ask me.
It's no surprise that this little gem sits in the Arcadia neighborhood. Some of my most favorite people grew up here, and they also have that creative spirit and rugged individualism reflected in this restaurant. The interior is well-worn, like most of my friends, and includes a boutique filled with chachkies for sale. Part of the restaurant's name is "Fine Food and Provisions."  I guess the chachkies are the provisions.
Both breakfast and lunch are served all day until 3 pm. You order from the counter and they bring the food to your table (fast casual service). Three nights a week, however, fast casual is dropped and full service takes its place. I did not know of the Asian fusion dining when I began my journey and was delighted to rethink my approach to the restaurant and come back later to experience everything. Asian small plates and noodle soups are offered Thursday, Friday and Saturday evenings only, and the restaurant is renamed Water Chestnut for the night. Over the course of a few visits, here is what I had:
Short Rib Hash  $12
(short rib, caramelized onions, mixed bell peppers and potatoes served with two over-easy eggs, gluten free)
I was pleasantly surprised to find short rib hash and, as a fan of short ribs since childhood, knew this was for me. The meat was tender and pulled so it could be gathered on your fork along with bites of egg and potato all at the same time. I loved all the blended flavors held together by the egg yolk, and also enjoyed eating each ingredient by itself at times. Who doesn't love caramelized onions for breakfast?
Chicken Salad Sandwich  $9
(hand-pulled poached chicken, lightly dressed and served on country white bread)
This sandwich was simply delightful. The chicken was tender and tasty, and the bread was fresh, with an excellent crust. It was lightly dressed as described, not oily, not wet with mayonnaise, but rather a fresh hint of lime juice that really brought out the flavors of the chicken and the bread. As if this wasn't enough, it was served with a side of house-made salted sweet potato chips that were addicting.
Chocolate Chip Cookie  $1.25 
Pecan Bar  $3
(no restaurant description;, it's all under glass and your eyes do the communicating)
There's a dessert case where you place your order and I passed on it the first time I went. That was a mistake and here is why. I assumed they were brought in from some bakery but no, they are made at Chestnut and I didn't know that until I tried them – and then had to ask. The cookie was soft and creamy, and one of the best I've had – though I wish it was three bites larger. The pecan bar was to die for, and huge for it's $3 price tag. Crunchy pecans on a fabulous crust, as good as you will find anywhere. It was their delicious baked goods that made me want to come back later for Asian fusion because these people certainly know their way around dough, and I had my eye on some noodle dishes.
Flash Fried Beef Potstickers  $5
(no restaurant description)
Three hot, golden brown, handmade potstickers arrived on a little dish with a side of sauce and I couldn't wait to dig in. Crispy, delicious, freshly made, are the first sensations and flavors. The dipping sauce is nicely done with a hint of vinegar, soy and salt. Wish there were more at this price.
Egg Rolls  $5
(no restaurant description)
How can anyone resist egg rolls? With that rationalization, and armed with the fact they were vegetarian, I placed my order. Like the potstickers, three golden brown egg rolls arrived but with a delightful surprise, house made plum sauce. The egg rolls were crunchy, hot, made to order and oh, that plum sauce. You could taste the real fruit. A must have.
Bao Steamed Bun (Roast Duck)  $10
(no restaurant description)
I was expecting more of a traditional bao which is a sealed steamed bun with the meat inside, and this looked more like a taco. A pleasant twist, and this must be the fusion part, because it also had a jalapeño on top. The bao, though labeled steamed, was not served as a hot sandwich, another surprise, but it totally worked. The duck was tender and had a nice flavor and was topped with coleslaw, Sriracha sauce and that jalapeño. Truth be told, I picked off the jalapeño because the Sriracha added enough heat.
Ramen  $10
(no restaurant description)
Ordering the soup was made easy on the step-by-step menu. First, pick your broth; second, pick your noodle and third, pick anything else you want in your bowl. I went with vegetable broth with carrots and scallions, house-made ramen noodles, cabbage and katsu chicken.
A steaming bowl of beautiful soup arrived with the chicken served on the side to keep it crisp.  Katsu is sort of an egg batter, a sweet coating applied to the chicken and then fried. The noodles were a bit thicker than I was used to, but that only made it heartier. Everything blended well and it is fun to eat the noodles with chopsticks and the soup with a Chinese style spoon.
Chestnut Fine Foods & Provisions is a terrific treasure that you can easily stumble upon. Parking is a challenge, as it is with all Arcadia restaurants, but worth the effort. If, like me, you are not a fan of the corporate, "Hello, my name is Ashley and I'll be your server," then you've found a home for breakfast, lunch and maybe a little noodle at night.

---
---