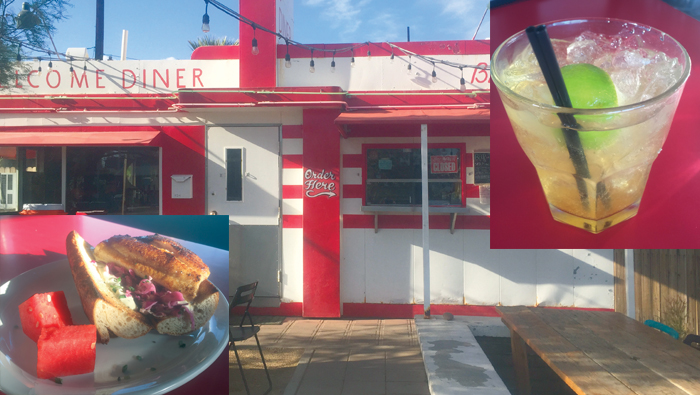 ---
The Welcome Diner $$
924 E Roosevelt Street
Phoenix, AZ  85006
602-495-1111
welcomediner.net
Downtown Phoenix revelers and late night munchie/nightcap people are going to love me for this.  Hugging the edge of Roosevelt Row, a fabulously renovated arts, restaurant and downtown shopping district, sits an authentic 1940s mobile diner (wheels off and permanently installed) serving happy patrons from 5 pm – 2 am. Yes, Phoenicians, food and drink 'til 2 am!
This tiny diner has only seven seats at the counter inside, but makes up for that with its walk up window and open patio with picnic tables. What it lacks in size, it makes up in character. It's a gathering place for locals who know each other, and for the explorers (like me), who seek culinary adventure outside the frou-frou foodie places when the urge hits. Bottom line, The Welcome Diner is a necessity if you are hungry in Phoenix after 10 pm.
Being a small place it has a small menu, but each item carries with it the huge character of The Welcome Diner. It's a farm to fork kind of establishment that proudly displays its local food purveyors. To me, the most surprising part of the menu was the signature cocktails. I was not expecting crafted cocktails with house made mixers. It was happy hour when I arrived, and I ask you, who could resist a $4 gin cocktail with house-made tonic? Not this guy, and that is how my experience began. Over the course of a couple of visits, this is how The Welcome Diner welcomed me:
Gin & Tonic   $6 ($4 during happy hour)
(gin, house-made tonic, lemon, lime juice, seltzer)
If you are sitting inside at the counter as I was, you are part of the production process and I had the opportunity to ask about the tonic as it was being added to my drink. "It's dark because we make it with cinchona bark," Zack the mixologist/server said as he pointed to a clear glass container on the shelf with bits of bark inside. I later learned that cinchona bark is used as a muscle relaxer for people with malaria, hmmm.  He sets my drink filled to the rim in front of me and I swear, three minutes later it was gone. Sweet, but not too, wonderful flavor and very refreshing, I had to stop myself from ordering another, but watched as other drinks, mostly bourbon concoctions, were lovingly assembled for the growing crowd.
Bumblebee   $10
(fried chicken, local honey, house mustard, B&B pickles, served on a biscuit)
Yep, fried chicken on a biscuit. It came with pickles, mustard, drizzled with honey and a couple of chunks of watermelon on the side. Not fancy, but certainly delicious. The chicken was crisp, well-seasoned, tender and the biscuit was fresh. It is a generous portion of chicken breast and I think it's the mustard that made it a little bit spicy. There are a lot of items on the menu that are based on biscuits, their specialty.
Fish Po' Boy   $12
(grilled whitefish, coleslaw, tartar sauce on a toasted baguette)
Whitefish is a delicately mild fish and this one was grilled to perfection. I tasted it separately from the sandwich, to truly enjoy the fish by itself, before biting into the whole thing. The cool coleslaw was wonderful, and combined with the good bread and tartar sauce made this a great, but a bit sloppy sandwich.  There's a little spice to it, most likely from the tartar sauce, but it really enhances the flavor since the fish is so mild. Surprised to find seafood prepared so well in a downtown diner. Fish lovers have to try this one.
I came back for a second visit to sample some of the dairy options … and dessert, of course.
Mac and Cheese   $8
(herb-infused cheese blend, blow torched crust)
Blow torch?  Sign me up. Large elbow macaroni laden in cheesy goodness with a blackened crust and sprinkled with something green, arrived in a deep bowl. I loved watching them blow torch this and many other items throughout the night. Under the crust, the dish was smooth, creamy and very mild. Adding bits of toasted cheese to your fork made it seem like you were eating two different things. I always like the burnt cheese on homemade casseroles, so I get this. If you're not a fan of crispy cheese, I suppose you could skip the pyrotechnics, but the blow torch was a fun twist.
Beignets   $4
(local honey and powdered sugar)
Served piping hot, drizzled with honey and sprinkled with powdered sugar, this generous helping was calling me to eat, even though I knew I should let it cool first. These were the densest beignets I'd ever had and it threw me at first. I'm used to the fluffy, puffy, New Orleans style but these were "meaty" and I quickly fell in love. I did not share, though you could, and soon they were all gone. Loved the price on these as much as I did the crispy sweetness of this must-have dessert.
The open kitchen concept is all the rage in restaurants these days. At this tiny diner, their open kitchen wasn't a trendy design choice, there's no place else to put it. You could reach over and help the chef if you wanted. I love the fact that you get to see "backstage" if you will, that you know how it's made and what you are going to get. It's all part of the charm that envelopes everything here. The diner is cute, interesting, historic, but it's also the people who go that add to the atmosphere. The staff is great and eager to talk about the history, what they do, how they source, the whole story. Put this one on your list, especially if you find yourself downtown in the wee hours, but don't forget happy hour is 5 – 7 pm,
Wednesday – Sunday and 5 pm – 2 am on Tuesday, and that's when you'll find me.

---
---