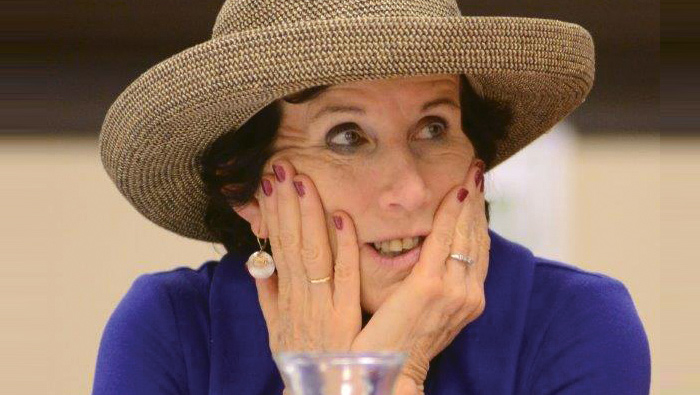 ---
Some people drink their tea black, and some like it with sugar and cream. But on Tuesday, Nov. 3, Hadassah Southern Arizona will take delight in Tea with Honey.
The chapter will honor Honey Manson, a woman who has given so much to the Tucson Jewish community and who recently celebrated her 90th birthday.
In addition to Honey's devotion to Hadassah, where she is the chair of the Nurses Council, she is known throughout the Tucson Jewish community for her volunteerism. Her list includes B'nai B'rith, Jewish War Veterans, International Jewish Film Festival, B'nai B'rith Covenant House, B'nai B'rith Manor on Pantano, Jewish Community Relations Council, and Jewish Family and Children's Services (specifically with LEAH, Let's End Abusive Households).
There is no doubt that Honey totally delights in the doing of mitzvot. Last December, she staffed a table at Shalom Tucson's Hanukkah Mall Madness at the Park Place Mall (sponsored by the Jewish Federation of Southern Arizona). She was representing the Jewish community's 1st Rate 2nd Hand Thrift Store, and she came prepared with boxes of children's books. During the two-hour event, she gave away gently used books to children of all races and religions. She absolutely beamed when she had given all the books away, some to children who had never owned a single book of their own. Therefore, it is not a surprise that Hadassah Southern Arizona chose to honor Honey's many achievements in a long life dedicated to charitable good deeds.
The keynote speaker for this event is Barbara Sofer, a prize-winning journalist, author and inspirational speaker who also serves as the Israel Director of Public Relations for Hadassah, where she reports the stories of Hadassah's achievements in print and movies. She has witnessed and documented the daily effort to create an island of peace and sanity within Jerusalem's largest medical center.
Barbara writes a popular weekend column for the Jerusalem Post that deals with the challenges and miracles of everyday life in Israel, where she moved from the United States 40 years ago. Because of the prominence of Hadassah Hospital in the news, she has worked with top-tier media including "60 Minutes" and "Nightline" in formulating programs that show Israel in a positive light. She also contributed to the Emmy-winning CNBC program "Jerusalem ER."
Barbara appeared on "Good Morning America's" new Seven Wonders of the World series as an expert on the spiritual uniqueness of Jerusalem; she likes to think of herself as a maggidah, an itinerant teller of the stories of Israel, past and present. She is the author of six books, the most recent being A Daughter of Many Mothers, the story of Holocaust survivor Rena Quint.
Her prizes include many Rockower awards for Jewish journalism, the Sidney Taylor Award for the best Jewish children's book and the 2008 Eliav-Sartawi Award for creating understanding through Middle Eastern journalism. She is married to scientist/writer Gerald Schroeder. They have five children and a changing number of grandchildren.
Hadassah Southern Arizona hopes to raise funds for Honey's passion: the education of good nurses. Everyone is welcome to attend the event; membership in Hadassah is not required. Admission: $72 (includes $30 cover) per person or be a special donor who will be noted in the program: $90 and $180 per person. Donations are welcome.
This gala event will be an Aruchat Arba, or 4 pm tea and mini-meal. It will be held at the Tucson Jewish Community Center, 3800 E River Road, Tucson. Hats and gloves are optional!
All proceeds will benefit the Henrietta Szold Hadassah-Hebrew University School of Nursing's Clinical Master's Degree Program. The School of Nursing is a special favorite of Honey's.
For more information, contact Debra Jacobs 520-275-5044.

---
---