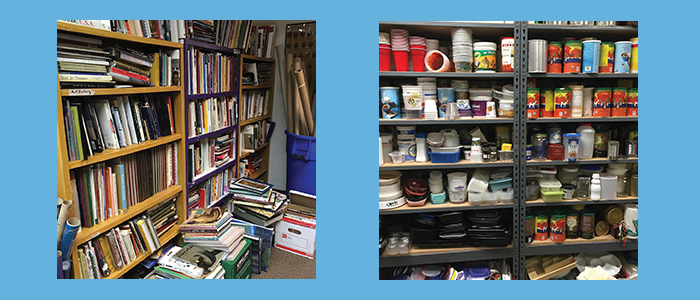 ---
Sherrie Zeitlin was an artist in the schools in the 1990s when she first noticed funding for the arts was dissipating. She decided then that when she could, she would put her money "where her mouth was." The result is the Art Resource Center.
Since 2004, The Art Resource Center, a nonprofit 501(c)(3) corporation, collects donated items from individuals and companies and offers them free to other nonprofits to make art.
"Anyone who is a 501(c)(3) can use the materials at The ARC," explains owner Sherrie Zeitlin. "Any school, college, university, charity and nonprofit. All free – and it always will be." Homeschool families are also welcome to use the materials for free.
Everything at The ARC has been donated by others. "The only thing that we have purchased is some of the racks and one paper cutter that we were desperate to have, and two weeks later we got two just like it. Now whenever we want something, we wait two weeks," jokes Sherrie.
In addition to donations of arts and crafts supplies, she has also had artists' estates donate complete studios of fine art materials. Some of the most unique material was handmade paper embedded with mica, which originally sold for $500 a sheet. Sherrie sold it for $100 a sheet. "Artists come in and they buy stuff from us to use or sell to the general public. That helps keep the doors open and the lights on," she says.
In the early days, when the center was only 480 square feet, Sherrie was able to fund it herself. Today the cost is around $30,000 a year to run the center, with hopes to move to an even larger location in 2018near where they are now. "I like to be in Tempe because it is central to the greater Maricopa County," says Sherrie. "People come from all over the state. They come from Tucson, Yuma, the reservations, Salome. We are the only place where people can come and get supplies for free."
The ARC offers fee-based classes that allow teachers to receive continuing education credit. These classes are taught by artists who volunteer their time; a Sherrie does offer payment, but they always refuse. Classes, which are open to the public, include printmaking, weaving, jewelry making and some holiday craft work.
About 50% of the people who visit The ARC are teachers in K through 12 classrooms. "There was a teacher who posted on Facebook recently that she had no funding and wanted her kids to do oil painting," says Sherrie. "Someone suggested that they visit us. I gave her everything she needed." Sherrie also will lend out several weaving looms that she has from a weaving business she had for 25 years.
Other nonprofits that have visited the center for materials include the Salvation Army, Desert Botanical Garden, Phoenix Art Museum, Scottsdale Museum of Contemporary Art and community centers. "They have community projects they facilitate, so they come in and get stuff from us," says Sherrie. "Often the artist comes in and they know exactly what materials they want."
The center is completely run by volunteers. "I have six dedicated volunteers who are all involved in the arts and others we call on as needed," says Sherrie. "I have a whole cadre of people I know who will come in at the drop of a hat if needed. The arts community here in Arizona is remarkable."
Sherrie is deeply entrenched in the arts community and is a full-time ceramics artist. She juggles that with being at the center. The Art Resource Center's hours vary, and Sherrie posts on Facebook and Instagram when they will be open, so she encourages people to check there. If people live further than 50 miles away, she will open for them as long as they contact her first.
"The idea is to come in and take what you need and come back often," says Sherrie. "All our materials are free and always will be."
For more information, call 602-828- 1987 or visit artresourcecenter.org.

---
---