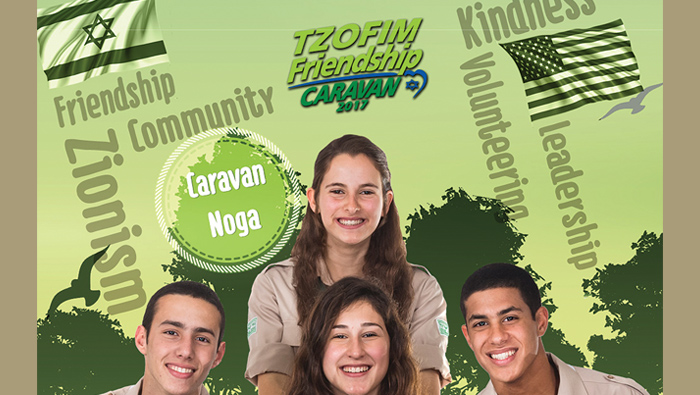 ---
The Tzofim Friendship Caravan is celebrating over 40 years of bringing excitement, energy and friendship to North America. Founded in 1973, the first Caravan came to the United States to bring a message of hope and peace for Israel. Since that first Caravan, the program has grown to three different groups traveling across North America, from New York to California to Wyoming and Tennessee, spreading joy and goodwill for Israel.
Each Caravan is made up of a group of five girls and five boys, ages 16 to 17, and their two leaders. They are chosen to be members of the Caravan based on their maturity, fluency in English, and of course their talent in the performing arts.
After several rounds of competitive auditions and interviews, the scouts spend a year training and rehearsing for their exciting summer in North America.
The Caravan is visiting Arizona this summer from June 11 to 20. The leaders of this group will be Chen Shachar and Yoni Michalowsky. Both Chen and Yoni began with the scouts at the age of 9 and have been counselors as well as participants in the Caravan tour in 2010. Upon their return, they set their sights on becoming leaders. "Being a part of this project was the most powerful experience I've ever had, and the combination between being a leader of 10 wonderful teenagers and strengthening the bond between Israel and the U.S.A., seemed to me as the most meaningful job I could ever choose," says Chen. Yoni has a similar reason for becoming a Caravan leader, "After finishing the military service in the IDF, I looked for a meaningful job combining leadership and education. The amazing experience being part of the 2010 Midwest Caravan led me to that decision," he says.
Preparation for the Caravan starts in January. The group meets every weekend to practice for the performances and plan educational activities. The leaders meet separately during the week to learn about their responsibilities and how to manage their team. "We believe in trust, and therefore we build it as a group from the start," explains Yoni. "I want to make sure that the kids, communities and Chen and I have a meaningful experience."
After the tour, both Chen and Yoni plan on traveling for a bit before returning to Israel. But for now, they are most excited to be part of this experience once again. "To be coordinating and leading the Caravan instead of participating in it, looking from the side on the young Caravan members and watching them bloom, spreading happiness and joy around them, going through a process and creating deep connections with people they meet through their journey," says Chen. "I'm very excited to be a part of this amazing project once again, and can't wait to arrive in Phoenix with the best Caravan you have ever seen, and bring our Israeli Scouts spirit to you again!"

---
---