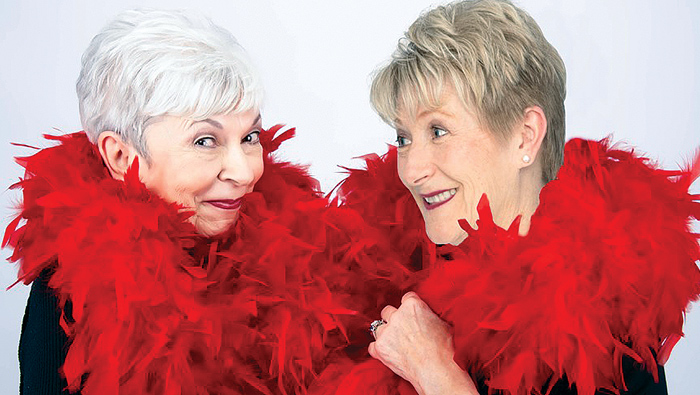 ---
Two songbirds turned snowbirds have given new meaning to the term, "make it a double."  Joyce Stern Greenberg, and her daughter-in-law, Sandy Greenberg; part-time residents of Sun City Grand and the Chicago area, performed "Committee of Two," last winter in Arizona. A lighthearted musical, with script and song lyrics by Joyce, the cabaret features two aging ingénues who have reunited to plan their college reunion. They played to standing ovations last winter, at The Colonnade retirement community in Sun City Grand and also at the Sun City West Foundation Building, with their humorous outlook on aging. The pair's outstanding musical director/accompanist, Allan Kaye, flew in from Chicago for these special performances.
"Throughout my life, I have worked with people of all ages," says Joyce. I created inter-generational shows in Chicago, and it thrills me to see the joy that people of any age can have when expressing themselves through drama or song."
Like Shirley Temple, Joyce showed the world what she was capable of at a very young age – 3. Singing and dancing her heart out, she frequently performed with her brother, who accompanied her on his accordion. At 5, tap and dance lessons rounded out her burgeoning talents. "My mom, who would later become my accompanist, was always promoting us, carrying around clippings, and getting us gigs," says Joyce. "She was a real driving force. During World War II, we performed for servicemen at USO's, veterans hospitals, and even on street corners, selling bonds and stamps for the war effort." In her teens, Joyce began to work professionally as a singing comedienne. She also wrote song parodies and individualized them for events of all kinds, including bat and bar mitzvahs and anniversary parties. The scope of Joyce's talents continued to evolve over time. At 16, she taught singing and drama, and at 17, she took 70 students on a tour of Chicago to perform for Jewish groups like Hadassah, B'nai B'rith and others. Her involvement in the many facets of show business has been life-long, and even includes a 10-year stint as Artistic Director at Oakton Community College in Skokie, IL, where she conducted drama workshops for seniors and directed the nationally recognized "Acting Up!" troupe of seniors, which she also guided in writing their own original musicals.
During her college years at Northwestern University, Joyce befriended fellow speech/drama student, Judy Samuelson. The two came to learn the true meaning of the timeless saying "good things come to those who wait." Their paths crossed once more, 50 years after graduation, when Judy was part-owner of the Wilmette Theater in Wilmette, IL. "The theater presented live stage shows, and I had always wanted to do inter-generational musicals," says Joyce. "So I created a proposal. Little did I know that I would be presenting it to Judy. Excited by the prospect, she agreed to produce the shows, which I created, directed and hosted between 2009 and 2012."
In 2012, Judy left her position at the theater, but Joyce's creative juices kept on flowing. She came up with the idea of writing a musical for the two of them based on their real-life experience of meeting 50 years after graduation. Thus, "Committee of Two" was born. "Judy was my first partner in the show, and we actually performed it for a real Northwestern reunion," says Joyce. "The following year, my daughter-in-law, Sandy stepped in, when Judy couldn't continue. "It helped that she sang in the same key as Judy," Joyce says with a smile. "It made life really easy for our accompanist."
Sandy's life has also been a rich tapestry of performance arts, and her background includes singing at Temple Beth El in Illinois. "Singing and dancing have been in every part of my life," says Sandy. "My mother was enthusiastic about the arts, and every chance she got, she'd bring me to operas, ballets, plays or musicals." Sandy eventually received a scholarship to Loyola University in Chicago, where she earned a degree in theater arts. For many years of her adult life, she worked in banking and continued to perform in local theater productions. That is where she met Earle Greenberg, who was entranced when he saw her play Marion in the "Music Man." Since then, she has been his leading lady and being a singer/actor himself; they have performed in numerous musicals together over the last 27 years. "Our son grew up watching us dance, act and sing," says Sandy.
Both Joyce and Sandy have the fortune to have had lifetime support of friends, teachers and spouses. "When I got married to my husband Donald," says Joyce, "I still needed to be involved in the creative world; directing, teaching or acting. I didn't know any other life. I feel so blessed that my husband and my parents recognized something in me and encouraged me. I have done the same with my children – who are now also involved with musical theater and visual arts. I can't imagine what my life would have been if I didn't have the opportunities to explore whatever talent I had."
Joyce and Sandy will be back next winter, performing "Committee of Two," although venues are yet to be determined. The women are available for performances at luncheons, banquets, fundraisers, special events, reunions and retirement communities. For more information, contact Committee of Two at 847-254-0898 or contact@committeeoftwo.com.

---
---