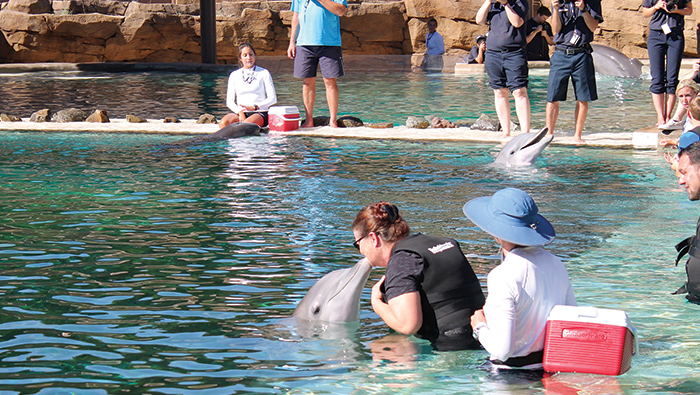 ---
Swimming with dolphins is on many people's bucket lists. It was always on mine, but living in Arizona, I always figured that I would have to wait until I traveled to an island destination for a dolphin encounter. Then the people from Dolphinaris extended an invitation to a Dolphin Swim Experience at the new location in Scottsdale.
I must admit, when I first received the invitation, I had mixed feelings. Like many people, I'm an animal lover. I currently reside with a menagerie of rescued dogs, birds, a tortoise and a cat. I was more than a little leery in light of all the negative comments in the press and on the internet swirling around the place before it opened. On the other hand, I was extremely excited to do something that I had only ever imagined.
There are four dolphin experiences to choose from at Dolphinaris: Dolphin Land Experience, Dolphin Swim Experience, Deluxe Dolphin Swim Experience and Dolphin Trainer Experience.
My coworker, Andre Gomez, accompanied me on the Dolphin Swim Experience.
First, we changed into our swimsuits. (There's also the option of wearing wetsuits and lockers are available to store belongings.) Then a staff member helped us into life vests. Before entering the water, we got a briefing on how to interact with the bottlenose dolphins and an overview of what we would be doing with them in the pool.
Our dolphin trainer, Lara Kesselring, went into the water first and then motioned for us to follow. The 900,000-gallon enclosure is cooled in the summer and heated in the winter. There is a large, shallow area where the water is about waist deep. There is also a section of the pool past the shallows where the dolphins can dive as deep as 10 feet, a depth reflecting bottlenose dolphins' natural habitats: bays, tidal waters and along open-ocean beaches.
Adjacent to this section of the enclosure is an area to where the dolphins can retreat in inclement weather. It can be completely enclosed during dust storms and contains a separate filtration system to prevent the water from becoming contaminated from the elements.
There were three dolphins in the pool, along with another group of participants. Lara blew a whistle and a petite dolphin named Alia swam right up to us. Alia sidled up to Lara, who started gently rubbing her back. Lara instructed me to gently reach out and let Alia get used to me before I started petting her. Her skin was smooth and slick, just as you would imagine.
We took turns touching the dolphin and then had some play time. We threw a ball and Alia retrieved it, emitting clicks and whistles as she played. Lara explained how dolphin echolocation, or sonar, works and talked to us about dolphin anatomy, including the fact that a flipper contains five bones similar to a human hand but a dorsal fin has none. The dolphins also swam across the tank to another trainer or frolicked together; they were never forced to interact with us.
Lara also taught us some hand signals for maneuvers the dolphins are trained to execute and certain signals the trainers use when they need to perform a medical procedure or a blood draw. These dolphins were all born and raised under human care and will have average life expectancies as much as two decades longer than their counterparts in the wild.
I don't claim to be an animal expert by any stretch, but these dolphins seemed happy. They are obviously well cared for and eat herring, squid and capelin imported from Alaska and Canada, because it is more nutritious than fish from tropical waters. The trainers also use only positive-reinforcement training – a reward for the dolphin can be as simple as a belly rub, which I learned Alia really likes.
An on-site veterinarian, Dr. Molly Martony, monitors the dolphins daily and performs tests when necessary, including ultrasounds, X-rays, EKGs and bloodwork. These mammals receive better healthcare than many humans! Dr. Martony says their mission at Dolphinaris is "to inspire kids, learn from these animals and give back to their wild counterparts."
Helping their wild counterparts is exactly what The Dolphinaris Foundation does through education, research and conservation. The foundation works in partnership with several universities, providing an opportunity for students to study dolphin biology, physiology, behavior and medicine, along with marine-life conservation issues. Last year, samples were collected off the coast of Campeche, Mexico – one of the highest concentrations of wild dolphins in the world – to monitor the ecosystem of dolphin habitats and to learn how changes in the environment affect dolphins and other wildlife.
The foundation also hopes to educate people about the world's most endangered marine mammal, the vaquita, or desert porpoise, that resides in the waters off the Gulf of California, just 50 miles from the Arizona border. Most people have never heard of this rare animal.
When people protest that dolphins should not be contained, they should take a moment to realize that, without these facilities, we would not be able to gain the valuable information and understanding that comes from the opportunity to monitor every facet of these creatures' lives.
A place like Dophinaris, where we can actually touch the dolphins as we interact and make eye contact with them, allows us to connect with these animals on a different level, giving us a better perspective on how to make responsible decisions about caring for them – and ultimately, the planet.
The dolphins of Dolphinaris have a comfortable living environment, are well cared for, well fed and, I believe, happy. I may have had my trepidations when I first arrived, but by the time I left, that feeling had vanished.
Dolphinaris is located at 9500 E Via de Ventura in Scottsdale. Call 480-407-5154 or visit dolphinaris-arizona.com to find out more information or to book your own dolphin encounter.

---
---