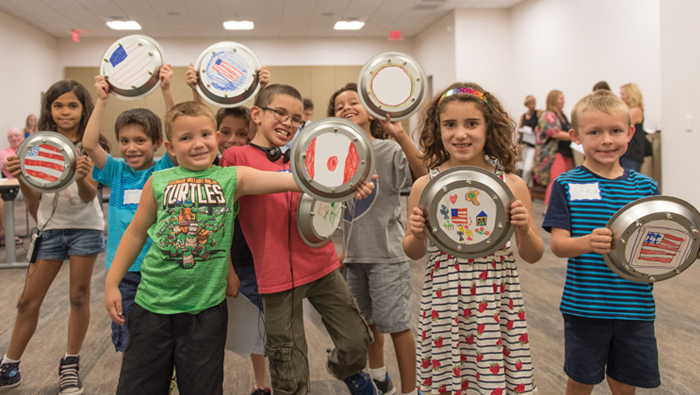 ---
The Musical Instrument Museum is more than just a world-class museum. It is also a very kid-friendly museum. Throughout the year, the MIMkids programs offer age-appropriate music and movement activities for ages 10 and under. There is also a program for kids in grades 6-12 to learn how to become junior museum guides.
For ages 0-5 (accompanied by a caregiver), Mini Music Makers introduces children to music from around the globe through singing, dancing and playing instruments. Each four-week session explores a new musical culture. There are eight classes offered a week, with different times divided by age groups.
For kids aged 6-10, there is an educational program offered called Musical Adventures. Participants will discover new cultures by actively participating in music making, creating musical instruments and exploring MIM's exhibits. Each monthly class focuses on a different continent, giving participants a well-rounded overview of music from around the world.
The final offering in the MIMkids programming is Junior Museum Guides and Girl Scout Junior Museum Guides for kids in grades 6-12. Students in this program will learn about cultures from around the world, participate in music making and will train to lead tours while exploring MIM's unique galleries and exhibits. Participants who complete all four classes will have the opportunity to lead group tours during events at the MIM.
Katherine Palmer is museum educator at the MIM, where she develops and teaches most of these music educational programs. "Our programs, in the past, did not run in the summer. With an increase in demand we do currently run programs in the summer," says Katherine.
The museum also continues youth tours throughout the summer. This year children will have even more interactive space to explore when they visit. The Encore Gallery opened on Feb. 17 and is an expansion to the popular Experience Gallery which offers hands-on activities with instruments from many different cultures.
"The Encore Gallery is a smaller version of the Experience Gallery for our youngest guests," explains Katherine. "We've made accommodations in that space with smaller instruments, and we are trying to adhere to developmentally appropriate practice by setting things up to provoke their engagement with music. We offer a pre-K tour for ages 3-5 and then we have [grades] K-2 tours that come in. Early childhood as defined is for ages 0-8, but we typically see ages 3-8 on tours."
These galleries are participatory learning environments with instruments that are themed by geographic regions, much like the gallery upstairs. There is the U.S.A. area with a guitar and a Native American drum, a Latin American space with a Peruvian harp, some cuatros and Venezuelan maracas and other sections for instruments indigenous to Africa, Asia and Europe.
The MIM also offers signature events throughout the year which are family-friendly with themed activities. "Our next experience weekend is Experience Ireland on March 11 and 12. In April we will be celebrating our "Dragons and Vines" exhibit with a spotlight on guitars," explains Katherine. "On May 20 is our Experience Polynesia event with the Girl Scout Junior Museum Guides leading tours and a ukulele workshop that day and then on June 10 and 11 the public Junior Museum Guides will be leading tours for Experience Brazil and a Brazilian drumming workshop that accompanies it."
For a fun and musical adventure for the kids (and parents, too), visit the Musical Instrument Museum at 4725 E. Mayo Blvd. in Phoenix. The museum is open daily from 9 am-5 pm. For more information, call 480-478-6000 or visit mim.org.

---
---