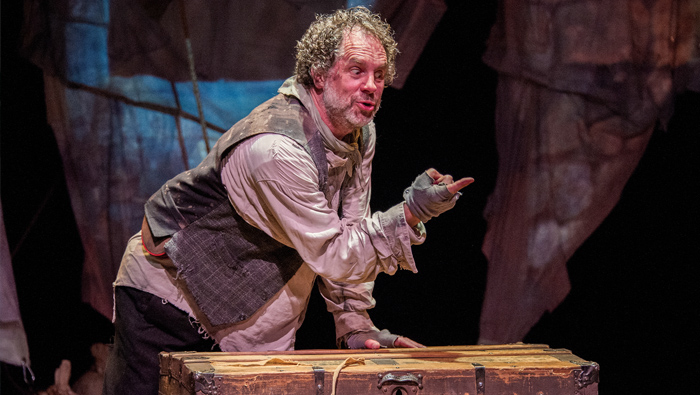 ---
Ever wondered where the expression "an albatross around one's neck" came from? You can find out by reading English poet Samuel Taylor Coleridge's 143-stanza poem, "The Rime of the Ancient Mariner," published in 1798. Or you can head down to the Herberger Theater Center in downtown Phoenix this month and catch "Albatross" on stage to find out more.
"Albatross," on the heels of a successful run through February 12 at New York City's number-one Off-Broadway destination, 59E59 Theaters, is the result of a collaboration among playwright Matthew Spangler, actor Benjamin Evett, director Rick Lombardo, Scottsdale resident and producer Michael Seiden and Arizona Theatre Company (ATC). The play runs (in Phoenix only) from March 16 through March 25.
A native New Yorker who spent 24 years raising three children in Denver before he and his wife came to Scottsdale 21 years ago, Michael has a long history with ATC: first as a subscriber, then as a board trustee in 2006 and finally as board chair in 2011. (Michael is currently on a leave of absence from his duties as chair while he serves as producer of "Albatross.")
So why the leap into theatrical production? As ATC's board chair, Michael had the opportunity to meet playwrights, directors and actors. Michael's love of English, theater and writing – not to mention what he calls being "lucky to be financially secure enough to invest" in such a venture – set a course for his role as producer of "Albatross," his first foray into production.
In the meantime, he met Matthew, who talked to Michael about producing a play based on "The Rime of the Ancient Mariner." At the same time, Benjamin was interested in doing a one-man play. The stars seemed to align.
An old poem with modern messages
"I took British literature in college and I still have the big textbook on my bookcase," says Michael, who as a student had read "Rime" from that very book. And with 45 years in executive management, not to mention experience as an educator, he was familiar with what it takes to put together a team. He says he wanted to help create "something people can feel, love, enjoy and get something out of. I knew the poem. It's a very modern story in a lot of ways. So I said, 'Great. Let's do it.'"
But how do you take a late 18th-century poem that's more than 200 years old and adapt it to a 2017 play? "Rime" contains "strong, modern implications," says Michael. "I wanted to name it 'Albatross' because that's a metaphor in everyday language. You can be a computer engineer and use that expression [about having an albatross around your neck]."
Most everyone knows that the albatross represents some kind of burden or weight that causes the bearer pain and suffering, in whatever degree, for whatever reason. "The Rime of the Ancient Mariner" is the story of a sailor cursed with immortality after he commits a certain dishonorable deed that results in challenging moral implications. Such a theme is just as relevant – if not more – in today's world.
"The point is, you want to retain some of the words, some of the historical aspects; yet you want people to understand that there are also modern themes," says Michael. What is unique about the production of "Albatross" is the integration of cutting-edge, multimedia technology to interpret this classic tale and to engage today's audiences. And how could Coleridge ever have imagined that his theme of humans' complex relationship with nature and the environment could resonate so profoundly in today's society?
"We put in some humor," says Michael. "We talk about our relationship to the earth, to animals, to nature – of being cognizant of these interrelationships. Sometimes we do things without knowing why, with all kinds of consequences."
Lessons for young and old
One line in particular from the poem that Michael shared with his then-13-year-old granddaughter really resonated with her. "Water, water everywhere, nor any drop to drink," says the mariner, referring to the salt water of the sea. The next day at school, through sheer coincidence, her teacher shared this line with the class and asked the students to try and interpret its meaning. His granddaughter raised her hand and gave the example of being in the Apple Store, seeing all the new products, then reaching into her pocket to find that she has only $1.50 – and can't buy anything.
Michael was thrilled that she "got it" and applied the meaning of the ancient mariner's words to her own experience. "How many times do people have wants and needs they can't fulfill?" he asks. Regarding other challenges the mariner must confront, Michael poses the question, "How many times have we seen people on a negative track reach bottom, but then find a way to come back?"
Taking "Albatross" far and wide
"Albatross" started in Boston, where it won two of the three Elliott Norton Awards (for achievement in the Boston theater community) for which it was nominated. It was also well-received at the Edinburgh Fringe Festival in Edinburgh, Scotland. Now in the Valley after a run in New York City, "Albatross" comes to the Phoenix stage with some legitimate street cred.
Michael jokes that someone once said, "The definition of a producer is one who likes to write checks and lose money." He acknowledges the significant investment but says it's been "worthwhile for what it brings to the public. And I do know from my years at ATC that Valley audiences appreciate good theater. But as with any audience, there will be people who love it and those who hate it."
Michael says the creative team would like to package "Albatross" and sell the production on a national and international basis for broader exposure. He notes that the key components – scenery, actor, script, projection technology – are in place for any stage.
"We talk a lot about STEM [science, technology, engineering, math], but what we neglect to concentrate on is the arts. Steve Jobs said [in 2011], 'It's technology married with liberal arts, married with the humanities, that yields us the results that make our heart sing.' What this play has given me is the opportunity to combine technology with the arts to help critical thinking – and to show that collaboration can bring something really neat to people."
Mary Ann Bashaw, of Phoenix, is an editor and writer.
"Albatross"
March 16-25
Herberger Theater Center, 222 E. Monroe St., Phoenix
Information about tickets and times:
602-252-8497 or herbergertheater.org
Learn more about Arizona Theatre Company at arizonatheatre.org.

---
---