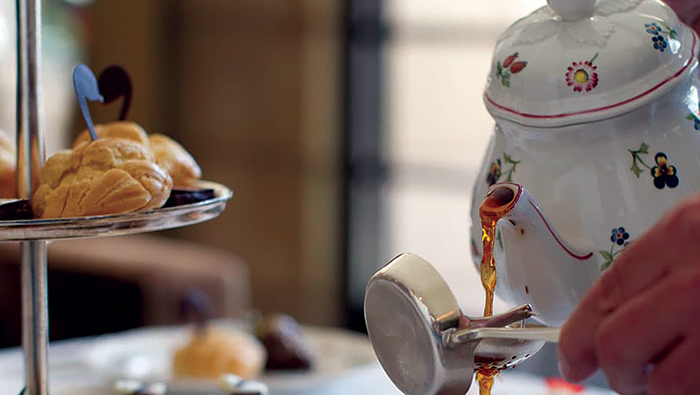 ---
As the story goes, afternoon tea began in the early 19th century, when Anna Russell, the seventh Duchess of Bedford, is said to have complained of growing very hungry between the more substantial meals of breakfast (7 am) and dinner (8:30 pm). She requested that her servant bring tea and a light snack, perhaps a slice of bread and some butter, to her boudoir in the late afternoon. She started inviting friends to join her. It soon turned into a more social event where ladies showed up to be "seen" and chat about the latest fashions or catch up on gossip. Other hostesses picked up on the idea and moved it to the drawing room, where it became a fashionable norm to sip tea and nibble sandwiches in the middle of the afternoon.
While it may not be the norm in Arizona to have high tea in winter, it is the norm to welcome winter visitors from the frigid northeast. If you find yourself with guests in town and would like to treat them to something special, we've compiled a list of locations where you can sip a spot of tea and nosh on finger sandwiches.
The Arizona Biltmore
2400 E Missouri Ave, Phoenix
602-955-6600 • arizonabiltmore.com
Classic High Tea includes tea, pastries, cakes and sandwiches for $50/person. Seatings offered at noon and 2 pm on Thurs., Fri., Sat. and Sun. Reservations required.
English Rose Tea Room
201 E Easy St #103, Carefree
480-488-4812 • carefreetea.com
Duchess of Bedford's Formal Afternoon Tea includes petits fours, two scones, tea sandwiches and a small pot of tea for $28. Tea selection includes: Nursery Tea (for younger guests), Fireside Tea, Cream Tea and Just Dessert Tea. Open 10 am-5 pm Mon.-Sat. and 11 am-4 pm Sun. Reservations recommended.
The Jazz Bouquet Floral Shop and Tea Café
140 Coffee Pot Dr, #E-106, Sedona
928-204-1091 • jazzbouquetfloral.com
Full Tea menu includes tea sandwiches, canapé, scone, fresh fruit, shortbread, cookies and choice of tea for 24.95/person. Cream Tea and Light Tea also available. Afternoon tea served daily. Reservations required.
Kimberly Ann's Tea Room & Café
7153 N 59th Ave, Glendale
623-934-1106 • kimberlyannstearoom.webs.com
Classic High Tea menu includes fruit, finger sandwiches, dessert, tea and scones for $25/person. Other teas available offering additional food options: Garden Tea, Elegant Tea or Princess Tea. Afternoon tea is served at 11 am or 2 pm. 24-hour advance reservations required for all high teas.
The Phoenician
6000 E Camelback Rd, Scottsdale
480-423-2530 • thephoenician.com/lobby-tea-court
Full Tea menu includes finger sandwiches, scones and tea pastries for $42/person. Add sparkling wine or champagne for an additional charge. Holiday Tea with live entertainment runs through Fri., Dec. 30 for $67/person. The Lobby Tea Court is open from 2-3 pm daily. Reservations required.
The Spicery in Our 1895 Home
7141 N 59th Ave, Glendale
623-937-6534 • 1895spicery.com
Adult Tea features tea, scones, bite-sized sandwiches, fresh-fruit parfait and bite-sized desserts for $23/person. Tea is served from 10:30 am-1:30 pm Mon.-Sat. Reservations required.

---
---