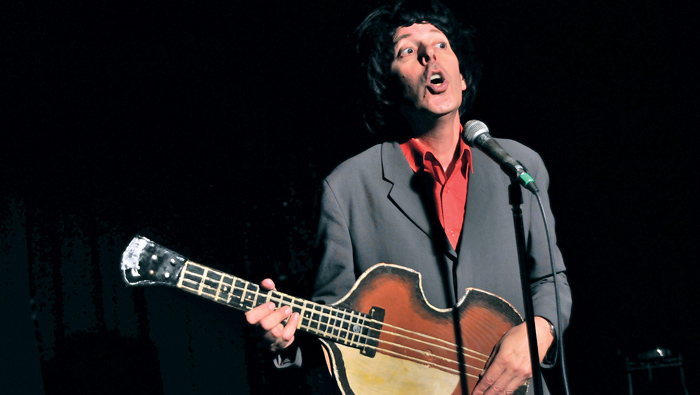 ---
A hilarious one-man show is coming to the Herberger Theater Center in February. "Baby Boomer Baby," written by and starring Tommy Koenig, will run from Feb. 2 through Feb. 26.
The show originally started as a fluke in 2011 during a vacation in Mexico, where Tommy was entertaining "expats and hippies" with his 20-plus characterizations and impressions of musicians.
"I was covering everything from the Beatles to Lady Gaga," says Tommy. "So I realized if I wove my story within it, it was not just the story of rock 'n' roll, but the history of one person living through it, too."
Tommy returned to New York to introduce his new show in 2012 – at the same time Hurricane Sandy hit. He ended up turning it into a benefit for the Red Cross, raising money for relief for his community. A friend from Texas – an independent producer – saw the show and encouraged him to take it on the road.
"Doing the show off and on for the last few years has given me the opportunity to really hone it," says Tommy. "I call it 'rock 'n' roll comedy theater.' It's a real piece of theater with elements of stand-up and music. It brings all of the stuff I have been doing most of my career together into one show."
Tommy grew up in Brooklyn in a musical family; his father played the clarinet and saxophone. "I was always singing as a kid, but I was bent on being more of a comedian," he says. "Even in my stand-up comedy act, which I have done for many years and still do, I always did a lot of musical parodies. I always brought music and comedy together."
"Most of my generation was at Woodstock. I was close, but I couldn't have been further away," says Tommy. "[I was] at the Catskills as a day camp counselor. While my generation was up in a burg in Watkins Glen changing the world, I was downwind changing Glen Watkins Berg. They had Sly & the Family Stone, I had Sty & the Family Stein – and Crosby, Stills & Nosh."
He has been sharing his comedic talent since 1998, "paying it forward" by teaching young comedians at The Comics Studio in New York. Before that, he was a college theater professor at Brooklyn College. One of his first students was Jimmy Smits, who became a famous actor.
Part of his past also includes many visits to Arizona. He performed at Valley comedy clubs and opened for bands and outdoor concerts at Arizona State University and University of Arizona. He was also HBO's "Man on the Street" in Phoenix, asking people questions about movies. "Only you never saw me, you saw my hand," Tommy says of those many interviews.
For the first time, the show in Arizona will be produced by Philip Roger Roy and Dana Matthow, the producers behind the hit play, "My Son the Waiter, A Jewish Tragedy."
Philip and Dana saw Tommy's show in Florida. "It is kind of a dream come true for performers to have these kinds of producers – [for them] to pick me up and put me in their stable, as it were," says Tommy.
"Then the producers found out I'm Jewish. When people see my name, I know it must be a shock: How can you be Jewish with the name Koenig?" (Koenig means king in German.) "Unfortunately, the Germans really didn't want a Jewish king, so we moved. There also aren't many rabbis named Tommy – my name is confusing," jokes Tommy.
But there is nothing confusing about the message of his show. "This is the show that I really want to take out there," says Tommy. "Not only [about] the history,…but about how we were the generation that had that brief moment in time of knowing what peace and love could be. And if we can, we have to try and find our way back to that – whatever it takes. It's hard, but we have to try."
Baby boomers (those born between 1946 and 1964) will obviously relate to the show, but Tommy says that since there is nothing too edgy in his material, people often bring their children: "Boomers' kids get to see what their parents went through." He's even seen three generations together in the audience: mother, daughter and grandmother.
"[The show] tells my story – and there's even a surprise ending."
"Baby Boomer Baby"
Feb. 2-26 at Herberger Theater Center,
222 E. Monroe Ave., Phoenix
Tickets: $53-$59; 602-252-8497 or herbergertheater.org

---
---