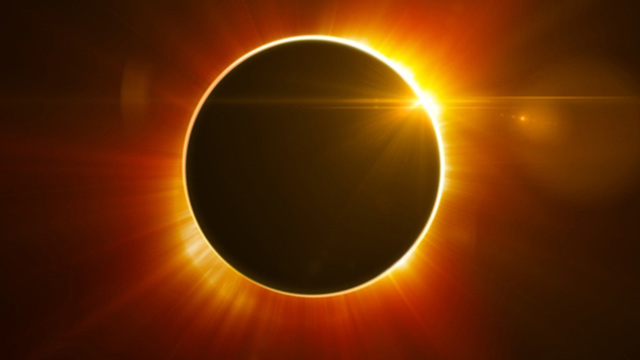 ---
Now you've got that song in your head, don't you? No doubt you have seen the non-stop coverage of the eclipse from the hotels booked in its path to the sold-out-everywhere-solar-eclipse-viewing sunglasses.
The Great American Eclipse will occur on Monday, Aug. 21 at approximately 10:32 am Arizona time. It received the name "Great American Eclipse" due to the fact that a total solar eclipse will be viewed by residents of more than a dozen states. The curving path of the total solar eclipse travels from the Pacific Northwest to the Southeast, so here in Phoenix we will see about a 70 percent coverage of the sun.
Eclipse timeline for Arizona: starting at 9:12 am and lasting until noon, the peak time (or maximum coverage) will occur at approximately 10:32 am.
You can make your own little bit of eclipse history by attending one of the many eclipse-themed events happening this weekend through Monday:
VALLEYWIDE
Pre-Eclipse Party (Sat. Aug. 19). 1-3:30pm. Included with admission: $12 adults, $7 ages 3-12, ages 2 & under free. Fun-filled, interactive learning experience all about space science and the eclipse. Arizona Museum of Natural History, 53 N Macdonald, Mesa. arizonamuseumofnaturalhistory.org.
Eclipse Activities (Sat.-Mon. Aug. 19-21). Several branches of the Phoenix Public Library are having eclipse-related activities. Visit phoenixpubliclibrary.org.
Eclipse Viewing Party (Mon. Aug. 21). 9am-noon. Free eclipse-viewing party on Hayden Lawn and at the Interdisciplinary Science and Technology Building IV (ISTB). ASU-themed solar glasses will be handed out and telescopes will be out on the lawn. ASU campus Tempe near Rural and Terrace Roads. asuevents.asu.edu.
Solar Eclipse Viewing Party (Mon. Aug. 21). 8:30am-noon. Free. Hands-on activities, demonstrations and more. Arizona Science Center, 600 W Washington St, Phoenix. azscience.org.
Solar Eclipse Viewing Party (Mon. Aug. 21). 9am-noon. Free. Activities, including make-it-yourself solar viewers, are planned throughout the morning along with concessions, information and demonstrations. A majority of the activities at MCC's Southern and Dobson campus (1833 W. Southern Ave., Mesa) occur in the Clock Tower Courtyard near the center of campus. Guests visiting the MCC at Red Mountain campus (7110 E. McKellips Road., Mesa) should meet in the Saguaro building near the terrariums. mesacc.edu.
FLAGSTAFF
The Great American Eclipse (Mon. Aug. 21). 8am-5pm. Included with admission: $15 adults, $8 ages 5-17, under 5 free. Solar telescope viewing, demonstrations, activities and more. Lowell Observatory, 1400 W. Mars Hill Road, Flagstaff. 928-233-3280 or lowell.edu.
TUCSON
 Solar Eclipse Weekend & Viewing Event (Sat.-Mon. Aug. 19-21). 10am-10pm Sat., noon-5pm Sun., 9am-noon Mon. Special planetarium shows, eclipse activities and more. Flandrau Science Center & Planetarium, 1601 E. University Blvd., Tucson. flandrau.org.
If you can't venture outside during the eclipse, NASA will have the event streaming at nasa.gov.

---
---