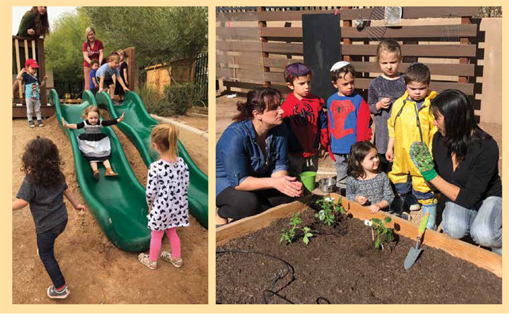 ---
Pictured above: Students explore the new playground at Chandler Jewish Preschool.
The children that attend the Chandler Jewish Preschool will kick off the new year with a new playground. The ribbon-cutting ceremony of the Daniel Pollack Playground, with Michael Pollack, will be held on Jan. 21 from 10:30 am to noon.
The playground was designed by Debra Morgan of Natural Playscapes, together with input and vision from the teachers and parents of Chandler Jewish Preschool students. From inception to conclusion it took about three months to construct.
The playground includes a music wall, art wall, climbing structures, mud kitchen, building blocks, water well, wood stumps, organic garden, picnic tables, and a beautifully tiled bike path.
"It is very exciting as there are no other Jewish preschools with an outdoor classroom like ours in the Valley," says Masha Rimler one of the directors at Chandler Jewish Preschool. "It is unique because I think we are the only Jewish school with a natural, Reggio-inspired playground. Also, the entire area that the children can explore outside is one half of an acre."

---
---