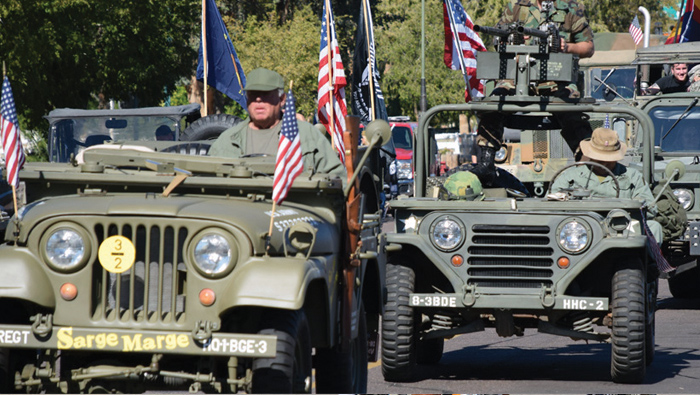 ---
Veterans Day originated as "Armistice Day" on Nov. 11, 1919, the first anniversary of the end of World War I. Congress passed a resolution in 1926 for an annual observance, and Nov. 11 became a federal holiday beginning in 1938. In the aftermath of World War II and the Korean War, Armistice Day became legally known as Veterans Day.
Veterans Day Parades
Veterans Day parades feature marching bands, floats, military organizations and more.
Nov. 4
Daisy Mountain Veterans Parade starts at Gavilan Peak Parkway and ends at the Community Center. This year's parade will honor Women Veterans. Parade begins at 10 am. Visit daisymtnvets.org for more information.
Nov. 10
Tempe Veterans Day Parade starts at ASU Gammage and travels along Mill Ave. to Tempe Beach Park. Parade begins at 10 am. Visit facebook.com/TempeVeteransDayParade for more information.
Nov. 11
East Valley Veterans Parade starts on Center St. and University; turns south on Center St. to First St. and then turns west on First St. to Robson in Mesa. Parade begins at 11 am. Visit evvp.org for more information.
Phoenix Veterans Day Parade heads south on Central Ave. from Montebello Dr. to Camelback Road; turns east on Camelback Road to Seventh St. and then turns south on Seventh St. where it will end at Indian School Road. Parade begins at 11 am. Visit phoenixveteransdayparade.org for more information.
Tucson Veterans Day Parade starts on Alameda St. and Granada Ave. Parade begins at 11 am. Visit tucsonveteransdayparade.org for more information.
Free Movies for Military
Pollack Tempe Cinemas, located on the southeast corner of Elliot and McClintock Roads in Tempe will be honoring all current and former military and National Guard members with free admission to one of two military-themed movies on Saturday, Nov. 11th. Veterans Day movies include the 1970 war comedy film, "Kelly's Heroes," and Tom Cruise's 1986 classic American military film "Top Gun."
Military personnel just have to show their military ID card at the ticket booth. Show times for the two military movies are available at pollacktempecinemas.com.
"We love our veterans and so that is why it is truly my honor to offer free admission to one of the military movies brought in for our nation's heroes this upcoming Veteran's Day," says Michael Pollack, owner of Pollack Tempe Cinemas. "This Veterans Day I encourage everyone in our community to take a moment to thank a military member.  These brave men and women sacrifice so much to protect and support our nation – this is why I want to offer my heartfelt thank you."
Assistance for Veterans
Helping Hands for Freedom is a national nonprofit dedication for supporting military children and families facing injury, loss and deployment. HHFF aims to improve children's lives through compassion, honor, mentorship and leadership programs. They help military and Gold Star families that have lost a loved one or are suffering with injuries from combat, including PTSD, TBI and moral injuries. For more information, contact 602-845-1390 or visit helpinghandsforfreedom.org.
Jewish War Veterans of the USA
Celebrating more than 120 years, Jewish War Veterans is the oldest continuously operating veteran's service organization in the United States.
Monthly meetings at the following posts are open to all veterans of Jewish faith with honorable discharge from the Armed Services. Open to nonveterans interested in supporting veterans and Jewish causes. For more information, visit jwvsw.org.
Scottsdale Post 210
602-248-1550
Meetings are on the third Sunday of the month at 10 am at the Arizona State Veterans Home, 4141 N. Herrera, Phoenix
Valley of the Sun Post 194
602-973-7682
Meetings are on the first Sunday of the month at 10 am at the Arizona State Veterans Home, 4141 N. Herrera, Phoenix
Post 619 Copper State Post 619
480-659-2998
Meetings are the third Sunday of the month at the Sun Lakes Country Club, 25601 N. Sun Lakes Blvd., Chandler
Friedman-Paul Tucson Post 201
520-617-4848
Meetings are the third Sunday of the month at the B'nai Brith Convent House, 4414 E. Second St., Tucson

---
---