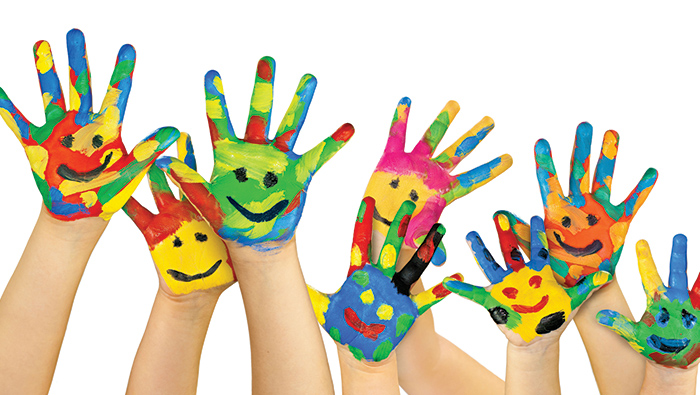 ---
Arizona Jewish Life asked the state's Jewish schools to share "What's new?"
Temple Kol Ami Early Childhood Center is accepting registration for the 2017-2018 school year beginning Feb. 5. The program is open year-round with full-time and part-time hours for children ages 8 weeks through pre-kindergarten. The school offers a highly qualified staff and a Judaic and secular curriculum.
Please contact Debbie Glassman at 480-951-5825 for additional information.
REGISTRATION FOR TEMPLE KOL AMI ECC BEGINS FEB. 5
The Valley of the Sun Jewish Community Center has started a Grandparents Club. It's a fun way to keep the children's grandparents (local and out of town) up to date and involved with how their grandchildren are growing and learning at the Early Childhood Center. Each month they send The ECC Times, a grandparent-specific e-newsletter, filled with lots of photos from all their fun, enriching activities. They also host several grandparent-grandchild specific activities throughout the year. The official launch of Grandparents Club happened at the ECC's second annual Grandparents Shabbat that was held on Nov. 18, 2016. The event was a huge success with more than 250 grandparents and special guests enjoying brunch and welcoming in Shabbat with their grandchildren.
JCC'S EARLY CHILDHOOD CENTER STARTS GRANDPARENTS CLUB
For more information on the ECC call 480-659-7769 or email earlychildhood@vosjcc.org.
Pardes Jewish Day School will be holding a STEAM (science, technology, engineering, arts and math) night on Feb. 9. They held their inaugural STEM night last year and it was a huge success. This year they are adding an arts component where the music teacher will be making musical instruments with the students and the art teacher will be decorating them. All grades will be participating. Students in grades K-4 will participate in hands-on activities such as bridge building, tessellations, activities with marshmallows and more. The 5-8 graders will conduct experiments with teachers and recent graduates. Science fair exhibits will be judged during the event and will remain on display in the Sanctuary. The PTechs will be filming the event and the Phoenix Astronomical Society will be bringing telescopes for star gazing in the evening.
FULL "STEAM"AHEAD FOR  PARDES JEWISH DAY SCHOOL
For more information, contact the school at 480-991-9141 or visit pardesschool.org.
Darkaynu Tucson Jewish Montessori currently serves children ages 3 to 6, but is planning to expand in the near future to be able to welcome toddlers who are confidently walking through age 3. Visit this unique school during their open house on Jan. 22 from 1-3 pm.
OPEN HOUSE AT DARKAYNU TUCSON JEWISH MONTESSORI
For more information, call the school at 520-591-7680 or visit darkaynutucson.com.
The Jewish Tuition Organization (JTO) raises funds from individuals and corporations through Arizona's dollar-for-dollar private school tuition tax credit. The credit allows for Arizona state tax liabilities to be redirected to the JTO. The amount of the tax liability that can be redirected is up to $1,087 for individuals and $2,173 for married couples; corporations and insurance companies are not limited to the amount they can redirect. More than 90% of the money JTO raises goes to need-based scholarships for children to attend six participating Jewish day Schools.  The schools participating in the JTO's programs include Desert Jewish Academy, Pardes Jewish Day School, Phoenix Hebrew Academy, Shearim High School for Girls, Torah Day School of Phoenix and Yeshiva High School of Arizona. All JTO scholarships are need-based.
JTO RAISES FUNDS FOR NEED-BASED SCHOLARSHIPS
For more information, call 480-634-4926 or visit jtophoenix.org.
As the Chandler Jewish Preschool continues to grow and meet the needs of the community, they announced that Mrs. Masha Rimler has recently joined the CJP team as co-director. Masha received her Master's in Education from Mercy College in Brooklyn, NY. Masha is excited to join the staff and the preschool looks forward to her enhancing the program with her inspiration and knowledge.
CHANDLER JEWISH PRESCHOOL ADDS NEW CO-DIRECTOR
The CJP is located at the Pollack Chabad Center and can be reached at 480-855-4333 or info@chandlerjewishpreschool.com.
The class at Congregation Anshei Israel's Esther B. Feldman Kindergarten has new technology, a Smart Board and computer on which they can learn new things. A Smart Board is an interactive whiteboard that uses touch detection for user input. The teacher and students use it to enhance lessons in math, geography, art, writing, science and so much more. So Smart!
CONGREGATION ANSHEI ISRAEL'S ESTHER B. FELDMAN KINDERGARTEN GOES HI-TECH
To find out more information on the CAI preschool and kindergarten program visit, caiaz.org.

---
---