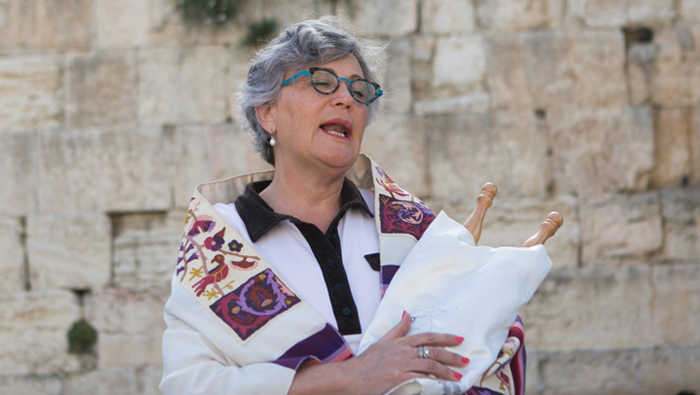 ---
Founded in 1988 to secure women's rights to pray and read Torah at the Western Wall, Women of the Wall has become not only a battle for women's status and pluralism in Israel, but also a role model for women seeking parity in other countries and religions.
"This is a marathon and we still have a long way to go," says Lesley Sachs, executive director of Women of the Wall (WOW). Lesley will be Tucson and Tempe from April 20 to 23 (see sidebar) with an update on how accelerating the pace of the "marathon" has resulted in significant steps taken by Israel's Supreme Court and government in 2017. She is optimistic that change is coming.
"The Western Wall is the most visited site in Israel, both by visitors and Israelis. It is the heart of Judaism," says Lesley. "The Western Wall is our center in so many ways, so the battle to keep women quiet there, of all places, is so meaningful."
WOW seeks to enable women to pray at the Wall with the four Ts: tefillah (prayer), tefillin (set of small, black leather boxes containing scrolls of parchment inscribed with verses from the Torah), tallit (prayer shawl) and Torah.
"The four Ts are permitted halachically," says Lesley. "Rashi's daughters did tefillin and tallit."
But in 1988, at the first International Jewish Feminist Conference held at the Kotel (the Hebrew word for Western Wall), services were disrupted by verbal and physical assaults from ultra-Orthodox men and women. "They didn't want to hear our voices," says Lesley, referencing kol isha, the prohibition against men hearing women sing. Such disruptions have continued over succeeding decades.
Recognizing religious pluralism
Every Rosh Hodesh, WOW holds prayer services in the women's section of the plaza. "It's very violent," says Lesley. "Ultra-Orthodox women stand with whistles and shout. We are double body-searched [to ensure no woman smuggles a Torah into the plaza]. … We have so many women join us, but it's not easy. We're all suffering abuses and bruises."
Lesley says that the Western Wall administrator, Rabbi Shmuel Rabinowitz, "runs the Wall not as an Israeli or Jewish site, but as his own private synagogue."
Lesley has been arrested five times at the Kotel: four times for wearing a tallit and once for smuggling a Torah into the Western Wall plaza. Though courts have ruled women have the right to read Torah at the Wall, Rabbi Rabinowitz created a regulation prohibiting anyone from bringing a Torah into the plaza. Men ­– not women – are permitted to borrow one of the 200 Torah scrolls kept there.
"It's a catch-22," says Lesley. "We are permitted to read from the Torah, but we can't [take] one in."
The pace of change picked up in 2009, when the social media revolution enabled WOW to take its narrative to journalists and Jewish communities around the globe. Progressive and liberal Jewish groups in North America and elsewhere began to urge the Israeli government to recognize religious pluralism, especially relating to the status of women.
"It is focusing attention on the point that the Israeli government does not accept any way of being Jewish that is not Orthodox," says Lesley, adding that Diaspora Jewry is concerned about Orthodox control of marriage, divorce and especially conversions.
"Revolutions such as this don't happen a lot in a person's life," says Lesley. "It's exciting and invigorating. This is a battle to engage and involve and influence Israel and North American Jewry."
Finding a compromise that works for all
The Arizona visit is part of Lesley's four-state tour. She and WOW Board Chair Anat Hoffman visit the U.S. two to three times each year to share information on the continuing struggle to claim the rights women were promised in a 2014 agreement to transform the southern plaza area of the Western Wall – also known as Robinson's Arch – into a pluralistic place of worship. The agreement became law in January 2016, though its provisions have yet to be implemented.
In the first three months of this year, Israel's Supreme Court and government have moved to address those issues. On January 11, the Supreme Court ruled that the Western Wall administrator and state agencies "must explain why the petitioners should not be allowed to pray in accordance with their custom at the traditional plaza, or alternatively allow them to pray in accordance with the custom at a place which has access to the Western Wall similar to the traditional site." At the end of February, Prime Minister Benjamin Netanyahu appointed Knesset minister Tzachi Hanegi to find a compromise within the next three months.
Lesley says she hopes that the outcome will be that Robinson's Arch is finally upgraded into a proper prayer area. Located on the south end of the Western Wall, the arch supported a staircase that led up to a gate into the Temple Mount. Boulders that have fallen over the past two millennia make the area look more like an archaeological site than a prayer plaza. The current wooden platform, which Lesley says resembles a parade platform with scaffolding, permits people to get close enough to touch the Wall; but it needs to be a larger, more permanent structure. Additionally, fallen boulders should be removed to allow expanded access to the lower part of the Wall on the Herodian Road.
If the area is turned into a pluralistic plaza with equal access to the existing plaza, Lesley says that "most people from North America and Israel will choose to come to the pluralistic plaza because that is the way they pray. This new plaza will become 'The Plaza.'"
The pluralistic plaza would include a low, symbolic mechitza setting aside an area so that Orthodox women who want to pray with the four Ts could do so in a women's-only setting. When full access to the Wall is available at the arch, Lesley believes it also will meet the needs of Orthodox women who split from WOW because they believe the arch is an unsatisfactory location for prayer.
The new plaza would also satisfy the desires of the ultra-Orthodox. "We would leave the women's section [of the current plaza] to any woman who wants to continue to pray according to Rabbi Rabinowitz's outlook," says Lesley. "When we have an alternative, we will leave their area. This will be a respectful thing for the ultra-Orthodox women, too. That is the beauty of our agreement."
Looking to WOW for inspiration worldwide
In addition to changing the status of women in Israel, Lesley says the movement also has a lot to teach women involved in similar battles. Mormon women seeking to enhance their status within their religion have been inspired by WOW. In 2015, a young Mormon woman invited Lesley to participate in a panel discussion on women and religion at the Parliament of the World's Religions, an international convention that drew about 9,500 people to Salt Lake City, Utah.
"She told me, 'Women of the Wall are our heroes, our role models,'" says Lesley, who says she believes many women's movements can look to WOW for inspiration.
"Participants in the Women's March can learn a lot about resilience from the Women of the Wall," she says. (The Women's March is the worldwide protest that took place on Jan. 21, 2017.) "A lot of North American women feel they will need to be vigilant to retain their achievements for women's rights over the past few decades."
Prayer parity is not Lesley's first battle for women's rights in Israel. "I have been a feminist activist ever since I finished my army service," says Lesley. "When I was in the army, women held menial positions. … The hierarchy was so clear and sexual harassment was horrible at the time."
When Lesley started college in Haifa, she began volunteering at Women to Women. She moved to Jerusalem after graduation and began volunteering at the Israel Women's Network, where she soon joined the staff and ultimately rose to the position of executive director. The network relied on legislation and litigation to improve women's rights in Israel and especially in the Israel Defense Forces (IDF). "We represented a woman [named Alice Miller] who wanted to be a pilot – and we won and we changed the entire IDF." Now women serve in virtually every position in the IDF. "Opening up the IDF was closure of a circle for me," says Lesley.
Though at that time Lesley did not pray at the Western Wall, she began volunteering with WOW and became executive director in 2008.
Lesley describes the ultra-Orthodox assault on women praying halachically at the Wall as patriarchal and chauvinistic. "It's not about religion, it's about power and dominance," she says.
"We set out to pray with the four Ts at the Wall. We are accomplishing and changing so much more."
A recent history of women's prayer at the Kotel
(Condensed from history provided by Nechama Namal, Resource Development Director of Women of the Wall)
2003: Supreme Court decision gives women the right to pray as they wish at the Kotel, but only at Robinson's Arch.
2009: WOW stops praying at Robinson's Arch because it remained in disrepair and was not yet suitable for worship.
2013: Judge Moshe Sobel rules that the State of Israel had not renovated Robinson's Arch in a manner befitting a holy place.
2014: Israeli government invites WOW, the Reform Movement, the Conservative Movement, the Jewish Federations of North America and the Jewish Agency to discussions for a plan to transform the southern plaza area of the Western Wall – also known as Robinson's Arch – into a pluralistic place of worship. The site was to be renovated and the entrance to the Western Wall was to be changed so that the three sections – men's, women's, pluralistic – would be equally visible and accessible.
Jan. 31, 2016:
The Israeli government votes to implement the agreement by a vote of 15 to 5. None of its provisions have yet been implemented.
WHAT: Women of the Wall Executive Director Lesley Sachs will update Arizonans on the rapidly evolving legal battle over women's rights to pray at the Western Wall in Israel.
Tucson
April 20: 5 pm at the University of Arizona Hillel Foundation, 1245 E. 2nd St.
For more information, contact hillelelyse@gmail.com.
Tempe
April 21: During Shabbat services at Temple Emanuel of Tempe, 5801 S. Rural Road. A nosh will be at 6 pm, services at 6:30 pm, speaker at 7:30 pm. Dessert reception to follow.
For information, call 480-838-1414 or rabbidean@emanueloftempe.org.
April 23: 11:30 am-1 pm at the Hillel Jewish Student Center at ASU, 1012 S. Mill Ave. There is parking available. The event is open to the public, but just for women only.
For more information, contact madeline@hillelasu.org.

---
---