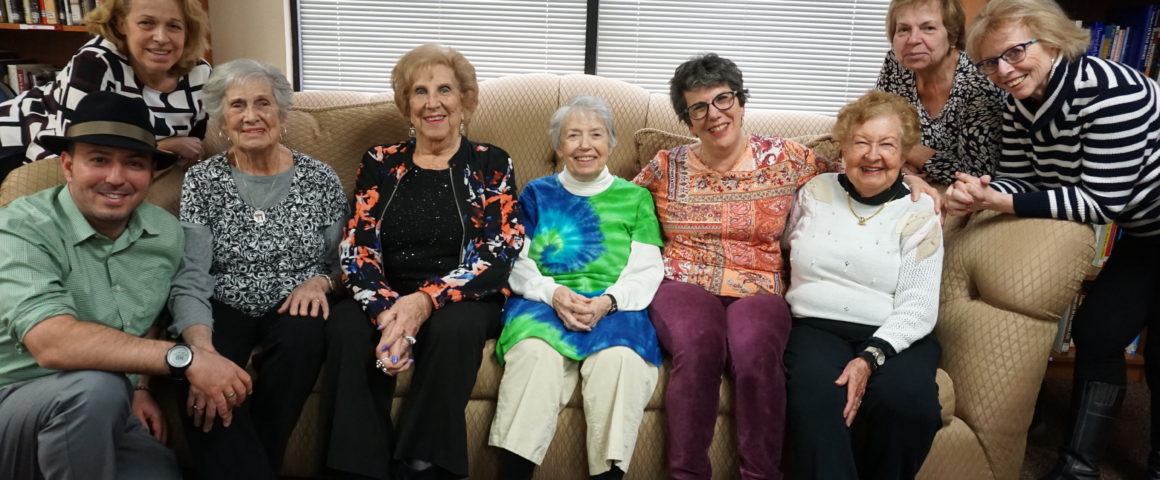 ---
Pictured above: Sandra Charyn Bernoff, seated fourth from right, with the Yiddish club members.
For Ahwatukee Foothills resident Sandra Charyn Bernoff, Yiddish is a living, breathing lexicon – not just a relic of the "old world." As the leader of a monthly Yiddish club held at Temple Solel in Scottsdale, Sandra provides a portal to the past for those who want to reclaim this buoyant, thousand-year-old language that is enjoying a renaissance. Yiddish has a fascinating history; it is an amalgamation of Hebrew, German and other modern languages, spoken first in central and eastern Europe, and later in the United States, England and France; primarily wherever Jews migrated.
"I love Yiddish, and I love meeting all kinds of people," says Sandra. "What I like about Yiddish is it's nonsectarian, nonreligious and nonpolitical. It encompasses people who never went to shul to the Orthodox."
Initially initiated by Solel member Dr. Al Feldman, the vision of the club was to provide a welcoming environment for those wanting to speak Yiddish and to provide a cultural context. His wife, Irma, who took over after his passing, eventually enrolled Sandra to be the new leader. For the past four years, Sandra has been enlightening this lively and inquisitive group with nostalgic stories (some by Isaac Bashevis Singer, Nobel Prize winner in literature), as well as modern post-WWII writers, current Jewish events, songs, vocabulary and occasionally films. Solel's music leader, Todd Herzog, has even learned three Yiddish songs to entertain the group –
"Dona, Dona" and two Chanukah songs.
"From my perspective, Yiddish music and theater was the basis for pretty much all of Broadway," says Todd. "Without it, musical theater would not exist. It's important to recognize the source of this creativity and to acknowledge the many ways our tradition has inspired modern musical theater."
The Yiddish song "Hobn Mir A Nigndl (We Have a Little Tune), was sung at the last club meeting. In addition, Sandra shared a Yiddish poem written by Gene Wilder, along with some interesting trivia that Colin Powell and Louis Armstrong also spoke Yiddish. Who knew?
"The Yiddish club brings me back to my childhood days when my parents and grandparents spoke Yiddish," says club member Yetta Parker. It gives me a good feeling – a feeling of camaraderie with those who connect with Yiddish. The only luxury we had in the Bronx was going to the Yiddish theater in New York City. I still remember the joy of seeing Molly Picon on stage."
Immersed at an early age in Yiddish language and culture through afterschool programs in New York, Sandra continually added more layers to her education. "I learned how to read and write Yiddish, and also read stories by Jewish authors like Shalom Aleichem and I.L. Peretz, both of whom were born in Poland," she relates. "Our studies, including Jewish history and the Bible were all done in Yiddish."
During her middle and high school years, Yiddish took center stage in Sandra's life, as she became increasingly attracted to the field of education. Afterschool studies at the Jewish/Hebrew Farband Labor Zionist Organization, provided a colorful mix of Yiddish, Torah study, Hebrew, customs and tradition, as well as Jewish history. At the Teachers' Seminary and People's
University, she studied the same subjects but taken up a notch. "I received my BA in Jewish Literature from the accredited Jewish Teachers Seminary in Manhattan, while simultaneously attending City College," she says. "That's where I got my Bachelor of Science in education."
Eager to share her enthusiasm for the language, Sandra went on to teach in the Workman's Circle, Farband Sunday Schools, a class at the YMHA and also at Reform and Conservative Jewish schools. "I always included Yiddish in whatever the children were studying, whether through songs or stories." Eventually, Sandra became the director of education in two Conservative schools in New Jersey. "I would teach Yiddish music, sayings and songs, and give teachers Yiddish stories to intertwine with the curricula. I had them include Yiddish literature into whatever they were teaching."
Retirement has opened up more doors for adventures in the world of Yiddish for Sandra. She began attending a yearly international Yiddish conference (Yiddish Vokh), held at a variety of venues that attracts approximately 200 attendees from the United States., in addition to Mexico, Brazil, Australia and Poland. The conference is sponsored by the Yiddish magazine Yugntruf, which Sandra helped to revive.
"Yiddish is a way of connecting our past to our future," says Sandra, "and there's more than one way to be Jewish. The language is part of the chain of Judaism. You can learn new things, but it doesn't mean you forget what came before. The values of Yiddish and Yiddish literature are still valuable. I grew up in an environment that taught and honored tradition, as opposed to traditional religious education, but I appreciate how Yiddish and many aspects of Judaism are intertwined."
To learn a bissel of Yiddish and not get verklempt, feel free to try the club out. The group meets in the library of Temple Solel on the third Wednesday of the month at 1:30 pm. For more information, contact 480-991-7414.

---
---