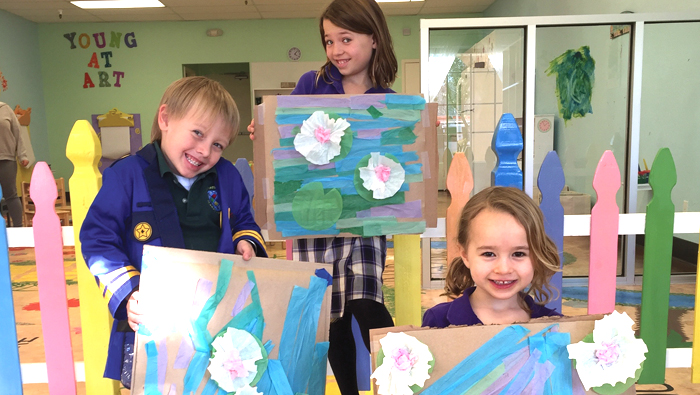 ---
The world is filled with buried treasure, colorful picket fences and yellow brick roads. Well, maybe not the real world, but the one Rachel Ober creates in her new art studio for kids, Rachel's Young At Art Studio. This colorful venue opened its doors in Scottsdale earlier this year. Much like Rachel herself, it is bubbling over with excitement and is filled with color, personality and warmth.
Ober, who was born in Phoenix and grew up in Scottsdale, earned a bachelor's degree in fine arts from the University of Arizona. She is passionate about art and wanted to figure out how to combine her love with a hands-on experience for children. But it took leaving Arizona on her own adventure for her to realize there's no place like home.
Ober explains, "After college, I had this huge 'uh oh, what now?' moment. What do you do with a degree in art? I didn't want to be a fine artist. Art was always a fun and cathartic experience for me. I didn't want to be told how to do it or judged by my end product. I'm still very process-oriented in my personal art and now in the activities I provide in my studio for the children.
"My best friend from college moved back home to California and convinced me to move out there to live with her while I figured out my existential, quarter-life crisis. I found a job at a preschool in the area that was just starting out and needed teaching assistants quickly. That was that. I fell in love with the children. I was in awe every day by the discoveries and connections the children made. I was able to incorporate my artistic knowledge into the classroom activities and saw how much it impacted and encouraged growth and development during the early childhood years. I enrolled in countless courses on child development until I was qualified to become a lead teacher at a synagogue [pre-school] in Santa Monica. In early childhood, art and free play often go hand in hand and are invaluable to the learning process. I kept wondering what it would be like to have a safe place for children that fostered their innate curiosity to discover through enriching artistic experiences. There really was no place like what I envisioned. The seed in my mind had been planted."
Not only is Ober artistic, but she has the advantage of coming from an entrepreneurial family. Her parents, Gail and Ed Ober,  were strong supporters of her idea to start her own studio.
"When they heard about my idea to start an art studio to present children with the tools to empower them with a strong sense of confidence, accomplishment and overall identity, they were immediately on board. My dad told me when I was ready, when the itch to act became too strong to ignore, he would be my biggest supporter. After four years of teaching preschool, I moved back to Arizona this past August to make my dream a reality," Ober grins.
The studio opened early this year with 60 kids attending a variety of programs. Ober was beyond thrilled.
"This is my project of passion and I am so incredibly invested in it. It was so humbling to see other people believe in my product and understand its value. It truly benefits the children who participate. I love watching these little people blossom creatively, cognitively, socially, emotionally and linguistically through the artistic process."
The studio uses a variety of media such as pastels, tissue paper, tempera paint, watercolors, pipe cleaners, popsicle sticks, markers, sequins and charcoal to name a few. Classes start for children from age 18 months and up. A full list of classes is on Rachel's website at rachelsyoungatart.com.
"I love the Mini Monet after-school program because I've really gotten to know the 5-8 year olds who come week after week. During that program, I also get to introduce the basic principles of art and design into their fun projects, as they make observations from nature as well as create purely from their imaginations. I also love my Mother and Me program because my mommy runs it with me. It's super messy and sensory focused and the children are discovering arts and crafts for the first time. We have a program that revolves around sensory art, one geared toward the little builders in your home, and one that only use art supplies that have glitter in them. We're always having fun."
While the studio is a place to have fun and learn, it also provides other opportunities. For example, it is a place where parents can bond with their children and take time out to see the world the way their little ones do and encourage them.
"The world of art encompasses so many things. It is not just painting or drawing, necessarily, although those definitely help with motor skill development! Art is playful for children and play is nature's way of children doing the work of growing up," Rachel says.  "Sensory art stimulates their senses and is purely explorative. It excites the imagination, curiosity and creativity in a hands-on way. Life is messy, after all!"

---
---