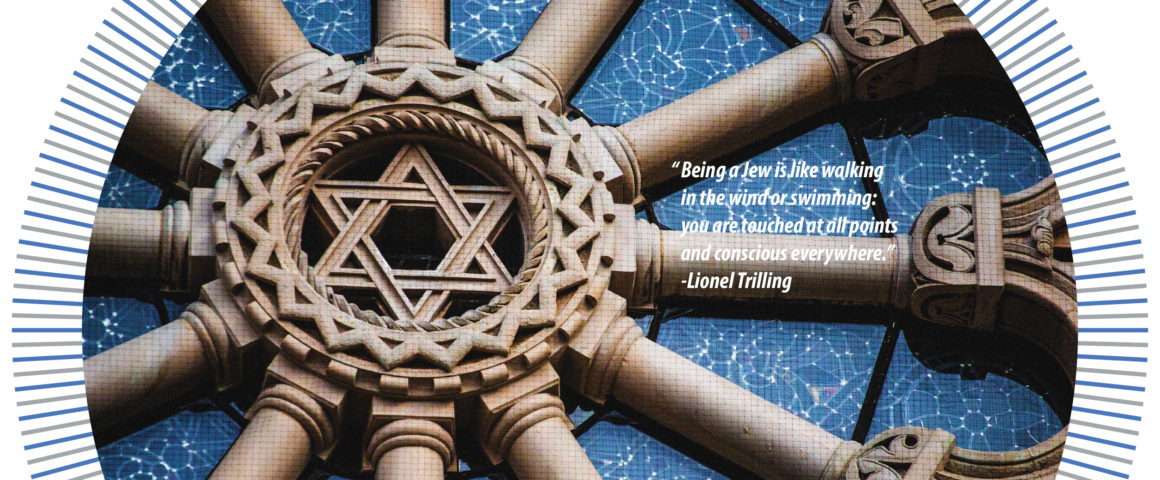 ---

The first Jews to arrive in the Arizona territory were conversos who arrived with Spanish conquistadors in the 16th Century. The Eastern-European influx began in the mid-1800s, and the communities soon began gathering for holiday services, weddings and funerals.
Michael Wormser, a French Jew, began acquiring land in the Valley around 1863. He later opened stores, first in Prescott and then in Phoenix. Upon his death, he left property to Temple Beth Israel to establish the first Jewish cemetery in the Valley.
Built in Tucson in 1910, Temple Emanu-El was the first synagogue in the Arizona Territory. The pioneer Jewish women's organization, then called the Hebrew Ladies Benevolent Society, began the fundraising effort in March of 1886 to build the first permanent Jewish house of worship. The temple opened on Rosh Hashanah Eve, Oct. 3, 1910. Today, the building houses the Jewish History Museum.
In the years since those early days, congregations have multiplied, grown and evolved to meet the ever-changing spiritual, lifecycle and communal needs of an increasingly dispersed and diverse population.
Today, congregations are scattered across Arizona. Some are affiliated with the major movements; others are independent groups created to meet particular geographic or demographic needs.
On the following pages, you can find the congregations and outreach groups that serve the Jewish communities of Arizona.
FLAGSTAFF
CHABAD
CHABAD OF FLAGSTAFF
1254 W. University Ave. #130, Flagstaff
928-255-5756
jewishflagstaff.com
REFORM
CONGREGATION LEV SHALOM
2609 N. Patterson Blvd., Flagstaff
Mail: PO Box 31058, Flagstaff
928-527-8747
levshalomaz.org
LAKE HAVASU CITY
REFORM
TEMPLE BETH SHOLOM JEWISH CONGREGATION
116 N. Acoma Blvd., Lake Havasu City
Mail: PO Box 812, Lake Havasu City
928-680-0017
tbshavasu.com
PRESCOTT
CHABAD
CHABAD OF PRESCOTT
345 N. Washington Ave., Prescott
928-362-8924
jewishprescott.org
REFORM
TEMPLE B'RITH SHALOM
2077 Brohner Way, Prescott
928-708-0018
brithshalom-az.org
SEDONA
INDEPENDENT
JEWISH COMMUNITY OF SEDONA AND THE VERDE VALLEY
100 Meadow Lark Dr., Sedona
Mail: PO Box 13, Sedona
928-204-1286
jcsvv.org
SOUTHERN ARIZONA
CHABAD
CHABAD OF COCHISE COUNTY
401 Suffolk Dr., Sierra Vista
520-820-6256
jewishsierravista.com
INDEPENDENT
BETH SHALOM TEMPLE CENTER
1751 N. Rio Mayo, Green Valley
Mail: PO Box 884, Green Valley
520-648-6690
bstc.us
REFORM
TEMPLE KOL HAMIDBAR
228 N. Canyon Dr., Sierra Vista
520-458-8637
kolhamidbar.tripod.com
TUCSON
CHABAD
CHABAD AT THE UNIVERSITY OF ARIZONA
1436 E. Drachman St., Tucson
520-820-8939
chabadua.com
CHABAD LUBAVITCH OF TUCSON
2443 E. Fourth St., Tucson
Mail: 2411 E. Elm St., Tucson
520-881-7956
chabadtucson.com
CHABAD OF ORO VALLEY
1217 W. Faldo Dr., Oro Valley
520-477-8672
jewishorovalley.com
CHABAD ON RIVER
3916 E. Fort Lowell Road, Tucson
520-661-9350
chabadonriver.com
CONSERVATIVE
CONGREGATION ANSHEI ISRAEL
5550 E. Fifth St., Tucson
520-745-5550
caiaz.org
CONGREGATION BET SHALOM
3881 E. River Road, Tucson
520-577-1171
cbsaz.org
CONGREGATION ESHEL AVRAHAM
522 N. Norris Ave., Tucson
eshel.info
HUMANIST
SECULAR HUMANIST JEWISH CIRCLE
520-271-6235
secularhumanistjewishcircle.org
ORTHODOX
CONGREGATION CHOFETZ CHAYIM
5150 E. Fifth St., Tucson
520-747-7780
tucsontorah.org
CONGREGATION YOUNG ISRAEL
2443 E. Fourth St., Tucson
520-326-8362
chabadtucson.com
REFORM
CONGREGATION CHAVERIM
5901 E. Second St., Tucson
520-320-1015
chaverim.net
CONGREGATION M'KOR HAYIM
Services held at Tucson Hebrew Academy
Mail: PO Box 31806, Tucson
520-904-1881
mkorhayim.org
CONGREGATION OR CHADASH
3939 N. Alvernon Way, Tucson
520-512-8500
orchadash-tucson.org
INSTITUTE FOR JUDAIC SERVICES AND STUDIES AT SADDLEBROOKE
38759 W. Mountain View Blvd., Tucson
520-825-8175, 520-825-4122
saddlebrooke.org
TEMPLE EMANU-EL
225 N. Country Club Road, Tucson
520-327-4501
templeemanueltucson.org
RENEWAL
CONGREGATION KOL SIMCHAH
4625 E. River Road, Tucson
520-577-6990
rshatz@flexintl.com
THE VALLEY
CHABAD
CHABAD LUBAVITCH OF ARIZONA
2110 E. Lincoln Dr., Phoenix
602-944-2753
chabadaz.com
CHABAD LUBAVITCH OF FOUNTAIN HILLS
16830 E. Avenue of the Fountains, Fountain Hills
480-776-4763
jewishfountainhills.com
CHABAD AT ARIZONA STATE UNIVERSITY
971 S. Ash Ave., Tempe
480-736-8672
jewishasu.com
CHABAD JEWISH CENTER
Serving the North Valley
41332 N. Hudson Trail, Anthem
623-349-1770
jewishanthem.com
CHABAD JEWISH CENTER OF GILBERT
4475 E. Carriage Way, Gilbert
480-269-6680
jewishgilbert.com
CHABAD JEWISH CENTER OF GOODYEAR
14555 W. Indian School Road #400B, Goodyear
623-466-6110
jewishgoodyear.com
CHABAD OF DOWNTOWN
2700 N. Central Ave. #890, Phoenix
Mail: 2110 E. Lincoln Dr., Phoenix
602-492-5559
jewishdowntownphoenix.com
CHABAD OF THE EAST VALLEY
875 N. McClintock Dr., Chandler
480-855-4333
chabadcenter.com
CHABAD JEWISH CENTER OF MESA
941 S. Maple, Mesa
480-659-7001
chabadmesa.com
CHABAD OF NORTH PHOENIX
22044 N. 44th St. #100, Phoenix
480-442-8672
ourjewishcenter.com
CHABAD OF PARADISE VALLEY
Mail: 5402 E. Lincoln Dr., Paradise Valley
480-788-9310
jewishparadisevalley.com
CHABAD OF SCOTTSDALE
10215 N. Scottsdale Road, Scottsdale
480-998-1410
chabadofscottsdale.org
CHABAD OF THE WEST VALLEY
Mail: 7942 W. Bell Road, C5 #101, Glendale
623-252-1759
ichabad.org
CONSERVATIVE
BETH EL CONGREGATION
Jonathan Angress, Cantor
Linda Barzilai and Kim Mertens, Co-Presidents
Zachary Hoffman, Executive Director
1118 W. Glendale Ave., Phoenix
602-944-3359
bethelphoenix.com
billboard@bethelphoenix.com
We are the Conservative Synagogue in Phoenix, AZ. This year, our 88th, we will embark on a Rabbinic Search to seek out our new Senior Rabbi. Please join us for this meaningful and fulfilling journey. We have a First Things First Preschool, Hebrew School and twice daily community minyan and offer engagement opportunities for all. Our programming includes opportunities with JFCS, Women's League and 2018 Jewish News Readers' Choice award-winning Alternative Shabbat Service/Programming.
BETH EMETH CONGREGATION OF THE WEST VALLEY
13702 W. Meeker Blvd.,
Sun City West
623-584-7210
bethemethaz.org
CONGREGATION OR TZION
Nicky Spivak, Executive Director
Micah Caplan, Senior Rabbi
Dennie Lieber, Office Administrator
16415 N. 90th St., Scottsdale
480-342-8858
congregationortzion.org
admin@congregationortzion.org
Congregation Or Tzion is a Conservative, multigenerational, participatory, family friendly Synagogue of nearly 450 families in the North Phoenix/North Scottsdale area. We are affiliated with United Synagogue of Conservative Judaism and pride ourselves on offering compelling programming, innovative learning opportunities and spiritual prayer services for all ages. Our doors are open to all who wish to join our kehillah kedoshah – our holy community.
TEMPLE BETH EMETH OF SCOTTSDALE
Stevie Sacks, Membership Growth & Enrichment Chair
8250 E. Rose Lane, Scottsdale
480-941-4112
TBEScottsdale.Org
TBEScottsdale@gmail.com
Temple Beth Emeth of Scottsdale has been serving the East Valley adult community since 1983.  We are an unaffiliated equalitarian temple offering weekly Saturday morning services led by Cantor Howard Tabaknek. 2018 brings our temple into new territory with planned discussion groups and hopes for additional services on Friday nights. Please join us at 9:30 am for morning Sabbath Services followed by a casual community dairy oneg. Details can be found on our website.
TEMPLE BETH SHOLOM OF THE EAST VALLEY
Michele Millman, Office Manager
Bryan Cederbaum, President
3400 N. Dobson Road, Chandler
480-897-3636
tbsev.org
info@tbsev.org
A traditional, egalitarian synagogue that is affiliated with the USCJ. In existence for more than 60 years, we offer a friendly, warm and supportive environment. We boast a vibrant religious school, award-winning youth groups (Kadima and USY) and an outstanding adult education program. The Religious School offers an education program for children from toddler through b'nai mitzvah and transitions them to Hebrew High. Services are held every Friday evening and Saturday morning and on all High Holidays.
HUMANIST
OR ADAM CONGREGATION FOR HUMANISTIC JUDAISM
Jeffrey Schesnol, Ordained Madrikh and Rabbinic Candidate
Holidays: Cutler-Plotkin Jewish Heritage Center, 122 E. Culver St., Phoenix
Shabbats: Pueblo Norte Center, 7090 E. Mescal St, Scottsdale
Mail: 14747 N. Northside Blvd. #111-437, Scottsdale
480-865-4710
oradam.com
oradaminfo@gmail.com
Or Adam, Hebrew for light of humanity, reflects our desire to share our love and respect for Jewish culture and tradition with others, and emphasizes that our destiny is guided by the human power within ourselves. All denominations welcome. Jewish by birth, choice or association. Since 1987, we have provided a community experience that rewards Jewish identity and enriches the dignity of all humankind. Shabbats, holidays, weddings, b'nai mitzvahs, baby namings and memorials.
INDEPENDENT
CONGREGATION KEHILLAH
Rabbi Bonnie Sharfman
Richard Goldman, President
Renee Joffe, Administrator
5858 E. Dynamite Blvd., Cave Creek
Mail: 21001 N. Tatum Blvd., Ste. 1630, #439, Phoenix
602-369-7667
congregationkehillah.org
info@congregationkehillah.org
Growing synagogue conveniently located in North Scottsdale/Cave Creek offering Shabbat/ High Holy Day services, YEP! (youth) and adult education, B'nai Mitzvah, FYC (families with young children), programming for women (WNO-Women's Night Out), men (MOK-Men of Kehillah) as well as multigenerational programming, social action and interfaith projects.
CONGREGATION NEFESHSOUL
Valley Unitarian Universalist Campus, 6400 W. Del Rio St., Chandler
Mail: PO Box 51591, Phoenix
nefeshsoul.com
CONGREGATION SHOMREI TORAH
4927 E. Evans Dr., Scottsdale
602-320-3369
congregationshomreitorah.com
THE NEW SHUL
7825 E. Paradise Lane, Scottsdale
480-515-2272
thenewshul.org
ORTHODOX
AHAVAS TORAH: THE SCOTTSDALE TORAH CENTER
13402 N. Scottsdale Road #B140-150, Scottsdale
480-467-4593
ahavastorah.org
BETH JOSEPH CONGREGATION
515 E. Bethany Home Road, Phoenix
602-277-8858
phoenixbethjoseph.org
CONGREGATION BETH TEFILLAH
Pinchas Allouche, Rabbi
New address opening Fall 2018
6529 E. Shea Blvd., Scottsdale
480-600-5065
bethtefillahaz.org
info@bethtefillahaz.org
membership@bethtefillahaz.org
Congregation Beth Tefillah is a welcoming, vibrant synagogue where you are sure to feel at home. The largest Orthodox Synagogue built in the Southwest, our name is an expression of our primary objective: to serve as a "house of prayer" and a spiritual lighthouse to every Jewish man, woman and child, regardless of background, affiliation or level of observance. Join us for holidays, Shabbat services and daily Shaharit services. Our Limudim Educational Center provides Hebrew and Judaic curriculum for children and adults. Offers Nefesh after-school religious studies classes (Mon./Wed.) for grades K-4 at the VOSJCC (bethtefillahaz.org/nefesh).
CONGREGATION TORAT EMET
526 E. Tuckey Lane, Phoenix
602-418-7689
KEHILLAS HATURIM/YESHIVAS HATURIM
522 E. Glendale Ave., Phoenix
602-345-1179
haturim.com
OHR HATORAH CONGREGATION
6655 N. Seventh St., Phoenix
480-359-5572
ohrhatorahphoenix.org
SHAAREI TZEDEK CONGREGATION
Beth El campus, 1118 W. Glendale Ave., Phoenix
Mail: 7608 N. 18th Ave., Phoenix
602-944-1133
YOUNG ISRAEL OF PHOENIX
6232 N. Seventh St. #107, Phoenix
602-265-8888
yiphoenix.org
REFORM
BETH AMI TEMPLE
Allison Lawton, Rabbi
Michael Robbins, Cantorial Soloist
Bobbi Lazarus, Administrator
3535 E. Lincoln Dr., Paradise Valley
Mail: 3104 E. Camelback Road #508, Phoenix
602-956-0805
bethamitemple.org
bethamitemple@hotmail.com
A small temple with a big heart. Established in 1978, we are a centrally-located boutique Reform Temple (URJ) for active adults seeking spiritual and social connections. Modest dues. No building fund. High Holiday and Friday night services followed by Oneg. Something for everyone here with many social clubs and activities, including cultural events, speakers, concerts, hiking, tennis, travel, mah jongg, book reviews, movies and bridge. Torah study and community involvement. Couples, singles, empty nesters, winter visitors – everyone is welcome at Beth Ami!
CONGREGATION BETH HAGIVOT
15300 N. Fountain Hills Blvd., Fountain Hills
Mail: PO Box 19498, Fountain Hills
480-650-3061
bethhagivot.com
CONGREGATION BETH ISRAEL
10460 N. 56th St., Scottsdale
480-951-0323
cbiaz.org
CONGREGATION MERKAZ HA-IYR
12861 N. Eighth Ave., Phoenix
480-414-5213
congregationmerkaz.org
DESERT FOOTHILLS JEWISH COMMUNITY ASSOCIATION
Mail: PO Box 25068, Scottsdale
480-664-8847
dfjca.org
NORTH VALLEY JEWISH COMMUNITY ASSOCIATION
39506 N. Daisy Mountain Dr. #122-198, Anthem
623-256-0658
nvjca.org
SUN LAKES JEWISH CONGREGATION
9240 E. Sun Lakes Blvd. N., Sun Lakes
sunlakesjewishcongregation.org
TEMPLE BETH SHALOM AND JEWISH COMMUNITY CENTER OF THE WEST VALLEY
12202 N. 101st Ave., Sun City
623-977-3240
templebethshalomaz.org
TEMPLE CHAI
4645 E. Marilyn Road, Phoenix
602-971-1234
templechai.com
TEMPLE EMANUEL OF TEMPE
Rabbi Dean Shapiro, Rabbi
Suzanne Guinane, Cantorial Soloist
5801 S. Rural Road, Tempe
480-838-1414
emanueloftempe.org
Temple Emanuel of Tempe is a welcoming oasis for all who embrace Jewish values and want to nourish their lives with wisdom, justice and loving kindness. We are connecting our Jewish community and building a better world together.
TEMPLE KOL AMI
Jeremy Schneider, Rabbi
Emily Kaye, Cantorial Soloist
Nancy Drapin, Executive Director
15030 N. 64th St., Scottsdale
480-951-9660
templekolami.org
tkaoffice@templekolami.org
We are a relationship-centric Reform Jewish community that honors tradition while embracing innovation. We see ourselves as a force for good, "doing Jewish" across the Valley via unique social action programs. There's something for everyone at Temple Kol Ami: an outstanding Early Childhood Center, a religious school kids love to attend, online Hebrew lessons, Boomer groups and many more meaningful opportunities for education, volunteerism, spiritual growth and fun.
TEMPLE SOLEL
John Linder, Rabbi
Emily Langowitz, Rabbi
Todd Herzog, Cantorial Soloist
Peter Pishko, Executive Director
6805 E. McDonald Dr., Paradise Valley
480-991-7414 • templesolel.org
office@templesolel.org
Temple Solel is a growing, welcoming Reform congregation offering worship services, engaging programs, social functions and volunteer opportunities for congregants from all walks of life and across the age spectrum. Our name, Solel, tells something about our philosophy. The Hebrew word Solel means Pathfinder in English. Since our founding in 1966, we have looked for fresh pathways and approaches to Jewish celebration, learning, and living, while maintaining an abiding respect for traditional Jewish values.
RENEWAL
RUACH HAMIDBAR – SPIRIT OF THE DESERT
Various locations
602-321-3336 • ruach.org
BUKHARIAN
AHAVAT ISRAEL
727 E. Glendale Ave., Phoenix
480-420-4540
ahavatisraelaz.com
SHAAREI SHALOM
17836 N. 11th Ave., Phoenix
facebook.com/pages/Shaarei-Shalom-Phoenix
SHAAREI TZION OHEL BRACHA
6516 N. Seventh St. #200, Phoenix
602- 277-5366
SEPHARDIC
AVDE TORAH JAYAH/ACJA
Mail: 1900 W. Chandler Blvd., #15355, Chandler
602-518-0229
cryptojew.org
YUMA
REFORM
CONGREGATION BETH HAMIDBAR
PO Box 5634, Yuma
928-210-8368
bethhamidbar.org
RABBINIC BOARDS & ERUVS
CHANDLER ERUV PROJECT
(East Valley)
480-855-4333
chabadcenter.com
GREATER PHOENIX BOARD OF RABBIS
boardofrabbisphoenix.org
PHOENIX COMMUNITY ERUV
(North Central Phoenix)
602-264-3788
TUCSON BOARD OF RABBIS
520-327-4501
tbor.homestead.com
VALLEY ERUV PROJECT
(Paradise Valley, North Phoenix, Scottsdale)
480-630-9596
arizonaeruv.org

---
---