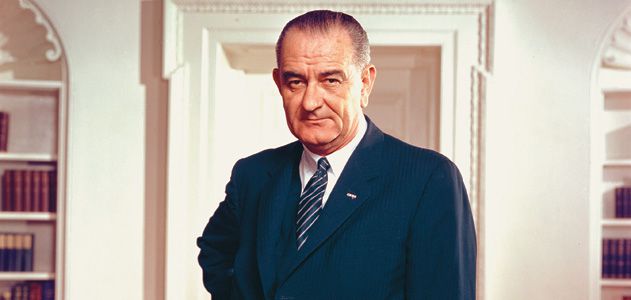 ---
Will there ever be a President of the United States who is Jewish? Many Americans doubt that will ever happen, yet some scholars believe that there already has been a president who was actually Jewish. John and Mary Huffman, a German Jewish couple, immigrated to the U.S. and landed in Maryland. They moved to Kentucky and, finally, the family settled in Texas. Their daughter, Ruth, was Jewish since both of her parents were Jewish. Ruth married a non-Jew and had a daughter, Rebekah Baines, who, as the daughter of a Jewish mother was Jewish.
Rebekah married Samuel Johnson, and their son was Jewish, even if he did not know it.  His middle name is his mother's maiden name, and we know him as Lyndon Baines Johnson. LBJ, although Jewish by birth, did not consider himself a Jew and worshipped at a Disciples of Christ Church. LBJ had an affinity for Jews and went out of his way to assist Jews.
When Lyndon was a boy, his father and grandfather worked to seek clemency for Leo Frank, a Jew who was eventually lynched by the Klan in Georgia. The local KKK threatened to kill the Johnsons because of their support for Frank. As a member of Congress before World War II, LBJ helped hundreds of refugee Jews immigrate to the U.S. through Texas. Some of those immigrations were of questionable legality since there were restrictions on immigration. In 1938, Johnson was responsible for saving the life of Erich Leinsdorf, an Austrian Jew who was a renowned musician. Johnson arranged for Leinsdorf to receive a difficult-to-obtain U.S. residency permit.
LBJ generally had a positive view of Israel. His Aunt Jessie Johnson Hatcher was a member of the Zionist Organization of America and strongly influenced young Lyndon. After JFK was assassinated, LBJ told the Israeli government that they had lost a friend, but now they had a better friend. Most importantly, he supplied needed arms to Israel after the Six Day War, when France froze their deliveries of armaments to Israel. Lyndon Johnson may not have been Jewish in his religious practices but he would certainly have been a Jew in Nazi Germany, and he acted with great simpatico towards Jews and Israel.
Dr. Murray Siegel is a USAF Vietnam War veteran who taught mathematics for 44 years. He grew up in Brooklyn, NY and has lived all over the U.S. Since childhood he has been determined to learn more about Jewish contributions to American history and culture.

---
---