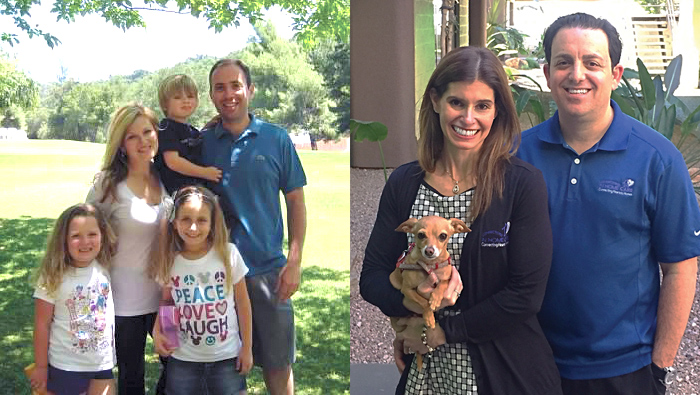 ---
Many couples have met and fallen in love at a Jewish summer camp. Here are two couples' special stories of how they met their perfect match "one summer at camp…"
Alison and Michael Feinberg
Michael Feinberg had been going to Camp Ramah in California since he was 11 years old. The first year he missed was 1992, the same year that Alison Goldstein went for the first time. She and a friend had decided that they wanted a summer job together, so they both applied at Camp Ramah.
Alison had so much fun that summer that she signed up to work the following summer. In 1993, she met Michael on the first day of camp. "We were counselors in the same age group and we worked together all summer," says Alison.
By the end of the summer, the couple were in love. The problem was that Alison was scheduled to head to Israel for her junior year of college and Michael was returning to the University of California, Berkeley for his sophomore year.
On their last day off at camp, they went to do laundry at Michael's parents' house and he went to get the mail. "Our one day off, there was a package from Hebrew University in Jerusalem," says Alison. "It was information on the Rothberg
International School for overseas students. That was the program I was with." Michael called the school and asked if he could join the program in Israel as a second-semester sophomore – and they accepted him.
Before they were reunited that second semester, they sent each other aerograms (there was no email!) every day. Alison was supposed to go on fall break to Europe, but she says, "I ended up running up such a horrible phone bill that I went to Egypt instead, because it was more affordable," says Alison.
The second semester arrived and they spent six months together in Israel. Then they headed back to work together the summer of 1994. When camp ended, they separated once again for the school year. Alison returned to Tulane University in New Orleans for her senior year and Michael went back to Berkeley.
When Alison graduated, she moved to California to be with Michael. They were married in 1999. The couple have three children: Nora,13, Sadie, 10, and Josh, 7.
They are now a camp family. "We started bringing the kids to family camp at Camp Ramah eight years ago and we have been to…three or four weekends with our kids at camp," says Alison. This will be Nora's fifth and Sadie's fourth summer at camp. Josh is going for two weeks this summer, his first time at camp.
Nora even celebrated her bat mitzvah at Camp Ramah this past June. They are members of Congregation Or Tzion and Rabbi Micah Caplan serves as the rabbi in residence for one week during summer camp. "He tutored her for eight or nine months and then came and co-officiated her bat mitzvah with Rabbi Joe Menashe, who is the director of Camp Ramah," says Alison. "My husband was very emotional at her bat mitzvah because everything came full circle."
Alison and Michael purchased a plaque a few years ago for people who "met their match" at camp. The plaque was placed on the Gesher L'Chuppah canopy bridge at Camp Ramah. "Whenever my kids are at camp, they go visit our plaque," says Alison.
Alison sums up her feelings about camp: "I always say that any Jewish camp is the right Jewish camp. I am not biased about what camp people should go to. I think they should just go to one. We really feel like camp is the 'secret sauce.' It is informal Jewish education; it's the thing that marinates our kids in Jewish life 24/7 and they make Judaism fun. We met there, fell in love there and our daughter had her bat mitzvah there. Camp Ramah is a magical place for us."
Denise and Eric Kaye
The love story of Denise and Eric Kaye all started with Denise's sister Erica.
Erica met Craig Weiss, from Phoenix, in Israel her junior year of college. They fell in love and had a long-distance relationship because she was at Brandeis University in Massachusetts and he was at the University of Pennsylvania. After studying abroad in Israel, they still had one more year of college before Erica went to rabbinical school. They spent that year in Israel together.
Erica loved being a camp rabbi at Jewish summer camp. Craig told her about a camp in Prescott called Camp Charles Pearlstein. "That was in 1997, [when] my sister [Erica] met a young man named Eric Kaye, who was the song leader," says Denise.
"In 1998, I graduated from the University of Tampa with a degree in education. It was the summer and my sister said that there was a unit head position at the camp [where] she was working and I should consider coming," says Denise. "Erica also said that I'd meet some teachers – plus the song leader [was] really cute." So she drove across the country from Florida to Prescott with her father.
That summer, Eric was planning to come to camp for just one week. "My best friend, who was the overnight specialist, was finishing up an internship at Northern Arizona University, couldn't make it to the orientation week and asked me to go in his place," says Eric. That's when he met Denise. "He ended up staying the entire summer," Denise says jokingly.
Things moved fast from there. "On one day off, we found her a job at a middle school and the next day off, we found her an apartment," says Eric. Teachers at the camp who worked with Denise on the administration team, introduced her to a principal in the Kyrene School District, which led to a job offer. "I was able to fulfill my first teaching job and met my husband – all at Jewish summer camp!" exclaims Denise.
The couple married in June of 2001 (Erica officiated!). They have two children, Asher, 12 (he'll be 13 in April) and Lirit, 10. "My son went to Camp Pearlstein from the time he was one and my daughter from when she was born," says Denise, who brought them to camp with her. They cut ties with Camp Pearlstein, then made connections at Camp Hess Kramer and Gindling Hilltop Camp (both in California). "Andrea Cohen was the director when Eric and I met at Pearlstein – and now she is our kids' director at Hilltop. We have come full circle," says Denise. "In a month, my son is going to have his bar mitzvah at Hilltop."
The couple also run a business together called Connections In Home Care. "Eric was always in the healthcare industry and I was always a Jewish professional, working for the camp and working for a synagogue and teaching," says Denise. "I ended up getting my MBA and Eric has his MBA and a healthcare management degree. Now we work together and run our own in-home care business. We take care of seniors in their homes."
"I feel like the values and relationships and everything we took away from Jewish summer camp has led us to forming the relationships with our caregivers and our seniors," says Denise. Even their business motto of 'Connecting hearts to homes' has a connection to camp. "I always felt that going to camp was like going to a second home."
Denise has fond memories of being a counselor and shares this analogy: "I always say the first year you are a counselor at camp is like the curtain from "The Wizard of Oz" has been pulled back. As a kid at camp, you are in awe of all the magic; but as a counselor, you get to see how that magic happens."
Eric shares his take-away from camp: "Gemilut chasadim – acts of love and kindness – are fundamentally ingrained into us at camp and we try to carry that through every day."

---
---