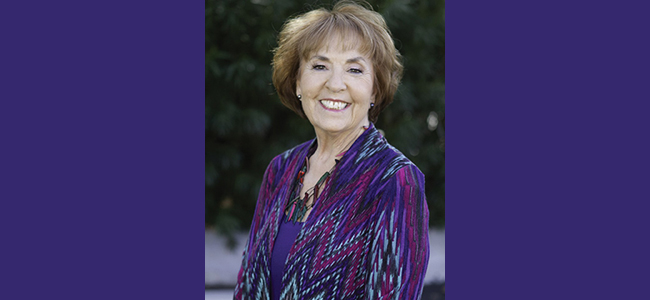 ---
Do you care for one of the more than 33,000 Arizonians diagnosed with cancer every year? Barbara Kavanagh does, and is dedicated to cancer caregiver education. Barbara is the president and CEO of Arizona Myeloma Network.
"When my husband was diagnosed with multiple myeloma 26 years ago, we were devastated and felt so alone," says Barbara. "We had no idea of how to battle this devastating cancer and decided to try and learn all we could about treatment." They started the Arizona Myeloma Network to share this knowledge with others. Collaborating with outstanding cancer facilities and organizations such as The Multiple Myeloma Research Foundation, they can help to improve the quality of life for both patients and their family of caregivers. "That is why we launched the Cancer Caregivers Education Program. Our mission promises to educate cancer caregivers for their wellbeing and improved patient outcomes."
Multiple myeloma is a cancer of the plasma cell. It is the second most common blood cancer. An estimated 30,770 adults (16,400 men and 14,370 women) in the United States will be diagnosed with MM in 2018, and an estimated 12,770 people are predicted to die from the disease. The five-year survival rate for MM is approximately 49.6%, versus 31% in 1999.
When cancer invades the home, suddenly everyone becomes a cancer caregiver, including friends and neighbors. "Everyone caring for a cancer patient needs to come to our seminars for their own health and wellbeing," says Barbara.
Every seminar is free to the public. Attendees walk away knowing how to advocate for their loved one and have an opportunity to talk with local resources that can help.
"I really hope people caring for a cancer patient join us on Saturday, April 28, at the Embassy Suites Hilton at Stonecreek Golf Course," Barbara says. "Your cancer caregiver experience is important to us as we develop new seminars for 2018." The topic for this program is "Helping your loved one deal with side effects."
Cancer Caregivers Education Program seminars deliver practical knowledge, skills and strategies necessary to effectively care for the cancer patient and themselves. CCEP is now available as a customized program for companies and healthcare organizations that want to help employees struggling with cancer.
Employers know how much it costs them in lost productivity and absenteeism when someone is the primary caregiver for a cancer patient. Educating the cancer caregiver is the first step in building healthier communities and addressing a very real social issue.
In Arizona alone, more than 38,000 will hear that they have cancer in 2018. For every one patient, there are as many as three informal family members, friends and neighbors that care for them. This is only the newly diagnosed. What about the other hundreds of thousand survivors? That is the impact on the communities where we live, work and play.
There is another important support event happening this month. The Multiple Myeloma Research Foundation and Arizona Myeloma Network will hold their first joint MMRF Patient Summit on March 24 from 7:45 am to 4 pm at 7700 E. McCormick Pkwy. in Scottsdale. The Patient Summit is a free educational program designed to help patients and caregivers learn more about multiple myeloma, the second most common blood cancer, and how to optimize their journey with the disease. Program Chair P. Leif Bergsagel, M.D. from the Mayo Clinic, will be joined by multiple myeloma experts who will discuss treatment options for all stages of the disease, clinical trials, and management of symptoms and side effects.
For more information on the Arizona Myeloma Network, visit azmyelomanetwork.org.
buy azithromycin over the counter The Multiple Myeloma Research Foundation and Arizona Myeloma Network
http://amoxicillin-otc.com/ generic amoxicillin over the counter MMRF Patient Summit
When: March 24 from 7:45 am to 4 pm
Where: Scottsdale Resort at McCormick Ranch, 7700 E. McCormick Pkwy., Scottsdale
Information: Visit themmrf.org/scottsdalesummit to register or contact Beth Ann Karlehag at karlehagb@themmrf.org
generic metronidazole over the counter Cancer Caregivers Seminar "Helping your loved one deal with side effects"
When: April 28 from 8:30 to 11:30 am
Where: Embassy Suites by Hilton at Stonecreek Golf Course, 4415 E. Paradise Village Pkwy. S., Phoenix
Information: Visit azmn.info/care to register

---
---