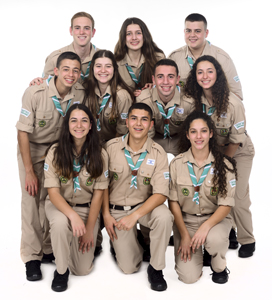 ---
The Tzofim Friendship Caravan will once again be stopping in Arizona for performances throughout the Valley from June 10 to 14. The Israel Scouts tradition of touring and visiting Arizona is a strong one (41 years this summer).  Each year, dedicated host families open up their homes to the scouts, and strong bonds between the families and the scouts they host are always formed.
Three different caravans traveling across North America this year, from New York to California to Wyoming and Tennessee. They are Caravan Yanai, Caravan Almog and Caravan Dekel. Caravan Almog will be visiting Arizona.
Each caravan is made up of a group of five girls and five boys, ages 16 to 17, and their two leaders. They are chosen to be members of the Caravan based on their maturity, fluency in English, and of course their talent in the performing arts.
Preparation for the Caravan starts in January. The group meets every weekend to practice for the performances and plan educational activities. The leaders meet separately during the week to learn about their responsibilities and how to manage their team. The leaders of Caravan Almog are Shir Amit and Or Woddis.
"It's such a pleasure to be back in this amazing program that had a huge influence on my life as a teenager," says Shir.
The dates for these free, family-friendly shows are as follows:
Sunday, June 10 at 11 am at Temple Beth Shalom, 12202 N. 101st Ave.in Sun City
Sunday, June 10 at 4 pm at Temple Chai, 4645 E. Marilyn Road in Phoenix
Monday, June 11 at 7 pm atTemple Solel, 6805 E. McDonald Dr. in Paradise Valley
Tuesday, June 12 at 7 pm at Congregation Or Tzion, 16415 N. 90th St. in Scottsdale
Wednesday, June 13 at 7 pm at Beth El Congregation, 1118 W. Glendale Ave. in Phoenix
Thursday, June 14 at 7 pm at Temple Kol Ami, 15030 N. 64th St. in Scottsdale
They will also be performances at Westminster Village, Phoenix Children's Hospital, Kivel and the Boys and Girls Club of Scottsdale while they are in town.
For more information, visit israelscouts.org/friendship-caravan.

---
---