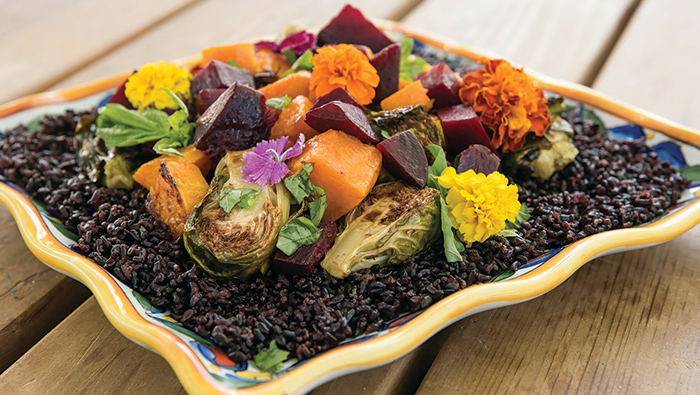 ---
The leaves are turning, the weather is changing and the harvest air is whistling aromas of "pumpkin spice and everything nice." This is my favorite time of year, especially here in Arizona. With all the continuing entertaining that still awaits us, I wanted to share this beautiful, colorful and tasty dish, which will leave your family and guests oohing and ahhing over how beautiful this dish is and how amazing it tastes. These weird looking but beautiful root vegetables have been around for millions of years, and were part of the first steps of intentional farming by hungry nomads around 10,000 years ago. For modern cooking, we can do so much more with these vegetables: mash them, slice them to delicate crisp chips, roast them and grill them. Venture out and try cooking with parsnips and root celery and my favorite, beets.
May this new season bring you abundant blessings, like these root vegetables have done for many years, and may you take this opportune time to give back to those less fortunate: tikkun olam, making this world a better place for all.
AUTUMN SALAD
Ingredients:
Serves: 6
2 large red beets
1 medium butternut squash
1 pound Brussels sprouts
olive oil for roasting vegetables
2 cups black rice
3 1/2 cups water
1 bay leaf
2 strips orange peel
7 tablespoons blood orange olive oil, divided
2 teaspoons lemon juice
2 teaspoons sea salt + more to taste
3 sprigs basil
Edible flowers for garnish (optional)
Directions:
Preheat oven to 400 degrees with a large cast iron skillet on the bottom rack.
Rinse and scrub the beets well and wrap in aluminum foil. Place them in the preheated skillet and place back in the oven for 45 minutes to an hour or until softened.
When cool enough to handle peel the skin off of the beets and cut them into small cubes. Set aside until ready to use.
Peel the butternut squash and discard the seeds. Cut into small cubes and transfer to a large baking sheet. Drizzle with enough olive oil to coat the squash and season with a pinch of sea salt. Spread them on the baking sheet, preferably so that the cubes do not touch. Roast in the preheated oven for about 35 to 45 minutes, until the pieces start to soften and caramelize around the edges.
Meanwhile, rinse and dry the Brussels sprouts and trim the ends. Half them lengthwise and transfer to a bowl. Drizzle them with enough oil to coat and season with sea salt. Toss carefully and transfer to a baking sheet, cut side down for a nice, golden brown roast. Place in the oven and after about 15 minutes, give them a gentle toss so they brown all over. Cook another 10 to 15 minutes until done to your liking.
Combine the black rice, water, orange peel and bay leaf in a pot. Bring to a simmer and cover with a tight lid. Cook for 30 minutes until all water has been absorbed. Remove from heat and allow to sit covered for 10 minutes.
Transfer the rice to a mixing bowl and discard the bay leaf and orange peel. Drizzle with 4 tablespoons of blood orange olive oil and fluff with a fork. Transfer to a serving tray and top with the roasted butternut squash cubes, roasted red beets and Brussels sprouts.
In a small jar combine the remaining 3 tablespoons of blood orange olive oil, the lemon juice and a pinch of sea salt. Shake to combine, taste and adjust seasonings until you are happy.
Drizzle the blood orange vinaigrette over the butternut squash, beets and Brussels sprouts. Top with fresh basil and edible flowers (optional). Serve warm.
Lucia Schnitzer and her husband, Ken, own Pomelo (a full-service restaurant), Luci's at The Orchard and Splurge (a candy and ice cream shop), all at The Orchard Phx, 7100 N 12th Street, Phoenix. They also own Luci's Healthy Marketplace, 1590 E Bethany Home Road, Phoenix, which they opened in 2009 in Lucia's honor after her successful battle with breast cancer.
Photo by Matthew Strauss

---
---