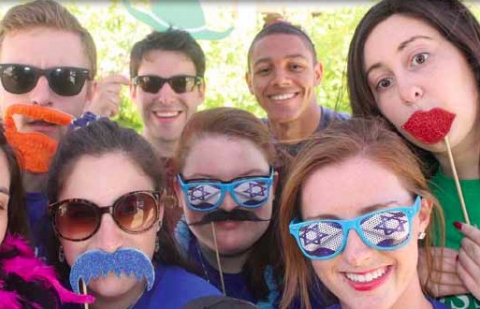 ---
Recognizing that learning is a lifelong process, adults start or return to universities at any age to further their career goals. Many adults also enjoy less rigorous adult education programs to expand their understanding and knowledge about the religion, culture and language of the Jewish people. Social and networking groups are another way to learn and grow throughout life.
The Arizona Center for Judaic Studies at UNIVERSITY OF ARIZONA
J Edward Wright, Director; Anat Maimon, Hebrew Program Coordinator; Martha Castleberry, Sr. Business Manager
845 N Park Ave., The Marshall, Bldg., Suite 420, Tucson, AZ 85721; 520-626-5758, Fax: 520-626-5765; sbs-judaic@email.arizona.edu; www.judaic.arizona.edu
The Arizona Center for Judaic Studies' mission is to contribute to the overall mission of The University of Arizona, which is to translate faculty research into dynamic undergraduate instruction, and to contribute to the community through educational outreach and professional advising. Our Hebrew Language Program offers courses in Modern Hebrew, Biblical Hebrew and Classical Aramaic. The Center now has a Graduate Certificate Program that is designed to enhance the education of graduate or professional
students.
ARIZONA STATE UNIVERSITY
1151 S Forest Ave., Tempe, AZ 85281; 480-965-7788, Fax 480-965-3610; students.asu.edu/contact/admissions; www.asu.edu
Arizona State University has developed a new model for the American Research University, creating an institution that is committed to excellence, access and impact. ASU measures itself by those it includes, not by those it excludes and how they succeed. ASU pursues research that contributes to the public good, and ASU assumes major responsibility for the economic, social and cultural vitality of the communities that surround it.
CENTER FOR JEWISH STUDIES & JEWISH STUDIES PROGRAM ARIZONA STATE UNIVERSITY
PO Box 874302, Tempe, AZ 85287-4302; 480-727-6906, Fax: 480-727-2023; jewish-studies@asu.edu; www.jewishstudies.asu.edu
Together, the Center for Jewish Studies and Jewish Studies Program enhance knowledge of all facets of Jewish life through courses, conferences and events. Committed to critical inquiry and scholarly entrepreneurship, Jewish Studies offers a model to integrate Jewish perspective into relevant disciplines, including religious studies, political science, film and media studies, and law. Jewish Studies practices the ideal of social embeddedness in Arizona, providing outreach programs and serving as an intellectual resource to Jewish life.
ADULT EDUCATION
Chino valley / Northern arizona
Lev Chadash : Jewish
Southwest Encounters
1327 Granite Creek Lane
Chino Valley, AZ 86323
928-777-8172
TUCSON
COALITION FOR JEWISH EDUCATION
3822 E River Road
Tucson, AZ 85718
520- 577-9393 ext. 122
www.jewishtucson.org
Adult Education Academy
Temple Emanu-El
225 N Country Club Road
Tucson, AZ 85715
520-327-4501
www.templeemanueltucson.org
Southwest Torah Institute
5150 E Fifth St.
Tucson, AZ 85711
520-747-7780
THE VALLEY
Bureau of Jewish Education
12701 N Scottsdale Road,
Ste. 206
Scottsdale, AZ 85254
480-634-8050
www.bjephoenix.org
Jewish Enrichment Center
515 E Bethany Home Road
Phoenix, AZ 85012
480-420-7613
www.phxjec.org
Jewish Learning Center
10213 N Scottsdale Road
Scottsdale, AZ 85253
480-443-5362
Phoenix Community Kollel
6516 N Seventh St., Ste. 104
Phoenix, AZ 85014
602-433-0300
www.aztorah.com
Valley Beit Midrash
4645 E Marilyn Road
Phoenix, AZ 85032
602-445-3112
www.valleybeitmidrash.org
Women's Jewish Learning Center
7825 E Paradise Lane
Scottsdale, AZ 85260
602-402-4173
www.womenlearning.org
CAMPUS GROUPS
Hillel at NAU
PO Box 15300
Flagstaff, AZ 86011
928-523-7482
www4.nau.edu/hillel
Hillel Foundation at U of A
1245 E Second St.
Tucson, AZ 85719
520-624-6561
www.arizona.hillel.org
Hillel Jewish Student Center at ASU
1012 S Mill Ave.
Tempe, AZ 85281
480-967-7563
www.hillelasu.org
Jewish Arizonans on Campus
13039 N 70th St.
Scottsdale, AZ 85254
480-390-6173
www.myjac.org
Rohr Chabad House – Jewish Student Center at ASU
971 S Ash Ave.
Tempe, AZ 85281
480-736-8672
www.jewishasu.com
YOUNG ADULT
Moishe House
MoisheHousePhoenix@gmail.com
www.moishehouse.org
NOWGEN
Jewish Community Association
Young Jewish Phoenix ShabbatLuck
iMPACT: A New Generation of
Women's Philanthropy
Phoenix Community Taglit-Birthright Israel
480-634-4900, ext. 1205
erins@vosjcc.org
YOUNG JEWISH TUCSON
Jewish Federation of Southern
Arizona
520-577-9393
slangert@jfsa.org
ADULT SOCIAL/ NETWORK GROUPS
ACTIVE JEWISH SINGLES 40S AND 50S
www.meetup.com/Active-Jews-40s-50s
ACTIVE JEWISH SINGLES 50S AND 60S
LaneeCohen@gmail.com
www.meetup.com/Active-Jews-50s-60s
ARIZONA ADVENTURERS
Jewish Outdoor club
Lionel Hummel, 480-818-9854
www.ArizonaAdventurers.org
CARDOZO SOCIETY
JCA affinity group for attorneys
480-634-4900, ext. 1299
www.jewishphoenix.org
HAPPENINGS
Valley wide social group for 60+
Contact: Joan Evans,
602-569-9791
EAST VALLEY JEWISH
COUPLES CLUB
480-370-6520
shapiroeil@hotmail.com
JEWISH SOCIAL CONNECTION OF THE WEST VALLEY
623-444-5829 or 623-584-1977
LGBT JEWISH INCLUSION PROJECT
3822 E River Road
Tucson, AZ 85718
520-577-9393 X 128
www.jewishtucson.org
OPEN TENT
(Tempe)
www.meetup.com/open-tent/
ORO VALLEY SUN CITY HAVURAH
(Northwest Tucson)
520-825-0335
PEBBLE CREEK SHALOM CLUB
(Southwest Valley)
623-537-5004
REAP
Real Estate and Allied Professions
3822 E River Road
Tucson, AZ 85718
520-577-9393
www.jewishtucson.org
SHALOM TUCSON
Newcomers
3822 E River Road
Tucson, AZ 85718
520-577-9393
shalomtucson@jfsa.org
www.jewishtucson.org
Sun City Grand
Shalom Club
623-243-7888
TUCSON MAIMONIDES SOCIETY
Physicians and Dentists
3822 E River Road
Tucson, AZ 85718
520-577-9393 X 118
www.jewishtucson.org

---
---