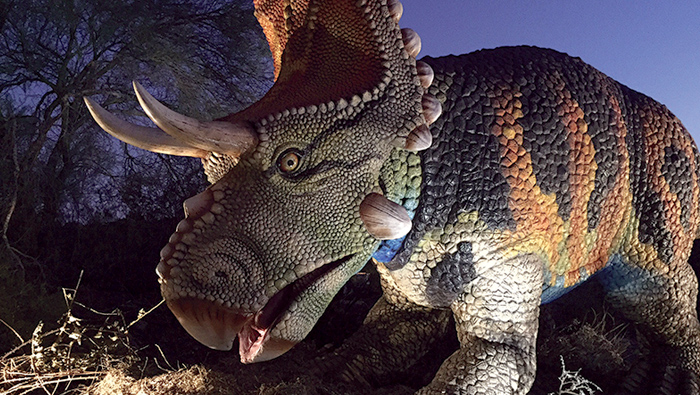 ---
You know when you hear an iconic theme song from a movie – how that can give you a thrill and make your heart beat a little faster? I had that exact feeling when I was getting ready to enter Dinosaurs in the Desert, the new exhibit at the Phoenix Zoo and was greeted by the music from Jurassic Park.
The Desert Lives Trail at sunset was the perfect setting for the 23 prehistoric animatronic creatures that move and make sounds and seem eerily real. There are educational signs about each dinosaur that highlights their size, interesting facts and how their adaptations compare to modern species.
Interpretive guides from the Arizona Center for Nature Conservation/Phoenix Zoo and local experts are on hand to answer your questions, and that is how I learned that the velociraptors in Jurassic Park were actually Utahraptors. You see, velociraptors are only the size of a medium-sized dog, so not very threatening. Utahraptors, by contrast, are 5- to 6-feet tall, but their name is not very intimidating. Through the magic of Hollywood and some artistic license, the raptors switched names for the movie. It was also recently discovered that the Utahraptor was covered in feathers – another fact that would have rendered them a little less frightening on the big screen.
The zoo also took some artistic license as you will notice that some of the dinosaurs look a little familiar. Several of the creatures have been custom painted to represent colors and patterns of today's desert dwellers. There is an Edomontonia painted like a Gila monster, a Coelophysis painted like a Gamble's quail, and a Citipati painted like a Chiricahua leopard frog to name a few.
Also featured among the custom-painted dinosaurs, are a Stegosaurus mother and baby that feature the two grand prize winning designs from the Design-o-Saur coloring contest. This contest was open to children ages 3-12, and the zoo received more than 1,000 entries.
The self-guided tour of the exhibit takes about 25-30 minutes to go through, but you may want to linger a little longer for a perfect selfie with a prehistoric pal.
Spoiler alert! My favorite part was at the end of the exhibit. Among the desert vegetation, you will come upon a young Tyrannosaurus Rex. Just as you are admiring the little guy, you hear a growl and look up to see a humongous "mamma" Rex lurking just behind him. By the time I got to this part, the sun had set and the moon was rising, further adding to the surreal feeling of the whole evening.
If you have a dinosaur lover or a budding paleontologist in your family, this exhibit is a must-see. I highly recommend going in the evening because the lighting and shadows add something to the experience. Just keeping telling yourself…"they're not real."
Dinosaurs in the Desert
Where: Phoenix Zoo, 455 N. Galvin Pwy., Phoenix
When: 9am-5pm daily through April 30, 2018
Tickets: $5 ($4 for member) in addition to zoo admission
Info: 602-286-3800 or phoenixzoo.org

---
---