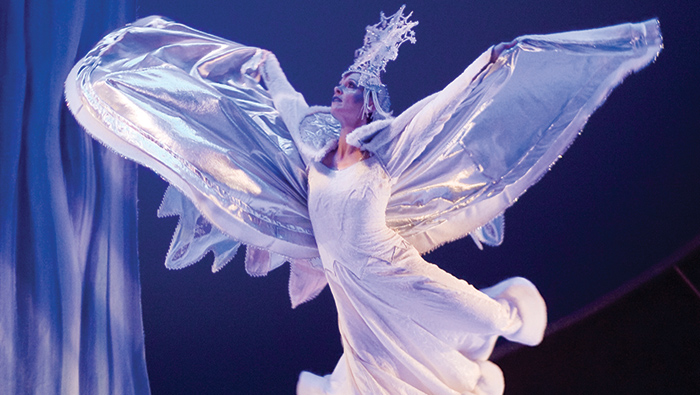 ---
This year, Frances Smith Cohen will be celebrating 29 years at the helm of Center Dance Ensemble and 31 years teaching Modern Dance and Creative Ballet with partner Susan Silverman at Dance Theater West. But her beginnings with dance started as a child in Tucson.
"I started as a tap dancer and ballet, of course, but I hated pointe because it hurt my feet," says Frances. She had her first nightclub performance when she was 16 (she lied about her age) and when she was 18, she won both the lead role in The White Shell Cross festival in Tucson and a scholarship to Bennington College in Vermont. "I was able to go away to college and major in dance because U of A did not have a dance major, just a club," explains Frances. "I discovered modern dance in high school when my high school dance teacher came back from having a workshop with Martha Graham. She came back and taught us, and I was hooked."
In her last years at Bennington, Frances was able to spend time in New York studying with Martha Graham at her studio. "I am one of the few people in the country now who actually studied with Graham," states Frances. "She was one of the great leaders of modern dance in New York."
Frances admits she gets sad sometimes because the young dancers today have no clue about where modern dance originated from. "They all think it came from [the show] 'So You Think You Can Dance,'" she says. "It's like being a ballet dancer and not knowing the history. Modern dance is fascinating because of the people involved, and I can say I knew most of them."
She has modified her teaching to what she calls a "Graham-based" technique to pass down the work. "Graham technique is difficult. There is a huge amount of torquing on the hip joints. I have had two hip replacements," explains Frances. "It's brilliant, it's gorgeous, it takes its toll – but it's worth it!"
Even at 85, Frances spends most days during the season in the studio. She is at Dance Theater West on Tuesdays and Saturdays teaching and with Center Dance Ensemble Monday, Wednesday and Friday. "I teach them [Center Dance Ensemble] on Monday," she says. "The company is constantly in class together, so it makes them a better company. They are a very close-knit group."
This "close-knit group" is the resident dance company at the Herberger Theater Center in Phoenix where they perform four major shows during their season. One of the annual favorites is "Snow Queen" and will celebrate its 27th anniversary this year. Center Dance Ensemble also performs an abridged version of "Snow Queen" for up to 1,500 children who visit the Herberger on field trips. The company raises funds so that the cost is minimal for students to attend.
CDE also brings educational outreach via performances to Valley schools covering subjects like "The ABCs of Dance," "Science is Art" and "Poetry 'N Motion" that align with curriculum for children in grades K-6. Frances also co-authored "Dane Essential Skills" and "Performing Dane Standards" for the Arizona Department of Education.
Frances has been an icon in the Valley arts community since her days as dance director at the Tucson Jewish Community Center. In 1963, she helped create the Arizona Dance Arts Alliance in Tucson and in 1972 she co-founded the dance program at the University of Arizona. She has received numerous awards including the 1994 Arizona Governor's Outstanding Artist Award, the 2004 Women Who Care Lifetime Achievement Award and the 2010 Childsplay's Pied Piper Award for her contribution to arts education.
Her love for modern dance and her passion for turning stories in productions is evident in her work and in her own words, "I'm a storyteller – that's my style. I love to tell stories." And we hope she continues for many, many years to come.

---
---