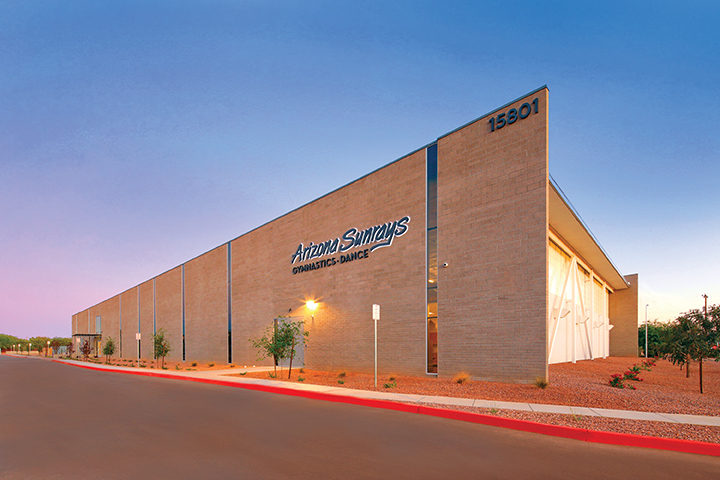 ---
When children sign up for summer camp this year at Arizona Sunrays Gymnastics & Dance Center, they will have two new locations to choose from. The first is the Sunrays' 34,000-square-foot gym at 15801 N. 32nd St. in Phoenix that opened in September of 2017 and the second is at 3923 E. Indian School Road in the Arcadia neighborhood, which opened this January.
The gym on 32nd Street has been years in the making and a labor of love for Sunrays' owners Julie and Dan Witenstein. They realized that rather than expanding to different locations, "We wanted to stay in the area that supported us," says Julie. So they purchased an empty lot and built a state-of-the-art facility down the street from their original location.
When you walk into the new gym, although it is much larger and brighter than their old gym, it still feels like Arizona Sunrays. There is a large open area with gymnastics equipment, seating for parents, an upstairs observation area, dance rooms, classrooms and a small café. "We wanted a really open, flexible space that we could change for any activity in the future," explains Julie.
The space is filled with television screens and as Julie says, "We have cameras everywhere – for both safety and transparency." Parents can watch their child in dance class while they are sitting at a table in the gym area. Everything from the lights to the music can be controlled in a specific area using iPads located on the walls. An iPad on a stand at the entrance lets parents check class schedules or make a payment conveniently.
Along with the use of cutting-edge technology, the gym was built with energy-efficient design. There are 17 skylight tubes, LED lighting and long narrow windows to let in lots of natural light. A chalk filtration system located above the uneven bars keeps the gymnasts from breathing in the dust, and another system continually keeps air circulating.
The floors were also given special consideration during construction. Constructed by the same company that installs dance floors for Ballet Arizona, the three dance rooms have raised maple floors with rubber underneath. In the main gym, the concrete was poured with pits and channels to allow for padding to be added. A gymnast can try a new move and land in the foam pit without ever touching a hard surface. The runway leading up to the vault is specially padded to help eliminate shin splints.
The gym area has spacing regulations for safety purposes, so that the vaults, balance beams, uneven bars and other equipment all have proper placement. "We went through 22 versions of the floor plan," says Julie. They are constantly fine-tuning and adjusting it as needs arise.
In addition to classes and camps, Sunrays also offers a preschool five days a week for ages 3 to 5. Active Preschool is a licensed program with two teachers, Cindy Soultanian and Carin Gallett. Class is held in the morning and includes gymnastics and music daily, with dance, yoga and Ninja Zone activities offered weekly.
At the beginning of the year, Sunrays began new partnerships with both Southwest Autism Research & Resource Center and the Civitan Foundation. Sunrays will hire people affiliated with both of these nonprofit organizations to give them valuable employment experience. They also have a Sunrays Gives Back Program that combines various philanthropic efforts encouraging community outreach.
Sunrays has also done improvement projects in the neighborhood where their new building resides. They repaired part of the sidewalk that goes along 32nd Street and added additional street lights. They also resurfaced part of Tierra Buena Lane to the south of their facility and added a door on that side of the building to eliminate traffic congestion during summer camp drop-off and pick-up.
Julie and Dan have been committed to this community for more than 27 years; some employees have been with them since Sunrays' beginning. From the staff to the students, you get a feeling of family at the gym (they even have an in-house daycare for their employees).
Sunrays offers classes seven days a week at their 32nd Street location and four days a week at the gym in Arcadia. Both locations offer Supercamp year-round, during holiday breaks and in the summer. Camp is offered half- or full-day with extended care in the morning and afternoons available.
Even though Julie admits that building the new gym was "the most exciting thing I've ever done" what she and Dan have brought thousands of students over the years is also exciting.
"Gymnastics and dance are what a body wants to do naturally," explains Julie. "You don't need a ball; you don't need a racquet – kids just need what they already have – and a safe place to do it."
For more information on the camps and classes offered at Arizona Sunrays, visit arizonasunrays.com.

---
---