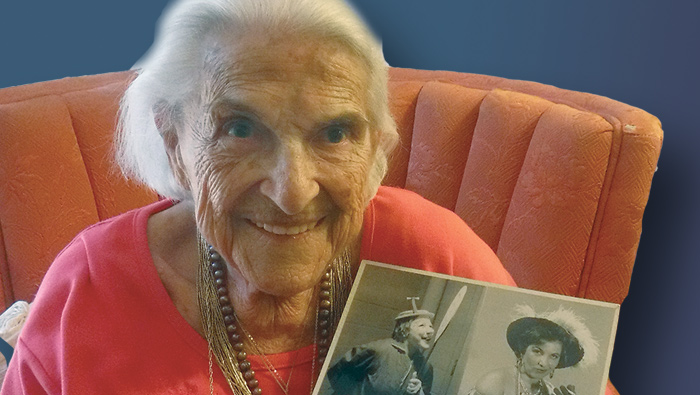 ---
At age 94, Phoenix resident Gert Schuster, aka "Gert the Joke Lady," is ready for prime time.
Don't let her soft-spoken and gentle persona fool you. This seasoned comedian and actress possesses a razor sharp wit, combined with the impeccable timing that made Borscht Belt comedians like Henny Youngman and Don Rickles legendary in the Jewish community. In addition to frequent stints at Tempe Center for the Arts, Gert has performed several times at the Tempe Improv, Scottsdale Center for the Arts and at venues such as Talking Stick Resort for private parties. The famous stage and screen actress Debbie Reynolds even used her for her opening act at the Broadway Palms Theatre (now closed) in Mesa in 2010. Gert's comedic talents evolved following a lucrative career in the Cleveland Playhouse, as well as occasional parts in the iconic 1960s' series, "Route 66."
Having performed on a variety of cruise ships as well, Gert recalls her first magic moment at sea. "My husband and I were on our first cruise and I went to a piano bar to hear a woman playing on the piano. After some panic, because one of the strings broke, I told her to give me the mike, and I proceeded to tell my jokes and stories. She resisted at first, but I told her she wouldn't be sorry. After that, we became the 'Kathy and Gert show.'"
Many of the cruise ships wanted Schuster to keep performing, but with the caveat of a six-month contract. That arrangement conflicted with her need for family time, so she declined. With more than 33 cruises under her belt, Gert relates that her fellow passengers provided her with a steady stream of material. "The rest I make up," she says.
"Gert is one of the funniest people I ever met," says Tony Vicich, producer of the Tempe Comedy Concert Series. "I never fail to laugh when I see her. Every time I talk to her, I learn something I didn't realize I could learn due to her vast wisdom and experience."
Gert began her life in a stately castle in picturesque Vienna. Her father's made-to-order men's clothing factory set the stage for a life of privilege that was tempered with a no-nonsense approach to education. "I went to school through high school, but it was considered a college education. "We went to learn – no homeroom, gymnastics or extracurricular activities."
Upon graduation, Gert's life started resembling a John La Carre' novel, replete with fortuitous twists of fate, a narrow brush with Nazis and a cleverly devised escape plan. At age 14, she began an internship delivering tapestries and needlepoint pieces to embassies. Little did she realize how that job would be her saving grace.
Hitler's arrival in Austria became a harbinger of bleak news for the Jews. Being adroit as well as gutsy, Gert used her wits to survive.
At 17, she was asked her religion by the Germans while on the street. Not wanting to lie, she replied she was Jewish and was promptly placed in a holding location for the camps – a soldiers' barracks where she spent three days.  "I was fortunate because I was very small," she says. "I looked like I was 10, so they threw me out. I could easily have been raped, killed or sent to a camp."
"I was fortunate to know the British and American ambassadors since I brought them my collections," she says. "The ambassadors gave me a visitor's visa and I spent one year in Great Britain before coming to the United States."  To get to America though, she needed a valid passport that didn't have the notorious "J" that the Germans imposed on Jewish passports. "I didn't want to go to the German embassy, so I found out the name of the U.S. Secretary of State, Dean Rusk. I called him and he sent me a document so that my mother and I could travel without passports."
Her brush with potential disaster behind her, Gert's life started to bloom in the United States, beginning with a risky and audacious stint at the Cleveland Playhouse. A man who turned out to be the director, struck up a conversation with her and asked her to come back the next day for a reading. "We became very close friends," she says. "And from then on I acted and sang in a variety of shows. I even performed some arias and one opera. I desperately wanted a part in a play, and he gave me free rein. I wore a low cut evening gown for the show, and underneath I wore red underpants with men's work boots and an atrocious hat. When I lifted my dress and showed off the underwear, I brought the house down."
In 2006 Gert was at the pinnacle of her career, but sadly she had no choice but to stop singing. "I was in an unexplained coma for a month, and the tubes killed my voice, and I never sang again," she says. "I told my husband that life is a joke, and that's when I began doing comedy."
The most exciting part of being on stage, according to Gert, is the reaction from the audience. "I get so much from them," she says. "I have people I have to call whenever I perform. They come and see me over and over again; it's very gratifying. I love making people laugh; there is enough misery in the world."
One of her most endearing jokes involves a cantor who told his congregation he insured his voice for $75,000 against losing his voice. A voice from the rear of the sanctuary called out, "So what did you do with the money?"
To find out when this gem of a comedian will be performing again at Tempe Center for the Arts; check the Tempe Center for the Arts website: tempe.gov/calendar or tca.ticketforce.com.

---
---