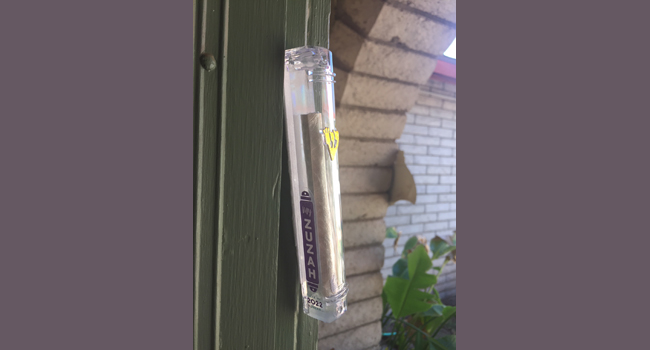 ---
The mission statement of MyZuzah is simple, "MyZuzah believes in connecting and protecting all Jews by putting a mezuzah on the front door of every Jewish home. A touchpoint that unites all Jews, the mezuzah's mystical power has connected and protected the Jewish people since the Exodus."
But how do you make sure that every Jewish home has a mezuzah? MyZuzah has a simple answer to that question – they give them away for free.
In Arizona, Project Inspire has partnered with MyZuzah. "Project Inspire Arizona is a grassroots movement of mutual inspiration, of volunteers who want to reach out to other Jews, learn together and socialize together," says Project Inspire Arizona Co-Director Robin Meyerson.  "Jewish people (come) from all different backgrounds and one of the greatest things that connect us is the mezuzah."
MyZuzah implements fair trade standards, working with partner organizations that pay sofers (scribes) fairly for such important work. These scribes are trained in the laws of writing a mezuzah scroll. A scroll that is reproduced by machine, or not written according to the laws of the Torah, is not kosher. All MyZuzah mezuzot are kosher.
"I have volunteers who will go to people's houses and put the mezuzah on the front door," says Robin. "If someone already has a mezuzah on their front door, they can move it to a different room in their home, or they can have it checked to see if the scroll is kosher."
Robin says that they started the partnership at the beginning of September, and have been busy with mezuzah deliveries all across the Valley, from Scottsdale to Surprise. There are several Projects Inspires across the country, but Project Inspire Arizona is the first on the West Coast.
To order a free mezuzah (worth approximately $80) visit myzuzah.org/me and put in the organization discount code InspireAZ (not case sensitive). A volunteer will be in contact to arrange a time to hang the mezuzah and perform the blessing.

---
---