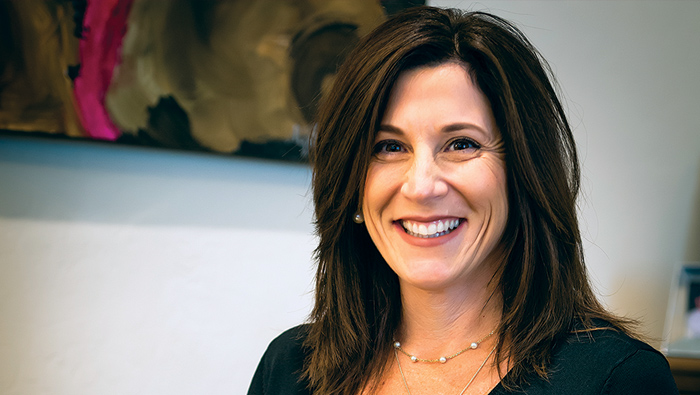 ---
Scottsdale resident Joy Bidnick is blessed to have a career she is head over heels in love with. Her 13-year-old home design business, "How Suite It Is!", is booming and she enjoys a continuous stream of requests for her talent and innate knowledge of the industry. Whether it's revamping a room, creating a unique wall unit, updating lighting or gutting a house, Joy possesses a natural-born ability to create a stellar look.
"I look on the internet, design rooms, preview furniture at showrooms and do a lot of research for my clients, so that keeps me going 40 hours a week," says Joy. "I never advertise; all my clients are from word-of-mouth. I forge a bond with them and get repeat business, often one room at a time. The best thing for me is when my clients love what I did for them; it is the biggest compliment. I love what I do – and I love the people I do it for."
To achieve her much-sought-after results, Joy uses general contractors but also provides touches like wood stains, plumbing fixtures and lighting, according to her clients' desires. Some clients want her to bring samples to them because they feel overwhelmed. Other clients just want her to go shopping with them and serve as a guide. "Either way, I want their homes to be a reflection of them, not me," she says. "In this profession, you have to have superb interpersonal skills and also be a great listener. I have the confidence to make the decisions they are basically too scared to make."
A muse by nature, Joy admits to always having been fascinated by art and design since elementary school. "I was always seeking out art contests, as well as craft, drawing and ceramic classes." She wanted to be a part of anything creative happening around her.
No bolt of lightning led Joy to pursue interior design. Her career developed in a serendipitous way – one day at a time. Impressed with her design artistry, visitors frequently wanted her to create similar aesthetics in their own homes. From friends and family to neighbors and the community at large, her talent garnered attention and she gained traction.
What really lit a match to her career was a conversation with Kathy Stephens, the owner of Childscapes Interiors, a Scottsdale/Chandler store specializing in high-end children's furnishings. Kathy, who liked Joy's sense of design, asked Joy to go into business with her. "It was never the right time for me, though, because I was a stay-at-home mom raising two kids."
As her kids got older and more independent, Joy finally agreed to take the plunge. The kicker was that Kathy was getting out of the business. But as with many fairy tales, there was the proverbial silver lining: Kathy gave Joy the "keys to the kingdom," which included access to mural-painting materials, wallpaper, fabrics and custom bedding. "She mentored me in every which way and basically gave me the business without the…building," says Joy.
After 13 years in the ever-changing world of design, Joy says she has experienced a full spectrum of trends, fads and furnishings. Furniture, woods and fabrics are lightening up and even traditional designs have a more modern flair. "People are [moving] away from brushed silver toward chrome or gold metallic finishes, which are gaining in popularity," says Joy. "I have been pulling out oversized tubs and utilizing that space to make larger and grander showers. Rain heads or shower heads coming out of both walls really open up space and make for a very upscale bathroom." She also creates custom glass mosaics for kitchen backsplashes.
According to Joy, most people fall into the transitional style of design – a cross between traditional and contemporary. "Some homeowners want very modern and angular lines, with bright colors in furniture and flooring," says Joy. "Sometimes people don't take my advice on what will look best and that's a challenge for me. In the end, all that matters is that they like it."
To stay current on the latest buzz in the industry, Joy frequents the Design Center in Phoenix. She also attends the annual five-day blockbuster Las Vegas Market Show, a veritable Disneyland for designers. She gleans ideas from the home design website houzz.com and suggests clients visit it, too. "They can create an idea book to share with me so I can get a sense of their style."
Joy also devours a wide variety of design magazines and occasionally sits on design panels, as she did two years ago. "I was part of a seminar put on by Pacific Manufacturing [upholstered furniture] with seven other designers," says Joy. "They wanted our input and it was a great way to network and get resources from other people."
To stay on top of her game, Joy attends educational classes sponsored by design centers such as Helser Brothers, a Chandler manufacturer of window-treatment hardware. "They launch new products, give you ideas and inspiration and I learn what's new and trending," she says.
Client Deb Rochford of Phoenix appreciates Joy's passion and professionalism. "Interior renovations are a test of patience," says Deb. "Having an ally who will guide you and be honest…makes a difference. Joy is a pleasure to work with and has fabulous taste and professionalism. As a busy working mom, Joy made my renovation seamless."
Contact Joy at How Suite It Is! at 602-339-3515.

---
---