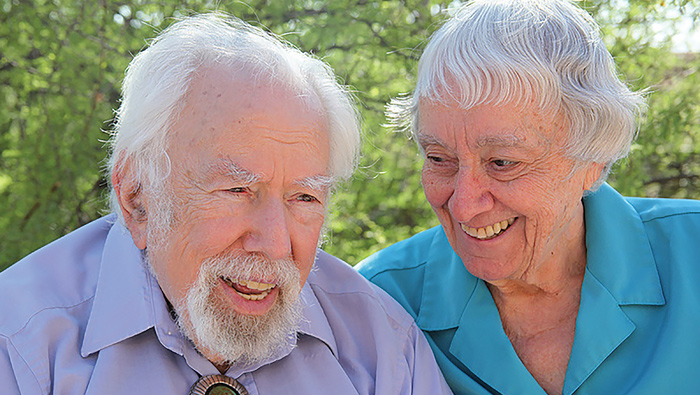 ---
Kenneth S. Goodman, University of Arizona professor emeritus, and Yetta Goodman, UA regents professor emerita, both of whom are at the College of Education, began their careers as camp coordinators for the Jewish Community Centers of Los Angeles. They were there from 1948 to 1962.
"Our Jewish camping and social work experience helped develop our educational philosophy as child-centered, humanistic and holistic," says Yetta. Ken espoused the philosophy that camp activities should exemplify values, history and culture – seamlessly incorporating democratic principles into everyday life.
It's a philosophy he still embraces and shares with Yetta, his wife and colleague of more than 50 years.
Yetta, 84, grew up speaking Yiddish as her first language in an Orthodox Cleveland family. She began teaching elementary school in 1952 while also raising the couple's three daughters.
"The majority of Jews were socialists when they first came here," Yetta says, adding that Jewish education should be focused on "our history in this country," including the Jewish labor movement. "In Tucson, we're too focused on Israel. Israel isn't the only issue."
"Often, if you're not religious, you're not considered Jewish," says Ken, 87, who was born in Chicago and grew up in Detroit.
Nationally and internationally known for their pioneering work in literacy education, the Goodmans have written hundreds of articles, book chapters and books.
"All our work adds up to the fact that any kid who learns language can learn to read," says Ken.
"For kids having a hard time with reading, they do much better on an iPad. They're motivated to engage with their peers," adds Yetta.
"My two great-granddaughters are in a sweatshop kindergarten in Houston," says Ken. "They don't have naps. They don't play. Kids learn language by the time they go to school. They need content to learn to read."
Reading is about much more than reading itself, which is the focus of Ken's forthcoming book, Reading, the Grand Illusion (Rutledge Press), co-written with Peter Fries and Steven L. Strauss.
The Goodmans came to the University of Arizona to teach in 1975. "We had a quite good school system in Tucson," says Ken. Since then, "the schools have been starved to death. It's been very hard for teachers." Arizona State University ended its college of education, leaving its doctoral students high and dry. "I think the UA would kill its college of education, but it's too important to a lot of parents, particularly to parents of girlswho want to become teachers."
In the current climate of standardized testing, Ken says "we are losing the backbone of democratic educational practices, some of which stem from a tradition in Jewish education called pilpul," generally known as the Socratic method. "This kind of instruction is not about memorizing data for higher test scores, but is about acquiring the ability to evaluate and understand complex ideas."
Jewish parents may believe that the current trend in high-stakes testing is "not our problem," explains Ken. "There's a tendency for Jewish parents to think their kids do well in school. Testing only favors certain conforming kids. Nonconforming kids' talents don't show up on standardized tests," he says. "Nonconforming kids may do as poorly as poverty-stricken kids."
Here in Arizona, "the worst thing is what (the state legislature) has done to bilingual kids," requiring four hours of English instruction per day in K-12 classrooms, says Ken. "They've loosened it up a bit in high school because kids aren't getting the content they need. If they can speak a certain level of English, they can take electives."
Another big problem, he says, is that "teaching has been treated as a nonprofession."
Still, the Goodmans are optimistic. "My big hope is for a population that appreciates great teaching," says Yetta.
"The social nature of teaching, among students and teachers, is collaborative. That's what I love to see."
Sheila Wilensky is a freelance writer, editor and educator living in     Tucson. tucsonwritereditor.com

---
---