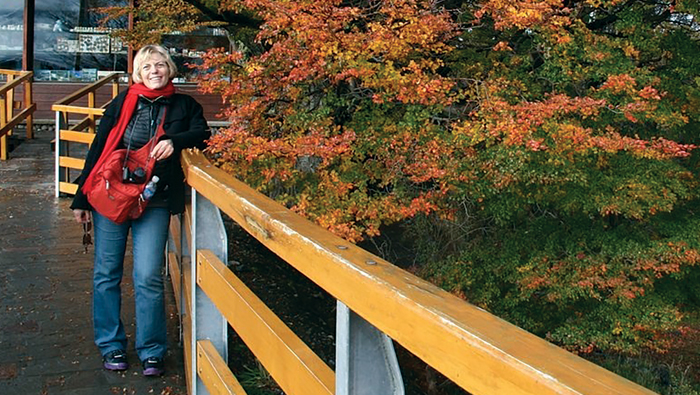 ---
When Sheryl Bronkesh got off the plane in Arizona in 1977, she was struck by the smell of the desert. It reminded her of Israel where she had spent her junior year of college. She felt at home and has made it her primary residence for the past 37 years.
Born in the Bronx, Sheryl was four when her family moved to South Jersey.
She explains, "I grew up on a chicken farm in Millville, NJ, where I lived until I went to college in Washington, DC. I got married right after college and we moved to the Philadelphia area, where my husband attended podiatry school. There is a residency match program and we were lucky to get one of our top choices, Mesa. My plan was to attend graduate school in whatever locale we matched."
While earning an MBA from Arizona State University, Sheryl worked for Samaritan Health Services, the predecessor to Banner Health, and then at Scottsdale Healthcare as corporate director of marketing, before leaving to join two of her professors from business school in a consulting firm.
Sheryl has co-authored three books on healthcare marketing and is the president of The HSM Group, a healthcare market research company. Her company is in the process of merging with an East Coast research firm, and once the merge is final, Sheryl will hold the title of executive vice president. She travels extensively for work, conducting focus groups and in-depth interviews with physicians and patients around the country.
Sheryl is always on the go, whether traveling the world (she has been to Israel nine times, Europe, Africa, South America and Central America) or exploring the United States (48 states and counting), she never leaves a stone unturned or misses a good story.
One of her passions, which she combines with travel, is searching for her family's personal history.
"For the past seven years, I have dabbled in family genealogy research. This has included three trips (with another scheduled in August) to the International Jewish Genealogy Conference as well as a trip with my mother and daughter to Poland and Ukraine." Sheryl said.
Her own family story is intriguing and has shaped much of her volunteer work.
"My parents and sister emigrated to the US in 1947 from a displaced persons camp in Germany, where my sister was born in 1946. Neither of my parents were in a concentration camp. My father escaped from a labor camp and survived for 2 1/2 years as a partisan in the woods of Poland. My mother had fled to the Soviet Union. Because so many people make the assumption that if you were Jewish in Europe during WWII, you were in a concentration camp, few know that Jews survived in hiding, passing as gentiles or living in the woods."
Besides working full time, her boundless energy and enthusiasm have her volunteering in many areas. She serves on the board of directors for the Phoenix Holocaust Survivors' Association and since 2013, has served as vice chair of Generations After (GA) – Descendants of Holocaust Survivors in Greater Phoenix.
"This organization has grown quickly in its three years in existence. GA is the only Phoenix area group solely for children and grandchildren of Holocaust survivors," Sheryl says. Operating under the auspices of the Phoenix Holocaust Survivors' Association, GA's mission is "To embrace our legacy as descendants of Holocaust survivors, to support one another, and to contribute to tikkun olam, repair of the world."
Sheryl co-chairs GA's Education Committee, which brings in well-known national and international speakers, coordinate's a speaker's bureau for Valley schools and organizations, sponsors films and hosts a book discussion group called Book Talk. The next Book Talk is Sunday, May 15, when they will discuss Paper Love by Sarah Wildman, who has agreed to join the conversation by phone. Sheryl invites the community to participate in the discussion, which will begin at 3 pm at the Ina Levine Jewish Community Campus.
"I am committed to Holocaust education because I have seen that the refrain 'Never again' is insufficient. There have been massacres and genocide throughout history.  Since the Holocaust, there have been numerous cases of peoples murdered because of their religion or heritage. Think of Rwanda, Bosnia, Cambodia, and Christians and Kurds in the Middle East. Education about the Holocaust can be the springboard for discussions about how discrimination, prejudice, and hatred of a people because of their religion led to mass murder. There is so much hatred in the world today. This topic is as relevant today as it was during World War II. With Holocaust survivors dying every day, if their descendants aren't prepared to speak, the Holocaust could become a footnote in a generation," she says.
Sheryl is a member of the GA speakers' bureau. She and her mother, Bronia Bronkesh, were the keynote presenters at the 2013 Carolyn & Herb Nathan Educators' Conference on the Holocaust.  She also gave a presentation on growing up as the daughter of Holocaust survivors at the first Kurt and Gerda Klein Teen Holocaust Forum.
In 2012 in honor of her mother's 90th birthday, she set up the Bronia and Sam Bronkesh Jewish Spirit Prize honoring physical and spiritual resistance during the Holocaust. The winner of this essay contest for high school students (open to students enrolled in Hebrew High and participants of the Klein Teen Holocaust Forum) will read his or her essay at the community-wide Holocaust Commemoration. Sheryl is one of four judges for this contest.
While Sheryl is passionate about making the world a better place and addressing difficult topics, her positive spirit and charm are infectious. And her energy is endless. So when she is not working, traveling, volunteering or renovating her new home, she hikes with the same group of friends on Sundays for the last 15 years.
She laughs and says, "We call ourselves The Roses because we believe in the philosophy that it is important to stop and smell the roses. We even have a logo on T-shirts and sweatshirts of roses with our slogan:  'Stop – Smell – Hike.'"
Abiding by that philosophy of resilience, with everything Sheryl does, she still makes time to stop and smell the roses.

---
---