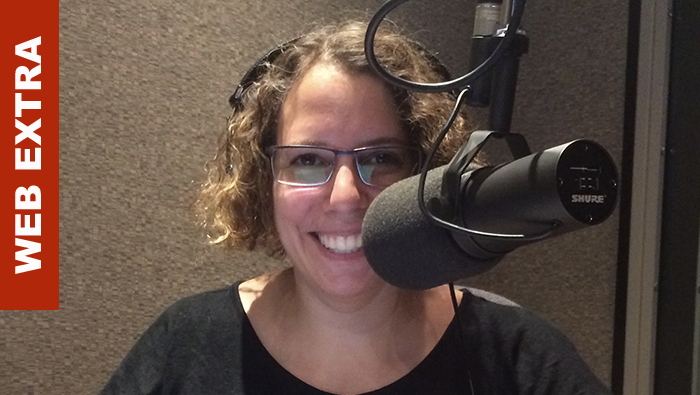 ---
Photo: Yael Grauer records her "Monday Morning Dumpster Dive" podcast.
How does a nice Jewish girl get to be a national technology journalist?
In the case of Yael Grauer, it was rather serendipity and has led in some very interesting directions. Her writing career started early, with self-publishing at the age of 12 and writing as a national correspondent for Blue Jean magazine at 17. Over the years she wrote about martial arts, health and fitness, which led to medical technology and healthcare IT. She became fascinated with online privacy and security, which evolved into a niche, of sorts.
Yael will share her expertise, together with Howard M. Cohen and Esther Schindler, at the Jewish Federation of Greater Phoenix Business & Professionals Group's "Tales from the Cybercrypt: The global perspective from local Jewish technology journalists" on Thursday, Aug. 25 from 5:30-8:30 pm at DeskHub in Phoenix.
Yael likes to write about passwords. "I feel like people don't know what to do. What they think they should do to be secure is really different from actual best practices. But best practices aren't that hard for individuals. They're a little bit inconvenient and a little bit time consuming, but not as hard as people think they are. There's a huge information gap between what people recommend and the actual people on the ground who are looking for solutions."
That's where Yael comes in – synthesizing complex technology into language that the rest of us can understand. "There's a lot of information out there, but a lot of it isn't accessible," she says. The challenge is "trying to get someone to explain it in English, but also make sure it's still accurate. I have to ask a lot of dumb questions over and over again."
She has written for many publications and websites, including WIRED, Motherboard (Vice) and Future Tense (Slate). Follow her on Twitter @yaelwrites, visit her blog (yaelwrites.com) or check out her weekly podcast (soundcloud.com/mondaymorningdumpsterdive).
Moderated by Alan Zeichick, "Tales from the Cybercrypt" will cover a variety of topics, including enterprise computing, cyber security, startups, the "Internet of Things" and more. The panelists will share some of their most memorable moments, such visiting Bill Gates at his home, meeting Admiral Grace Hopper and seeing her famous computer bug and feuding with Elon Musk. They'll also discuss how you can raise your own professional profile and build your personal brand by becoming a tech writer and influencer.
This is the fourth networking event hosted by B&P's Chai Tech affinity group since its launch last summer. Tickets for Cybercrypt are $18 and include networking, kosher hors d'oeuvres, beer and wine. DeskHub is located at 5415 E. High St., Ste. W-300, in Phoenix. For information and registration, call 480-481-1754 or visit jewishphoenix.org.

---
---