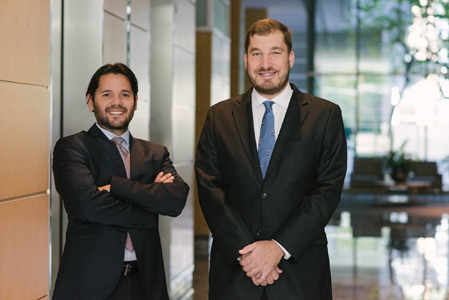 ---
Pictured above: Angelo Torrealba, left, and Matthew Apfel of Apfel and Associates.
Matthew Apfel is an Arizona native who returned to set up his law practice in 2015 after practicing law in China and Washington, D.C. "My dad had his surgery practice here, and my grandparents started their business here, so it was important for me to return.," he says.
In 2005, he received his bachelor's degree in international affairs with a focus in Chinese politics from George Washington University and then earned his doctorate from George Washington University Law School in 2008.
He practiced law in China from 2008 to 2009 and returned to set up his first office in Washington, D.C., in 2012. But in 2010 he was approached by Richard D. Heideman of Heideman Nudelman & Kalik for a position that would shape him into the lawyer he is today.
Matthew was one of about 20 specialists in the country familiar with a very focused area of law regarding issues relating to state responsibilities. "I became the specialist for this international litigation where they were suing Iran for the Marine barracks bombing (Beirut, 1983) and Syria for the Rome and Vienna airport attacks (1985)," he says.
He remembers that Richard told him that most attorneys don't take more than 40 depositions in their entire career. "I did depositions of every surviving marine from the Marine barracks bombing and their families – more than 100 depositions," says Matthew. "I would have to ask them what they witnessed and what happened after that, and how it affected them and their families. It was very difficult, but it made me into the lawyer I am today by being able to have that empathy and really develop it."
Matthew also traveled to Israel to take depositions of various members of the were prisoners in the Israeli court system.
"To this day, I have a little Marine Corp flag on my desk. That work was the most personal to me that I've done. It was very meaningful," he says. "They (the Marines) were there to protect our country on a peace mission when their barracks were blown up by terrorists."
There was a deeper personal reason for Matthew to see that these people received justice from terrorist attacks. He was a freshman in college in Washington, D.C, on Sept. 11, 2001, and lived down the street from the U.S. State Department, about 2.5 miles from the Pentagon.
"I saw the Pentagon on fire – it was very life-changing, as it was for everybody, but for me, it was very direct," says Matthew. "After that, this was a means of trying to find some type of justice. I learned a lot about how politically things work. I learned we all can be victims in different ways of terrorism."
These cases against Iran and Syria allowed American citizens to bring a suit in federal court against a country alleging that they were victims of a terrorist act. "Allowing them to go through having been shot or hit by shrapnel, and then being able to testify under oath in a courtroom about what you suffered can release that because you are being listened to," Matthew explains. "You are in a formal setting being able to explain how that hurt you." In the end, there were various settlements where the victims received compensation.
In 2012, he founded his firm in Washington, D.C., because he wanted to return to the business and transactional side of law where he had started. His business grew, and he returned to Arizona to set up an office in Phoenix in 2014 and then one in Tucson in 2016.
"I realized that I enjoy working so much more in Arizona – and I missed the sunshine and the people," Matthew says.
Mathew and his law partner, Angelo Torrealba, who, according to Matthew, "has more law degrees than I have fingers," focus on corporate immigration. "We help people set up their companies, the structure and their trademarks, and then we can help them have their executives come over to work here in the United States." One of their current projects is helping a robotics company from Sonora, Mexico, set up a presence in Southern Arizona.
Angelo also focuses on humanitarian protection of persons and asylum. A native of Caracas, Venezuela, Angelo represents a group of more than 1,000 students and individuals who have been targeted by the government of Venezuela.
Venezuela is suffering an economic crisis, and Venezuelans are not permitted to take money out of the country without first submitting a request to the government. The government has been canceling these requests, so the students have no way of retrieving their money, and no way to pay for their education abroad. Angelo represented these individuals in front of the Inter-American Commission on Human Rights at the Organization of American States. The OAS brings together all 35 independent states of the Americas and constitutes the main political, juridical and social governmental forum in the hemisphere.
Through their varied clientele, Matthew and Angelo have had to learn the cultural side of assisting clients, what their expectations are and how they view an attorney. "Attorneys all know the law, but being able to go that next step and use your interpersonal skills to connect and be able to help someone – that is really how you bring the ball across the finish line," says Matthew. "I've been experiencing this the past couple years and piecing it all together."
For more information on the work that Matthew and Angelo do at Apfel and Associates, P.C., visit apfelandassociates.com.

---
---