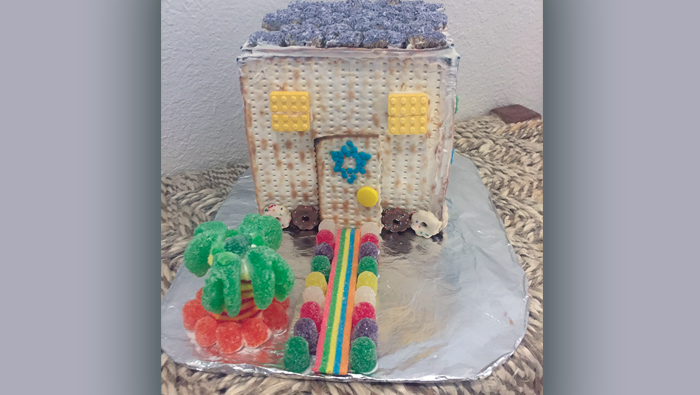 ---
Building a matzah house can be both a fun project for the little ones and it can double as a centerpiece for seder. You can use your imagination and creativity to create a house as simple or elaborate as you please. The best part is, you probably have most of the ingredients in your pantry already!
Matzah house
You will need:
Piece of cardboard for base (can be the side of a cereal box)
Aluminum foil
Sandwich bags
Serrated knife
Tape
Matzah
Canned frosting
Assorted candies, cookies, chocolate, dried fruit, etc. for decorating
Directions:
Begin by covering the cardboard with foil and taping down the foil on the back to secure.
Cut a small hole in the corner of a sandwich bag. Fill bag with frosting. Starting with 2 pieces of matzah, pipe frosting onto one edge of the matzah. Attach the 2 pieces of matzah together at a 90-degree angle and let sit until the frosting is set. Repeat with another 2 pieces of matzah.
Make the roof by taking a piece of matzah, spreading with frosting and attaching mini-wheat cereal on it for shingles. You can also use sliced almonds or gummy candies.
Once the frosting on your house walls is set, attach both of the pieces with frosting to make a matzah box. Add the matzah roof by applying frosting to the top edge of the matzah box. Apply frosting to the bottom edge and secure the house to the foil-covered base.
To make a door for the house, cut a piece of matzah with a serrated knife (this should be done by an adult). Decorate with candies and attach with frosting. Add windows with extra pieces of matzah or candy blocks.
Landscape around your house using an assortment of candies, cookies, dried fruit or chocolate.
Let your imagination go wild and have fun!

---
---