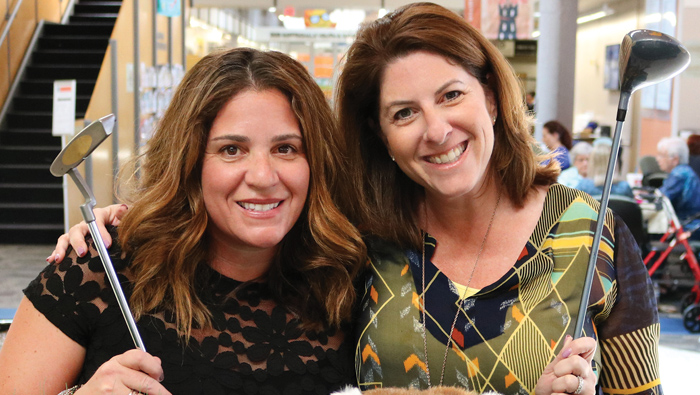 ---
The Valley of the Sun Jewish Community Center is taking a fun, new twist on their annual adult golf tournament. This year instead of being held at Silverado Golf Course, it will be held at Topgolf in Scottsdale, and it will have a "Caddyshack" theme.
"We decided this year to engage more people since golf can be limiting to specifically people who play golf on a regular basis. [Our plan is to] reach some of the general JCC membership as well as the people who do not normally play in the tournament," says Sara Schneider, chair of the event.
There are going to be different games set up by Topgolf for the event and a photo booth for people to capture how great they look in their "Caddyshack" attire. For added fun, the movie will be playing in the multi-purpose room. There is also a rumor that the infamous gopher is planning an appearance. Proceeds raised from this event will benefit youth programming and scholarships at the JCC.
Sara has had three of her children go to preschool at the JCC with a fourth currently attending. Before she married and had children, she worked at the JCC for 10 years. "I feel like I eat, sleep and breath the JCC to be totally honest," jokes Sara. "Although I no longer work there, I started volunteering and doing all the things that I love at the JCC – just this time I'm doing it with my children."
Sara also has help from Debbie Berkowitz who is co-chair of the event. Debbie's children also attended preschool at the JCC, but she realized how important the JCC was in her life when her first husband passed away in 2006. "I have twin boys, and they were 3 at the time and in the preschool. The community was beyond amazing," says Debbie. "Everyone should be so lucky to have the warmth and the help of the community like I did. The JCC rallied around me and just was very supportive."
Debbie had chaired the silent auction portion of the golf tournament for years. "I was excited when I found out that they wanted to put a new twist on it for this year. It will be competitive and fun and a term I learned lately – 'friendraiser' – just a lot of engagement and trying to get people involved," says Debbie.
Sara agrees that the event is not just a fundraiser, but a way to make connections. "We want people to engage with one another, outside of a fitness class or a meeting or just walking past. The JCC is in the business of creating relationships and connecting with one another – our middle name is 'community.' We want people to come together and hang out and have a good time," she says. "It's fun to get together with your friends and raise money for a good cause."
Par-Tee with the J! "Caddyshack" Style
May 17; 7 pm cocktails, 7:30 pm fun and games begin
Topgolf, 9500 E. Talking Stick Way, Scottsdale
$100 per player includes 2 games of golf, appetizers, dessert and drinks
"Caddyshack" attire encouraged
Register at vosjcc.org/golf
Proceeds support JCC youth programming and scholarships

---
---