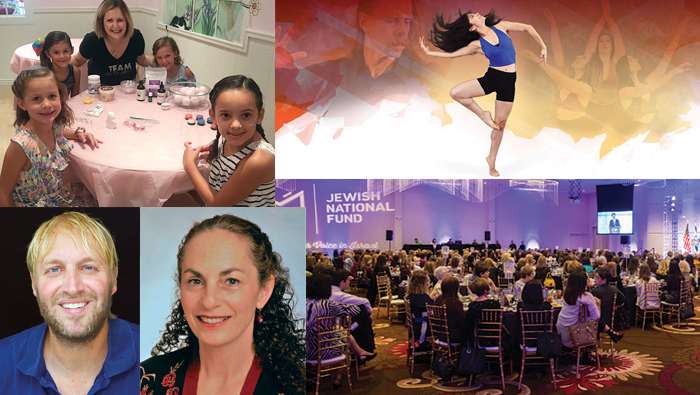 ---
GIRLY-GIRLZ AFTERSCHOOL PROGRAM
The Valley of the Sun Jewish Community Center at 12701 N. Scottsdale Road in Scottsdale has partnered with Girly Girlz Scottsdale to add a little glam to its afterschool programming.
"We are thrilled to be working with Girly Girlz and partnering on this fun program!  What woman doesn't remember the fun of dressing up, feeling glamorous and having fun with their girlfriends," said Kim Subrin, COO of The J.
The 4-week program begins Wednesday, Oct. 4 and explores fashion, grooming, etiquette and jewelry making while developing self-esteem in girls (and boys) grades K-3.
"For nearly 14 years, Girly Girlz in Scottsdale has been the place for girls who want to be princesses and mermaids, or rock stars or fashionistas. Now, Girly Girlz is bringing its well-loved activities – glam sessions, themed activities and tea parties – to The J. It's one of the first times kids can experience the fun of Girly Girlz outside of our Scottsdale location," said Melissa Fink, owner of Girly Girlz.
The new program is just part of an array of enriching afterschool opportunities offered by The J, which includes cooking, karate and soccer. The J's afterschool programs are open to everyone.
For more information and to register, contact 480-634-4949 or youth@vosjcc.org.
GHOSTS & GOBLINS & WITCHES, OH MY!
Just in time for Halloween, Center Dance Ensemble performs a spooky, haunting program, Ghosts & Goblins & Witches, Oh My! October 19-21 at 7:30 pm and Oct 22 at 2 pm at the Herberger Theater Center, Stage West at 222 E. Monroe St. in Phoenix.
Tickets are $28 adults/$23 seniors/$14 students and are on sale at herbergertheater.org or by calling 602-252-8497.
The centerpiece of the performance! is Artistic Director Frances Cohen's ballet, "A Department Store Murder Mystery," based on John Collier's short story Evening Primrose. The mystery surrounds a young man trapped in a department store who encounters strange mannequins that come alive at night.
The program also features Cohen's new work, "Sweet Hauntings," which explores how we are haunted by our memories from people who have passed.  Rounding out the program are two works from Assistant Director Diane McNeal Hunt, "Spellbound" and "Possessed," as well as two pieces from guest artists Instinct Dancecorps, directed by Angela Rosencrans and independent dancer, Nicole Olson.
FEDERATION ACCEPTING BELLE LATCHMAN COMMUNITY SERVICE AWARD APPLICATIONS
The Jewish Federation of Greater Phoenix is now accepting applications for its 2017 Belle Latchman Community Service Award.
This award is given in memory of Belle Latchman, who was deeply involved in many important causes in both the Jewish and general communities. She was the first woman president of the Federation and chair of its Women's Campaign. She was the recipient of many honors, including the Federation's Medal of Honor.
The award is presented in recognition of an outstanding contribution to the enhancement of the quality of life in the Greater Phoenix area by a local non-profit Jewish organization, agency, institution, or committee. Contributions should involve innovative, constructive forms of service which perpetuate Jewish values. Programs of any size, including those done within an organization, as well as those which involve the community at large, are considered.
The award will be presented at the Federation's donor appreciation and awards brunch on Dec. 10.
Applications are due by Friday, October 20. Application form and information are available jewishphoenix.org/bellelatchman. For further information, email awards@jewishphoenix.org.
ANNUAL WOMEN FOR ISRAEL LUNCHEON
This year's Jewish National Fund's Women for Israel Luncheon, "Finding Empowerment Through Perseverance, Strength, and Energy," celebrates powerful Jewish women who tirelessly advocate for the State of Israel. The dynamic panel features Doreet Freedman (Vice President of Partnerships & Development, Nefesh B'Nefesh) and Linda Cohn (Sportscaster, ESPN's SportsCenter).
The luncheon will be held on Nov. 1 from 11 am-1:30 pm at Chateau Luxe, 1175 E. Lone Cactus Dr. in Phoenix. Covert is $54, and advanced registration is required. Attendees are expected to make a minimum contribution of $180 to the annual campaign. For more information, contact
Senior Campaign Executive Audrey Lewis at alewis@jnf.org or 480-447-8100 ext. 981.
"IMPOSSIBLE DREAMERS" FILM AND DISCUSSION WITH THE FILMMAKER
The Valley of the Sun Jewish Community Center at 12701 N. Scottsdale Road in Scottsdale welcomes three-time Emmy-winning television editor and filmmaker Eric Goldfarb for a special screening of his film "Impossible Dreamers" with discussion following the movie. The event takes place on Sunday, Nov. 5, from 4 to 5:30 pm.
Goldfarb documented the lives of senior athletes, including legendary golfer Gary Player, over the course of three years. The final result illustrates not only what it means to be a champion, but what it means to truly live.
"I made 'Impossible Dreamers' because I wanted to make a positive, and hopefully inspirational movie, that at its best could change people's lives. Today, the world is filled with so much negativity, I wanted to counter it with something that delivers a different kind of message," says Eric. "The senior athletes in the film and across the world embody hope, strength and a desire not to let the challenges in life defeat them."
The event is open to everyone. Cost to attend is $10 for J members and $15 for guests. Register by Wednesday, Nov. 1 at vosjcc.org/dreamers.
The Wisdom of Not Knowing: Jewish Spiritual Teachings on the Unknown
Valley Beit Midrash will present a workshop at Temple Solel at 6805 E. McDonald Dr., Paradise Valley on Nov. 6 at 7 pm. The featured speaker is author Estelle Frankel.
Estelle Frankel is a practicing psychotherapist, author, spiritual director, and popular public speaker. In her private practice in Albany, CA. she works with individuals and couples providing brief and long-term psychotherapy and spiritual mentoring.
The cost of the workshop is $18 (suggested donation). To register, visit valleybeitmidrash.org.

---
---