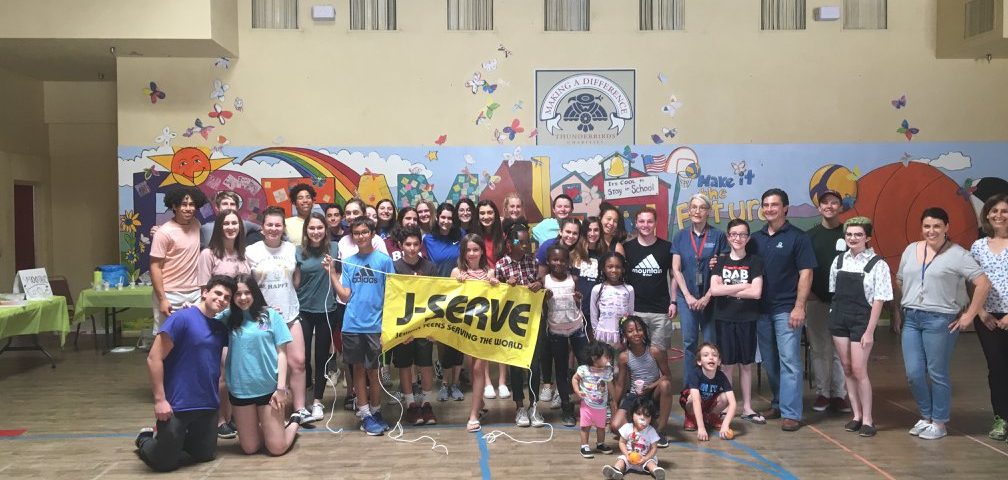 ---
Blenders, ovens, power cords, coolers, groceries, posters, games and giveaways – the scene was chaotic as we unloaded the delivery van stocked with the items needed to kick off the second annual F.U.N. Day on April 15. It was finally coming together after months of planning, envisioning and preparing. In October 2017, I received notice that our grant application had been funded by J-Serve, an initiative to engage Jewish youth in community service.
I am a junior at Chaparral High School and the social action vice president for Kol Ami Temple Youth. I have used my position to learn about community service opportunities and to organize service projects. I want to tell other teens about the grant funding opportunities available, share my experience and encourage others to pursue a service project about which they feel passionate.
At this point, you may be asking "What is F.U.N. Day?" F.U.N. stands for "Food U Need" and is an event meant to help lower-income families learn about the importance of eating healthy food and making it more accessible to these families. What most of us take for granted – grabbing a piece of fruit or peeling the lid off yogurt for a snack – is a far reach for many.
The statistics are startling: obesity is higher among low-income groups and so is the occurrence of Type 2 diabetes. Eighteen percent of children in low-income families have pre-diabetes or diabetes.
The relationship between food and health has been widely researched. According to the Centers for Disease Control, inadequate consumption of fruits, vegetables and dairy products is associated with not only obesity but reduced attention, poor academic performance and lower energy levels. Maintaining a healthy diet reverses these negative outcomes. Encouragingly, research has demonstrated that effective nutrition education can impact people's willingness to try, buy and eat healthy foods. From these statistics, the idea for F.U.N. Day sprouted.  Admittedly, it is a project that interests me; however, when I presented the idea to the members of KATY, along with samples of easy, tasty and healthy recipes, they quickly got on board.
The goals of F.U.N. Day are to show that healthy foods can be delicious, easy to prepare, affordable and satisfying; a long-term goal is to improve the health of an underserved population. Towards this end, we knew that it was imperative that F.U.N. Day be fun! It was held at UMOM, a housing facility to help homeless families in Phoenix. UMOM emphasizes programs that teach residents how to live independently, successfully. Nutrition and health are important components of these programs, so they were very receptive when I approached them about holding this event at their location.
When attendees arrived at F.U.N. Day, they were introduced to a variety of stations where participants could learn about the importance of eating healthy and sample food items such as wraps, tacos, parfaits and smoothies. There were also physical activities that included jump ropes, hula hoops and the limbo. The last station of the event enabled attendees to fill a reusable grocery bag full of healthy food products. This included fresh produce and healthy canned and packaged goods.
The scene was lively; the music loud, and the food good! Scottsdale Mayor, Jim Lane, stopped by in the midst of the event, making his way around to shake the hands of the volunteers.  Children wandered around clutching inflatable life-size bananas (donated by Del Monte) and plates of food. Parents left with insulated tote bags filled with healthy groceries donated by Sunkist, Campbell's, Del Monte, Sun-Maid and others. In total, 142 attendees participated in F.U.N. Day 2018. Another two dozen returned the following week to receive more healthy groceries in exchange for completed food logs. The months of planning, organizing and scouting for donations and volunteers had paid off. F.U.N. Day was, by all measures, a success!
Feel inspired? Use the summer as an opportunity to think about project ideas; the more time you have to plan your event, the better it will be! Visit jserve.org for project ideas and important event dates. I am already thinking about F.U.N. Day 2019. Maybe I'll see you there!

---
---